2021 NZILA Firth Conference
Tauranga | 6-7 May 2021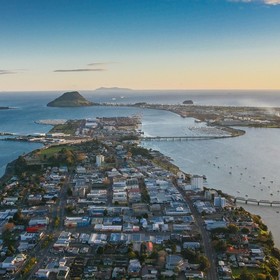 The NZILA Firth Conference was held in Tauranga,
6-7 May 2021.

Theme: Radical Reorientation Te Rangitāmiro
Tauranga 2021, Radical Reorientation Te Rangitāmiro is a continuation of the themes that were discussed both at Auckland 2018 and Christchurch 2019. It is an opportunity to hear thought-provoking ideas and experiences from leaders and collaborators involved in issues impacting the present and future of Aotearoa's landscape. Across the sub-themes Collaboration, Commons and Governance, the wānanga precipitates the question of practice towards renewed possibilities that circulate with the intent of adaptation. This focus is catalysed by the need to grapple with shifting demands upon the discipline of landscape architecture brought into play with climate change and postcoloniality in the particular context of Aotearoa. The wānanga will generate much needed sharing of knowledge to support the continued development of landscape practices for the benefit of NZILA members and those with critical interest in the landscape field.
Radical Reorientation Te Rangitāmiro requires a community to collaborate. Transitioning to a low carbon future, resource management and distribution, open source (knowledge sharing/collaboration) and local (building/strengthening community). How do we radically re-orientate as a professional community to enable, encourage and support this transition?
To view photos from the Conference click here.