2018 NZILA Firth Conference
11-13 April 2018, Auckland
Photos are now available.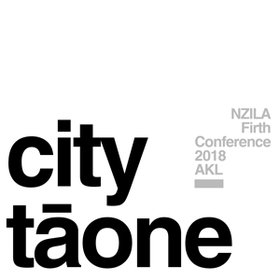 The aim was to present fresh perspectives, champion opportunities, and spotlight design solutions that will enhance the urban landscape: whether your city is by the water, or in the shadow of a mountain or volcano; surrounded by pristine landscapes or steeped in centuries of human history.
The 2018 NZILA Firth conference focused on water and ecologies; culture and community; spaces and places; and movement as we seek to define the elements that are necessary, possible and inspirational for our cities today, and in the future.
Collaboration and multi-disciplinary teams provided the rich multi-faceted experiences that are the hallmark of successful urban environments. We welcomed your unique contribution as we explored the creative thinking and innovative solutions that will not simply provide practical civic and public infrastructure, but also inspire urban dwellers and visitors now and for years to come and create civic places people love.
THEME ONE | CULTURE AND COMMUNITY
Much greater focus is now given to expressions of cultural values through city, community and neighbourhood design. A range of strategies that are working best for Māori and Pacific Island communities in Auckland are being tested. Co-design is a tool for community participation in design and a means to involve youth and others when numbers of design practitioners are low.
We sought exemplars of community-led initiatives from throughout the world, as well as from home grown communities, who expressed their cultures rather than the values and aspirations of others.
THEME TWO | MOVEMENT
As Auckland looks more and more towards alternatives to the car for getting people around the city, we started to think more about the opportunities for our transport infrastructure to be a catalyst for social and cultural exchange that helps to connect our citizens, not just our places.
"The street is the river of life of the city, the place where we come together, the pathway to the center." - William H. Whyte.
THEME THREE | WATER AND ECOLOGIES
Auckland has two harbours with more indented coastline than any other city in the world per capita, and a port with a forecast (but reluctant departure) from the city centre. What impact will Sea Level Rise, improved water quality and diverse and increased harbour use have? What are tested and forecast solutions in other water cities?
THEME FOUR | PLACES AND SPACES
Greater pressure falls on public spaces to fulfil an increasing range of needs as Auckland city densifies and land prices balloon. A public space now needs to filter and clean water, provide long term solutions and reflect diverse community needs and values. Can we find new ways to create public spaces such as through orchards and gardens in and on buildings? What are other opportunities for public spaces that reflect a unique place at the harbours edge, on the water and entwined through our city and neighbourhoods?

Congratulations to the following prize winners:


Shoujun Chen who was the lucky E-bike winner in the earlybird registration competition. Thanks to Peter Fell Ltd for sponsoring this fantastic prize.
James Pattullo from Isthmus who won ARS KR1000 Hedge Shears and ARS Bypass Secateurs with a combined value of $238.00 at the Hosted Breakfast from Metrogreen.
Anne Wilkins from Align who was the lucky winner of a Restaurant Association of NZ gift voucher valued at $150 from Hydro Construction Products.
Lisa Jack from Harrison Grierson who won the play pack from Playco Playgrounds.
Isthmus won the Playco Playgrounds Springy Frog.
Stephanie Nossiter who won Boundaryline's 2018 Pologon Commuter Bike by attending Stand 8-9.
Rory Langbridge who won MHL's Coffee Lovers Hamper.