What is a Landscape Architect?
An Introduction
Discover landscape architecture, the design profession that combines art and science to create places and spaces for people. The work of landscape architects includes the creation of new landscapes - urban, rural, residential or public - and the management and conservation of natural and heritage landscapes. They have a passion for the landscape, both for its care, and its enhancement by design.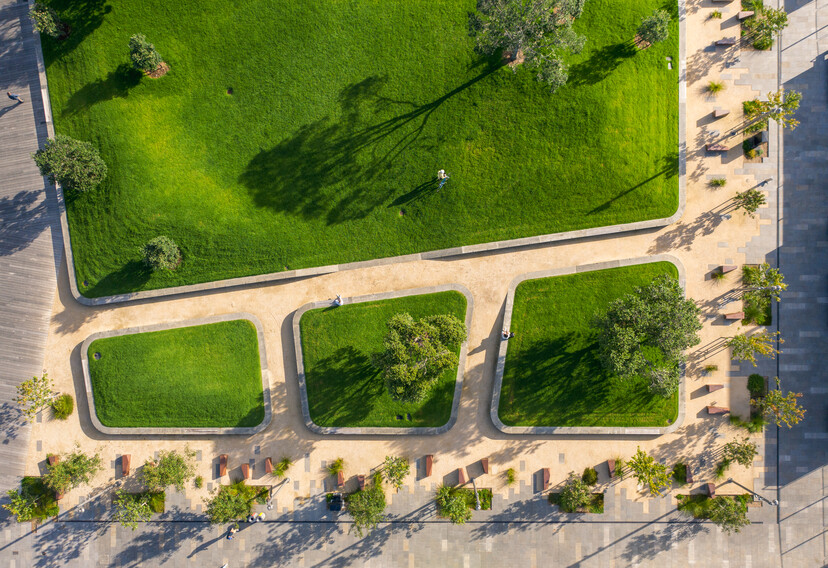 "It is very fulfilling to have input into the big decisions regarding landscape change in New Zealand. If done correctly, this work is a positive contribution to future generations".

Ben Espie, Vivian+Espie
Landscape architects are academically qualified professionals who focus upon landscapes, how we interact with them, and how they can be enhanced through sustainable design. They create places for people to live, work and play; conserve, manage and design places for plants and animals to thrive; and develop strategies to maintain or enhance water quality, maximising the value and amenity of stormwater, streams, rivers and estuaries.
If you are thinking about what to study after secondary school, or if you are looking for a career change, and you are interested in design, people or the environment, we can recommend that you consider a career in landscape architecture! Browse through this site and explore the range of landscape projects that have been completed by New Zealand landscape architects, then feel free to contact the NZILA so that they can help you with the next steps once you decide that 'I want to be a landscape architect'.
Landscape Architecture Today
Landscape architecture is about everything outside, urban and rural, at the interface between people and natural systems. The range of ways in which landscape architects work is staggering. From masterplanning Olympic sites to planning and managing landscapes such as national parks and wetlands, assessing or analysing the landscape, undertaking landscape and project management, or designing private gardens; landscape architecture nurtures communities and helps create more liveable environments.
Common Questions
What is a Landscape Architect?
Landscape architecture is about everything outside, urban and rural, at the interface between people and natural systems.
The range of ways in which landscape architects work is staggering. From masterplanning Olympic sites to planning and managing landscapes such as national parks and wetlands, assessing or analysing the landscape, undertaking landscape and project management, or designing private gardens; landscape architecture nurtures communities and helps create more liveable environments. Landscape architects are broad thinkers who thrive on the big picture.
They are playing an increasingly important role in addressing some of the great issues of our day, including climate change, sustainable communities, water quality and innovative housing. This is not just the profession of the future - but the profession for a better future. Tangata whenua believe that every place and object is imbued with its own spirit, or life-force - the Mauri .
Landscape architecture draws upon this idea to ensure that the spirit of a place is always considered when design work begins. This applies to everyday places like streets and parks just as much as to significant places like town and city centres, rural landscapes or natural places like national parks, rivers and coastlines.
How can I become a Landscape Architect?
To become a landscape architect, you need to complete an accredited programme of study at tertiary level.
At present in New Zealand there are three landscape architecture programmes which have been formally accredited by the NZILA, in Auckland, Christchurch and Wellington.
Accreditation means that the programme is nationally and internationally recognised. Each school of landscape architecture has its own philosophy and character. They deliver a range of programmes, from undergraduate degrees through to advanced research leading to a masters or doctoral degree.
If you already have a degree you may be eligible to enter a professional programme at undergraduate or postgraduate level.
Other landscape programmes are also offered in New Zealand, but these are not accredited by the NZILA.
After completing your degree and a suitable period working as a landscape architect, you can apply to become registered. Interviews for those who have completed a sufficient period of approved landscape practice work (usually at least three years) are held annually. Practitioners maintain their registered status by regularly completing a certain number of Continuing Professional Development (CPD) points.
Currently, registered landscape architects must complete at least 15 points of CPD each year.
Where can I study Landscape Architecture?
If you are interested in becoming a Landscape Architect, then you should begin considering which University might suit your requirements. In New Zealand, there are three Universities that provide NZILA accredited degrees in Landscape Architecture, as follows:
Lincoln University, School of Landscape Architecture, Canterbury
The School of Landscape Architecture (SOLA) at Lincoln University is the home of Landscape Architecture in New Zealand, educating leaders of the profession for more than 50 years. Purpose-built design studios, set in a green campus, provide the world-class professional working environment you will need to develop your creativity, independence, and professional skills for a rewarding career in landscape design, planning and management.
Lincoln graduates are known for their commitment to design excellence, working across the full range of projects from urban design to landscape ecology, Māori landscapes to landscape planning. Lincoln's reputation for excellence is based on practice-focussed, theoretically informed, and research-led programmes at both undergraduate and postgraduate levels. Our School is committed to the principles of Te Tiriti o Waitangi and align our courses with the concepts of kaitiakitanga where we act as stewards of the land. Our experienced and committed staff have superb national and global networks that connect Lincoln students and graduates with leading practices and Universities the world over. We also connect locally with community engagement in our studio projects at all levels - working with communities, iwi and a diverse range of organisations and groups.

The following programmes are NZILA accredited:
BLA: Bachelor of Landscape Architecture
MLA: Master of Landscape Architecture (240 cr.)

Our BLA is four years in length. Our students are in high demand for entry into the profession of Landscape Architecture upon graduation. Our two-year 240 credit MLA is open to those with a previous university degree in any subject area. It is highly sought after for career changers or those with a previous Landscape Architecture degree that is not accredited by the NZILA.
We also offer a nonaccredited one-year MLA degree by thesis for those with an accredited BLA, and a three-year PhD degree for those wanting to specialize or pursue a research or academic career.

Victoria University, Wellington
Victoria's School of Architecture has an internationally recognised reputation as a leading tertiary provider in the built environment. Our campus occupies a central city location just off cosmopolitan Cuba Street. Our location means we can easily engage with working practitioners in our teaching environment. We offer world class facilities on campus including exhibition spaces, lecture theatres, workshops, computer labs and design studios. Students have access to these excellent resources, as well as the latest technology, for undergraduate study and postgraduate research. Victoria's Landscape Architecture programme encompasses the technology of site development and site systems, historical and contemporary interactions of people in the landscape and design as critical methods of facilitating landscape change. All of these subjects are offered in an integrated programme anchored by the studio experience. Opportunities for the integration of teaching across disciplines are widespread at the School of Architecture and across the academic community at Victoria. Landscape Architecture students work on projects that address place, community, activity, meaning, form and aesthetics. The outcomes include integrated solutions for open space networks, transport routes, street typologies, built form, land use mixes, recreation space, community facilities and urban ecology.

The NZILA accredited qualification at Victoria is the 3+2 Bachelor Architectural Studies in Landscape Architecture (BAS)/Masters Landscape Architecture (MLA).

Unitec, Auckland
Based in the vibrant hub of New Zealand's largest and continually developing City - Auckland, Unitec's Department of Landscape Architecture is currently experiencing a new and exciting period of growth, evolution and change. Traditional landscape threads such as gardens, nature and aesthetics long associated within the profession are now being strengthened and complimented by notions of interplay, chance and change. Ecological restoration, revitalization of civic space, urban fringes and infrastructural wastelands form the fabric of modern landscape architecture. Social, environmental, cultural and economic issues are drivers for this change, influencing and forming a new character for landscape disciplines. As a consequence of this new character Unitec graduates learn a new language that enables them to acquire design techniques that represent, test and critique ideas and concepts that address these shifting drivers. Unitec's landscape programmes are based in a stunning listed heritage building within the beautiful, tree filled open space of our Mount Albert campus. We have dedicated studios for each of the four year groups of the programme fully equipped with drawing boards, MAC & PC computers and supported by a programme of the latest computer aided design software and machinery such as a 3-d router, laser-cutter (for model-making) and fully equipped workshops. Conceptual, explorative, technical and managerial, the suite of landscape programmes at Unitec offers professionally accredited degrees, diplomas and certificates, drawing on science, history, art and modern technology to equip graduates with the skills and techniques for a career in this exciting industry.

Unitec offers an NZILA accredited course:
Bachelor of Landscape Architecture degree (BLA)
What is a registered Landscape Architect?
Registered Landscape Architects are those members who have passed the examination of the NZILA following a period of practical experience.
Normally this requires three (but preferably four) years experience in landscape architecture, of which one year must have been completed in New Zealand.
The member must also hold an accredited qualification. All Registered Members are required to participate in a Continuing Professional Development (CPD) programme.
Every two years the member is required to submit an outline of their intended areas of professional development, and must annually provide a record of their CPD record (this can be done online through the members section of this website).
In order to join the NZILA as a Registered Member, you must have previously passed the Registration examination (in New Zealand) and have previously resigned from the Institute as a fully paid member. You must also be able to provide evidence of the CPD undertaken in your absence from the Institute.
How does a Landscape Architect shape our world?
Landscape architecture encompasses both the creation of new landscapes and the management and conservation of natural and heritage landscapes, at a variety of scales.
The discipline requires knowledge of natural processes, cultural influences, and how those elements interact to create landscape patterns.
Landscape architects work individually or lead collaborative teams with building architects, engineers, planners and other professionals including ecologists, historians, urban designers and artists.
Landscape architects are trained in site-specific landscape design, contract documentation and supervision, landscape planning and management, landscape assessment, and landscape policy formulation.
They spend time in the office preparing design ideas and plans for implementation, writing reports or expert evidence, meeting with clients and engaging with other professionals.
Landscape architects usually don't implement their designs, but they assist clients in inviting and reviewing tenders from landscape contractors, awarding contracts, and acting as the client's agent. Time on site can be spent discussing the progress of work with landscape contractors, inspecting work completed to ensure that it is up to the quality standard expected, and explaining aspects of the project to clients.
Landscape architects also speak up for and care for our landscapes. They are leading the way in tackling climate change and also helping to regenerate towns and cities across the world.
Many New Zealand-trained landscape architects live and work abroad while others based in NZ complete work for local and overseas clients.
National and international travel can be an enjoyable part of the job, although some people prefer to work mainly on projects within their communities.
Where can I work as a Landscape Architect?
Landscape architects plan, design and advise on the construction of urban, rural, residential and public landscapes. They also manage and conserve natural or heritage landscapes and public open spaces.
Landscape architects work in a wide variety of jobs, and an even wider variety of locations.
Within Council's, they can help with developing landscape policy, assisting with the development of recreational facilities, and oversee construction of urban projects. Many landscape architects are employed by consultant firms, either specializing in providing landscape related advice, or as part of a multi-disciplinary team involved in environmental design. There are also landscape architects who work in tertiary education, both teaching students and undertaking landscape research.
Understandably, there are concentrations of landscape architects in large urban environments, where work includes urban streetscapes, assessing development proposals and developing parks. But you'll also find landscape architects working in rural locations, either working remotely, or on projects such as wind farms or assisting with conservation projects within National Parks.
It all depends on what sort of work you want to get involved with!