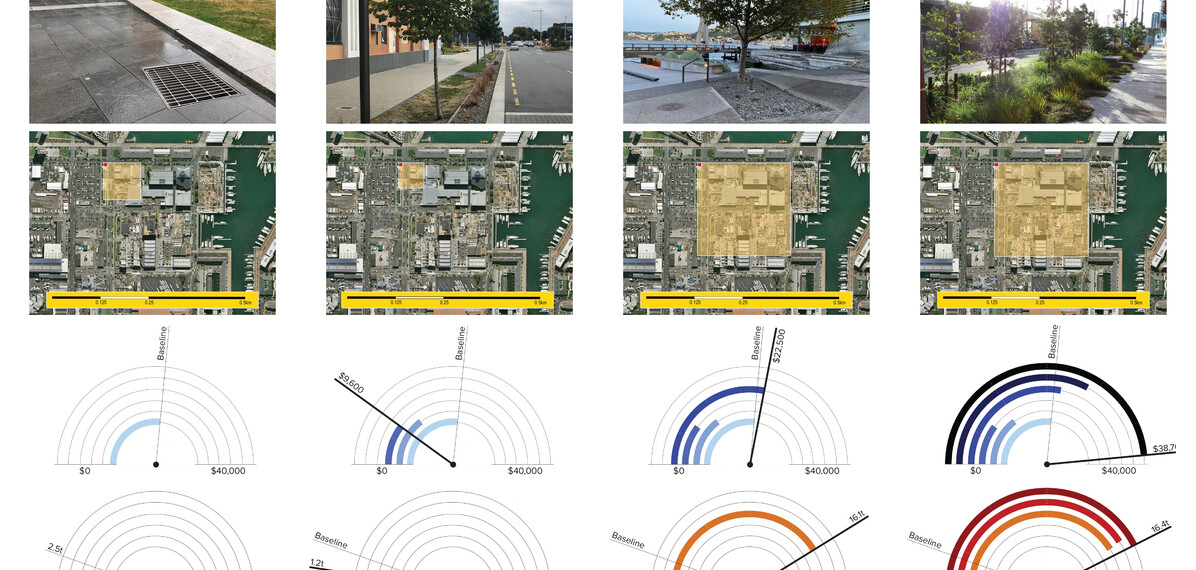 Showcase
Image Gallery
The Carbon Footprints of Urban Rain Gardens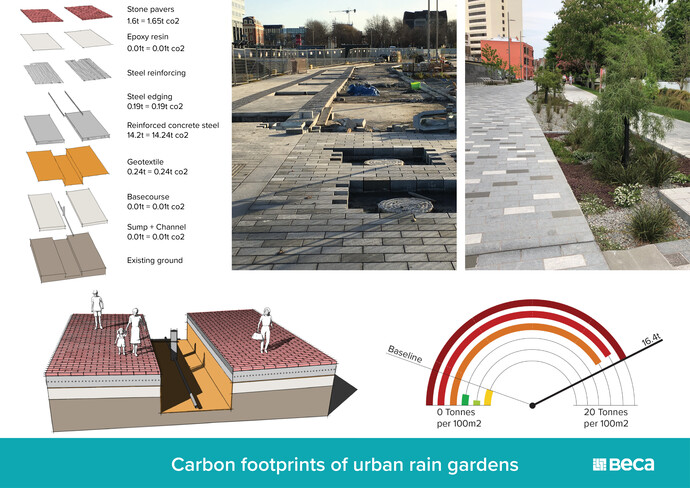 The Carbon Footprints of Urban Rain Gardens research, aimed to create a greater understanding of the true environment cost of some of New Zealand's rain gardens in public spaces. The research analyzed five existing rain gardens and created an axonometric model of each so that accurate carbon calculations could be done for each material layer used to construct the rain garden.

The analysis not only calculated the rain gardens carbon cost but also the number of trees it would take to offset that carbon. To understand the scale of the carbon issue a diagram was then created showing the land area needed to grow those trees. Some of the rain garden carbon numbers where significantly higher than the urban design baseline by a multiplier of seven. The rain garden with the highest carbon footprint had a cost of 17 tonnes of carbon per 100m2 of garden and require over 1700 tree to offset and 5ha of land to offset per 100m2 of design The analysis provided all calculations and easy to read infographics to help the NZILA community and our clients understand the impacts of our design decisions and specifications.

The research goes onto illustrate ways of reducing the carbon impact of urban rain gardens and urban spaces in general.
Judges' Citation:
The Carbon Footprint of Urban Rain Gardens highlights a very relevant issue for the profession of landscape architecture - the inconvenient truth of rain gardens. The document challenges the perceived 'good' intentions, offering a detailed critique well-supported with evidence. This is an important project, and points to the need for urgent conversations about how we can do better with low impact design stormwater management in urban areas.

Through revealing the realities of urban rain gardens, the project reminds the profession of its responsibilities to not accept prevailing approaches uncritically. Such thorough analysis is vital for robust understanding, and not only does the project identify the serious issues with business-as-usual approaches, it also offers potential ways of thinking through how to better design rain gardens.

Critical and careful design means not only reducing carbon costs, but also enhancing other aspects of the urban landscape including heritage values, educational and cultural narrative dimensions, ecological aspects, and even food and fibre.
Client:
Beca Independent Research
Company:
Beca
Internal collaborators:
Craig Pocock, Shayne Noronha, Samantha Pead