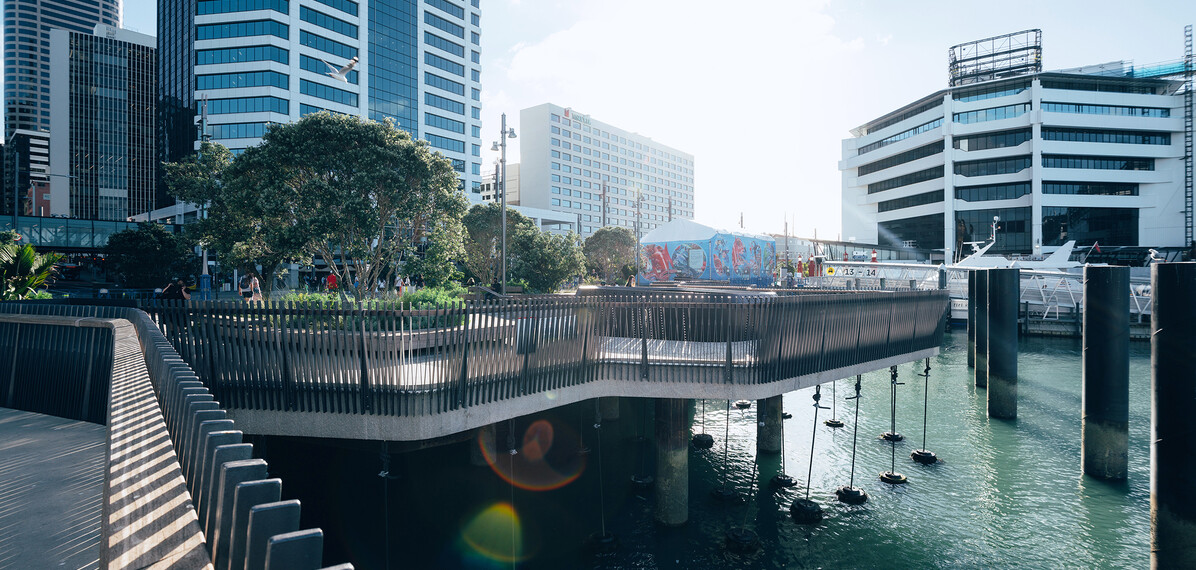 Back to the
Showcase
NZILA Category Winner Civic and Urban Design — 2022
NZILA George Malcolm Supreme Award — 2022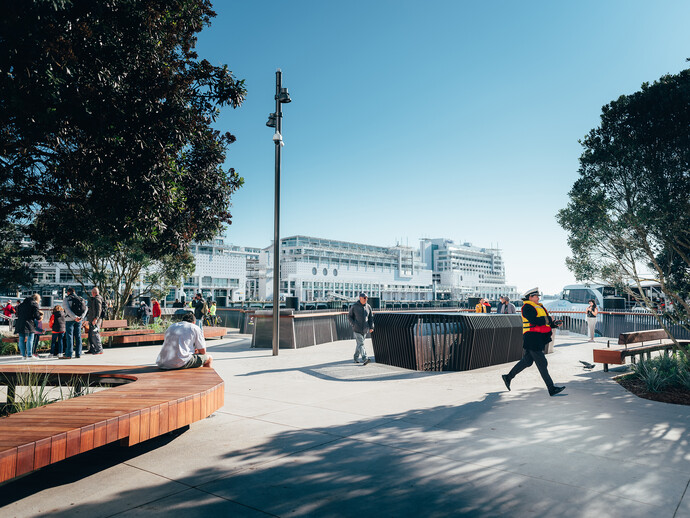 An elevated tidal shelf for human and coastal ecologies—Te Wananga creates space for people, flora and fauna to flourish at the interface of city and harbour. Celebrating the landscape, urban, social, environmental and cultural qualities of the people and place of Tāmaki Makaurau. It welcomes visitors with respect, generosity and care, providing a place to pause—to breathe and feel the breath—the hā of Tangaroa.
Located within the Ferry Basin, and funded by the sale of QEII square, it was delivered as part of the wider Downtown Infrastructure Development Programme. The brief was to deliver a memorable public space of equivalent size that reconnected people to the harbour edge and environment.
Underpinned by the programme-wide guiding principles—Auckland to Tāmaki Makaurau, Manaakitanga and Mīharo—this public space design is an expression of the breath of Tangaroa, reinterpreting the lost intertidal zone as a gift to the city, expressing kaitiaki through an evolving relationship between people, time and tide.
Te Wānanga was enabled through the foresight of Auckland Council and Auckland Transport, delivered by Isthmus Group in partnership with Mana Whenua. It is a place that acknowledges the areas working wharf past but turns to look forward with hope to a place of social, cultural, economic and environmental health, wellbeing and abundance. Where the sand shines brightest, where kingfish cruise the headlands and pātiki bask in the shallows, where children play under the watchful eye of elders—a place of mana, a place called Tāmaki Makaurau.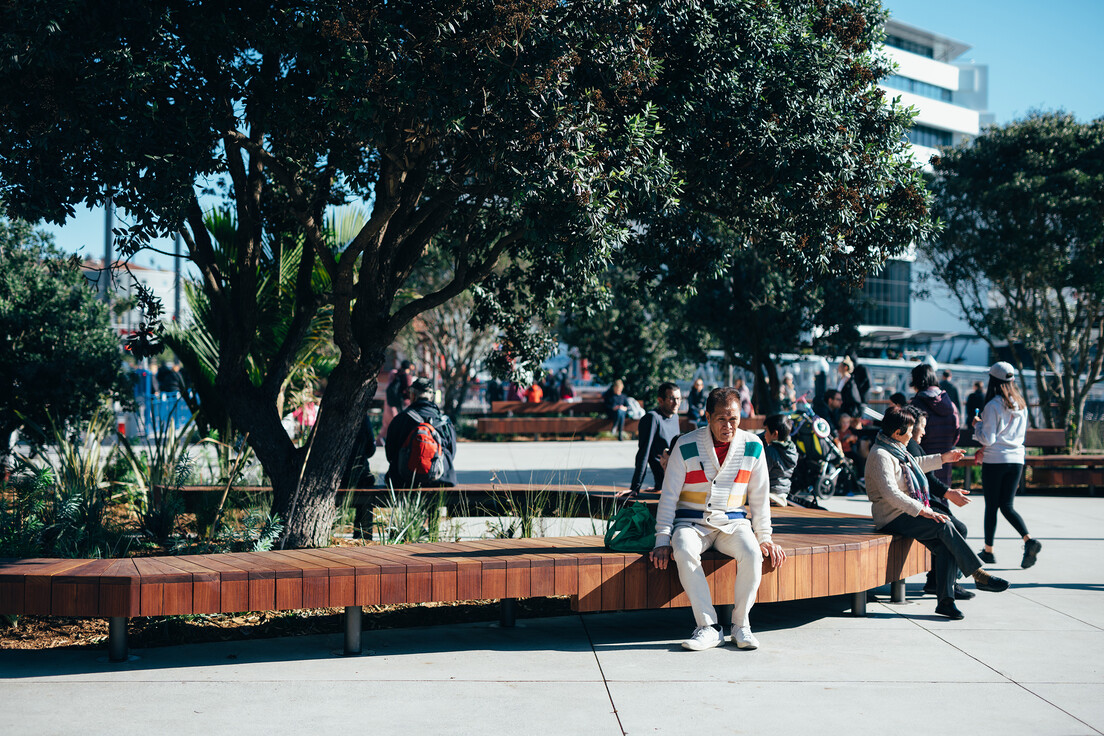 Judges Citation - category winner
Te Wānanga is a literal and conceptual stepping off point for design at the urban marine edge of Tāmaki Makaurau. Visitors are experientially suspended as the concept of 'edge' is explored. The top, sides, and underneath of interventions are instruments of this unique design expression. Sounds of the sea echo through designed apertures while light refracts and reflects across the ground plane, drawing into relief the tidally inspired surface textures referencing the ocean floor.

The interplay of shadows is a vivid expression of the verticality and depth of the marine environment below. Waka kutai, suspended baskets of marine habitat, create space and life in the diffuse green light of the harbour. Youngsters relax on sheltered woven platforms as pohutukawa and other native species hover in elevated tree pockets over the water, providing shade and refuge. Te Wānanga demonstrates inspirational design which stitches together land and sea, a thoughtful expression of iwi principles and values which creates a memorable place of mana.
Judges Citation - George Malcolm supreme award 
Te Wānanga, the name given to the new waterfront civic space extending over Tāmaki Makaurau's tidal harbour edge has many attractive and intriguing details which are enjoyed by visitors, but three elements demonstrate leadership in design for the profession. The first is the integration of this design into the surrounding civic enhancements through adoption of complementary design detailing, rather than claiming individuality.

This is a visionary approach led by the Auckland Design Office. The second is the care and respect for iwi principles and values, particularly for Tangaroa, through the collaboration with the Kāhui Kaiarataki collective, which makes Te Wānanga a special site for tangata whenua. The third feature is an important one for landscape architecture: the innovative methods for reestablishing the health and vitality of sea life through site works, especially the reestablishment of mussel colonies at the harbour edge.

Client:
Auckland Council, Auckland Transport, Panuku
Company:
Isthmus
Internal collaborators:
Sarah Bishop, Nada Stanish, David Irwin, Travis Wooler, Alex Foxon, Sophie Fisher
External Collaborators:
Tāmaki Makaurau Mana Whenua: Ōrākei, Ngāti Whātua ki Kaipara, Ngāti Whātua Runanga, Patukirikiri, Ngāti Te Ata Waiohua, Te Ahiwaru, Ngaati Whanaunga, Ngāi Tai Ki Tamaki, Ngāti Maru, Te Ākitai Waiohua, Ngāti Tamaoho. Kaitiaki Working Group: Jarrod Walker, Richelle Kahui-McConnell, Tessa Harris, Reuben Kirkwood. Consultants: Tonkin + Taylor, Flow.
Key contractors:
Downer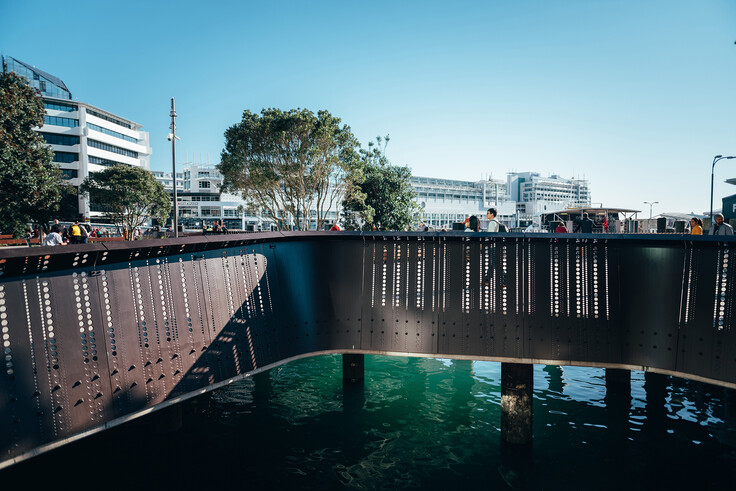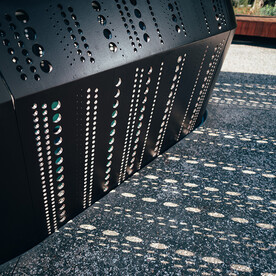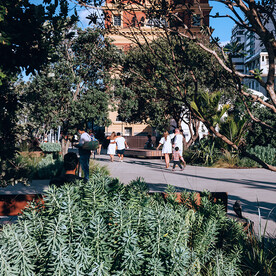 All images