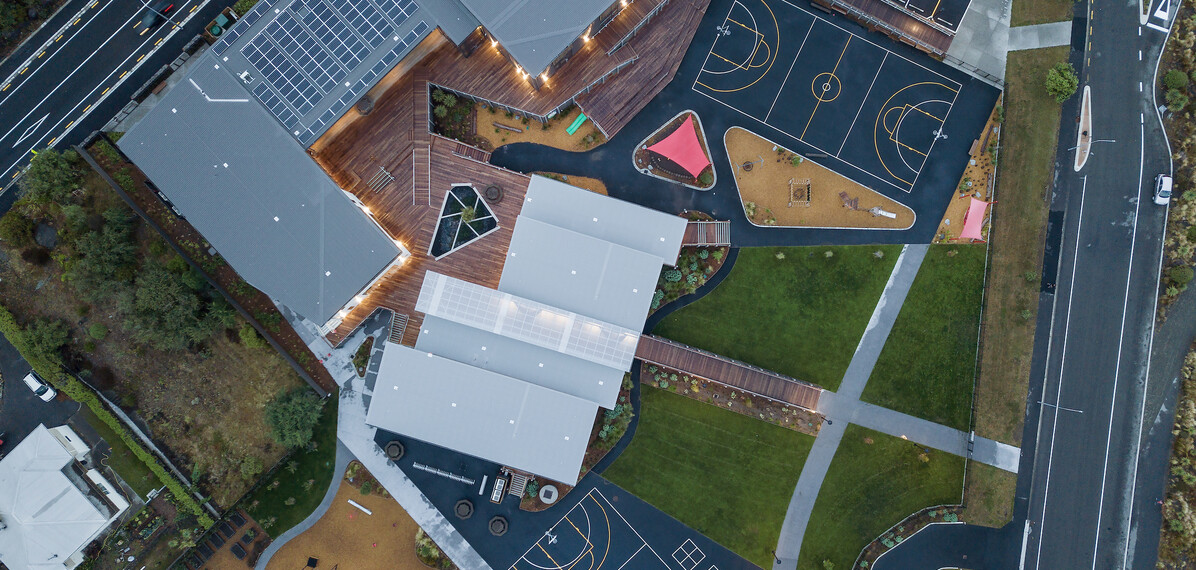 Showcase
Image Gallery
Te Raekura Redcliffs School
Canopy Landscape Architects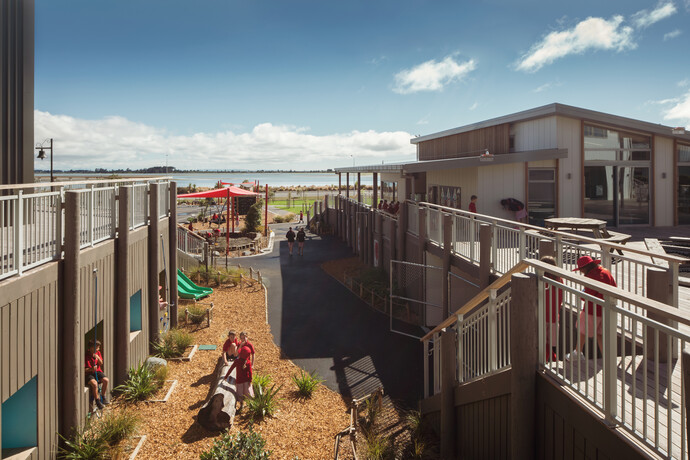 Te Raekura Redcliffs School sets a new benchmark for Primary School design in Christchurch. Canopy set out to deliver a bold educational campus that integrates 'Play' throughout the site and speaks to people about the local environment. Opportunities for playful exploration are scattered throughout the site and enables users to discover and engage using their imagination.
Clear design principles for the project were developed early, and these principles were held onto throughout the project. An ethos of teamwork and a collaborative design culture was instilled in the project team ably lead by Tennent Brown Architects. Strong leadership, a comprehensive brief and ongoing feedback from the School and Ministry of Education enabled a well resolved design. This collaborative approach continued into the construction phase with Naylor Love as lead contractor. Site queries and challenges were solved together in a positive and constructive manner. Some of the challenges tackled included working in a significant cultural and archaeological site, designing within a floodplain and inserting a new school into an existing coastal residential community.
The completed school campus is an engaging environment for the school children, staff and broader community. The school reflects the local community, culture and ecosystems. It is a well-loved asset for the Te Raekura Redcliffs community and it has already been professionally recognised in 2021 winning the Supreme Award at the NZ Commercial Project Awards, and Excellence at the Property Council Industry Awards.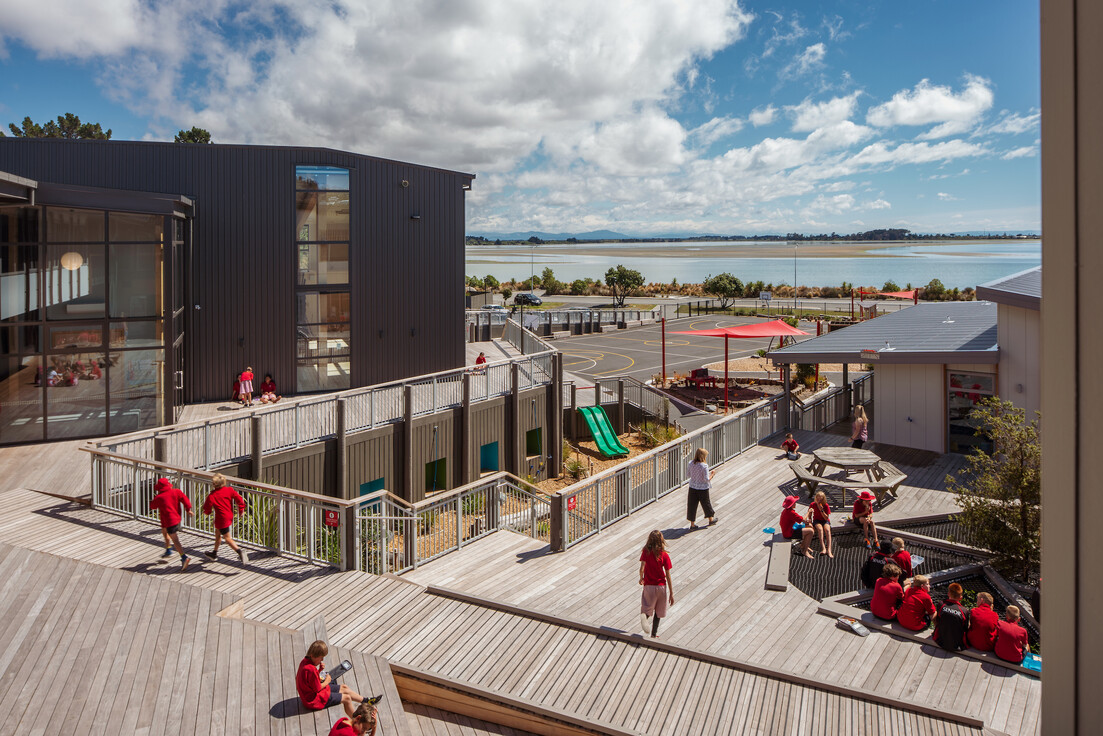 Judges Citation:
Te Raekura Redcliffs School is a rich and energising setting for education providing three-dimensional complexity and a stimulating setting for children. Its design demonstrates excellent resolution of complex levels with flow between the place sequences.
Fun elements including cubby-holes and seating nets cater to a wide range of student experience. Canopy seized the enormous opportunity presented by the creation of a new school. Analysis of the site context and history, constraints and opportunities, and engagement with tangata whenua, have culminated in a place-sensitive and memorable educational landscape.
There is clear evidence of close collaboration with the architects, resulting in a seamless flow from interiors to exteriors. There are a multitude of spaces providing shelter while supporting movement and learning. Access and furniture considerations are not limited to conventional elements, but provided for in a range of playful and imaginative ways. It is as much a place of learning as a habitat for adventure, creative expression and growth.
Client:
Minstry of Education
Company:
Canopy Landscape Architects
Internal collaborators:
Design & documentation: Paul Roper-Gee & Julie Greenslade
Design review: Luke Porter
External collaborators:
Tennent Brown Architects were Project Architect and Design Lead
Key contractors:
Naylor Love (Main Contractor)

Outerspace Landscapes:
(Sub Contractor)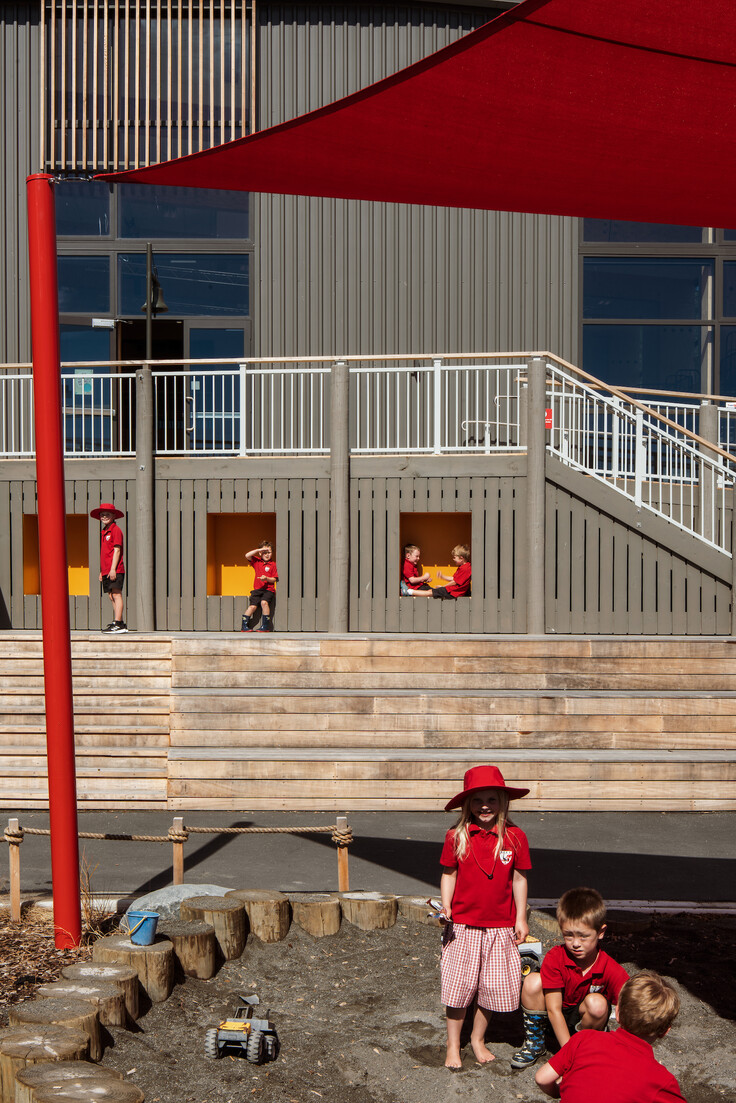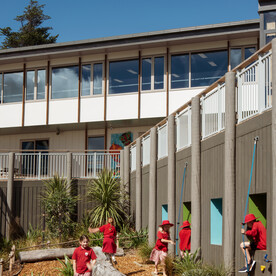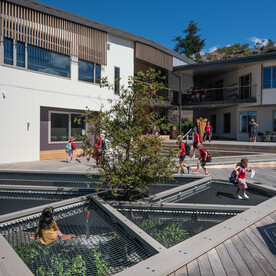 All images