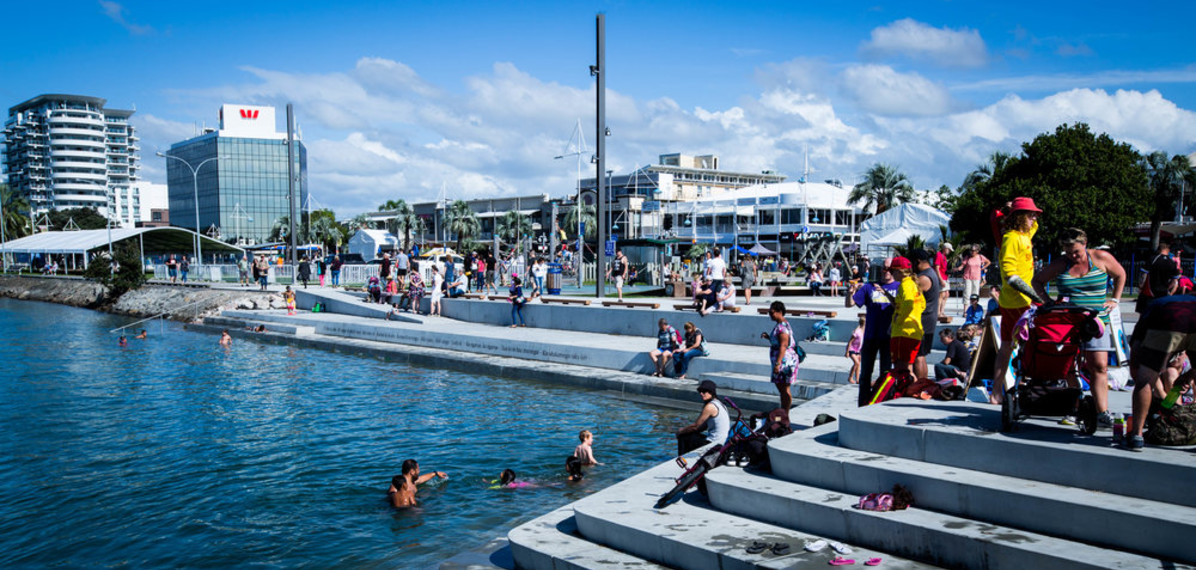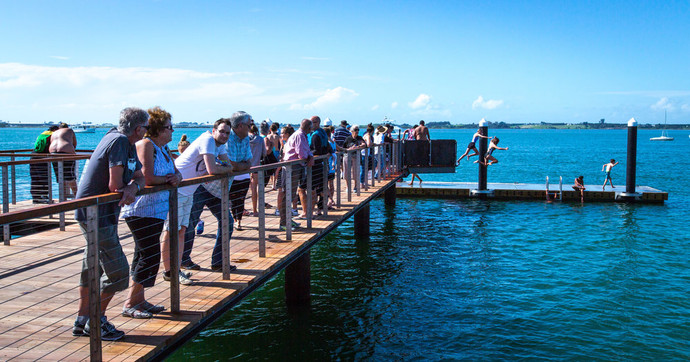 Tauranga City Council's 'Access to Water' provides enhanced public access between the City Centre, the waterfront and the harbour.

The overall design intent is to reinforce this area as the active waters edge destination at the intersection of the north south waterfront promenade and the east-west wharf Street and Masonic Park 'civic axis'. The combination of pier, wharf and stairs stitch together land and sea to create a defined and enclosed 'blue room' which reinforces Tauranga's spiritual and physical connection to the harbour. This new space provides for an exciting new opportunities to occupy, engage with and access the harbour and for a expanded range of recreational, social and event activities at the edge of the water.
Opened in May last year, the steps fold down into Tauranga Harbour from The Strand, reconnecting people with the waterfront and city centre. The $3.2 million steps, bombing platform and pier have been enthusiastically received by locals since day one, even though they opened in winter. 
Managing to work through all the difficult technical issues and budget constraints and come up with something that fits contextually and resonates from a design point of view is what Landscape Architect on the project, Henry Crothers, of LandLAB is most proud of.  The project deliberately sought to engage with the community in a meaningful and innovative way, asking them what they wanted instead of telling them what they were going to get.
There were a range of technical and safety issues to work around, with a still-used railway line running through the project. And there were some complex hydrological issues. The seabed needed dredging and reprofiling to allow small boats to use the pier.
With the steps themselves LandLAB wanted to create sculptured topography that provided for a range of occupational opportunities and ways to easily dip your toes into the water; a type of urban beach.
Etched into the stairs is a karakia and story about Tauranga. Different parts of it are revealed as the tide ebbs and flows. The karakia tells the story of how the mountain arrived at its present home at the water's edge and how the features of the land and harbour were formed on its journey.
The project is part of a wider $8 million plan to upgrade the central city over five years.
Client: Tauranga City Council (TCC)
Landscape architect: Henry Crothers, LandLAB
Team: BECA + E3BW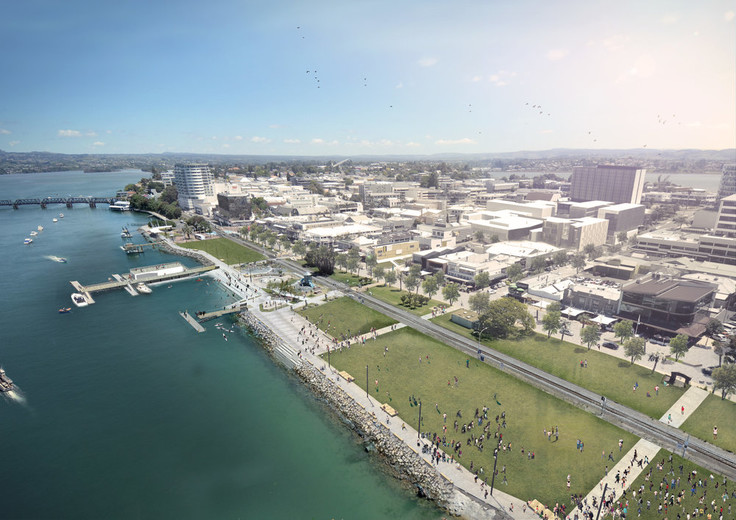 All images