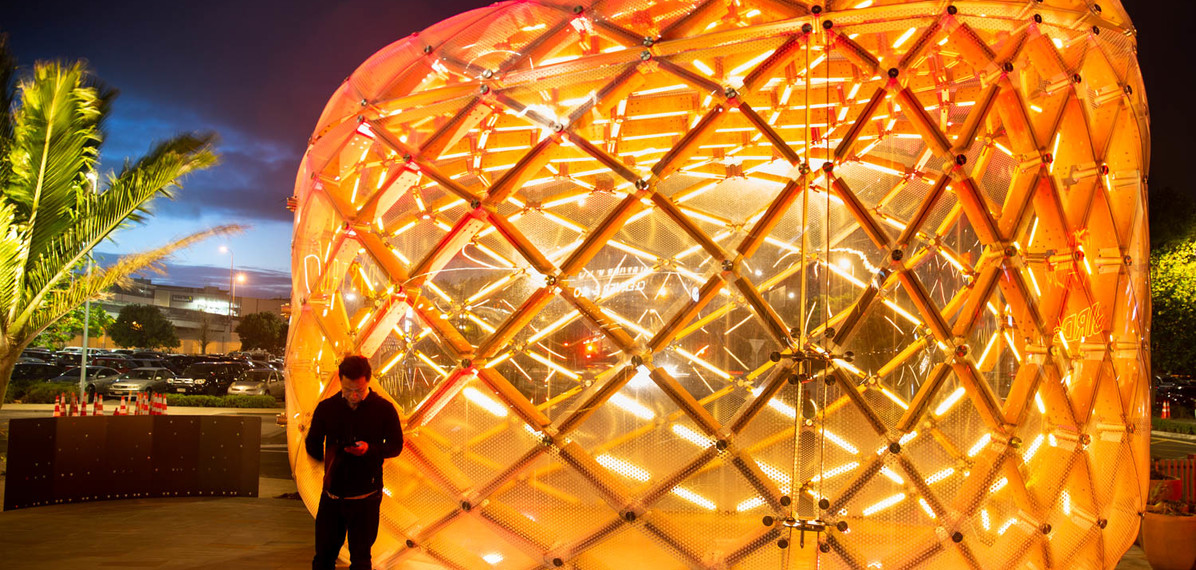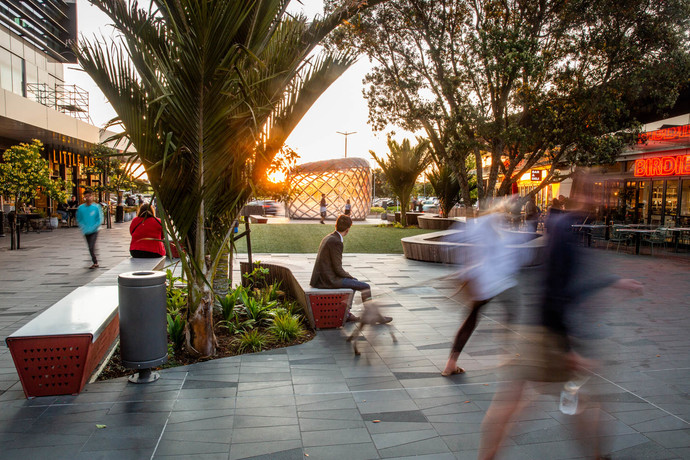 This project entails the reimagining of one of Auckland's premier suburban retail malls, Sylvia Park located in the city's south at Mount Wellington. Specifically it is the refurbishment of the site's primary outdoor spaces.
The new Plaza (The Grove) and Dining Lane spaces cumulatively reflect a changing attitude toward large scale retail development whereby public open space is a valuable and important contributor to the overall retail experience. The Plaza, a flexible town-square-like space, offers opportunities for both active and passive recreation in a curated space that is part village green, part urban plaza and part pacific garden. The sculptural multi-purpose pod structure, inspired by the form of a mangrove seed, sits front and centre of the Plaza.
A focal element for activity and performance, the Pod's intricate timber structure and translucent cladding provides a visually compelling bookend to the space, filtering views of, and noise from, the adjacent traffic. In contrast the linear Dining Lane space functions as a primary movement corridor and outdoor dining space. Eclectic mixes of potted native and exotic plants articulate the laneway's length, providing a vibrant visual foil to the corridor's neutral colour palette and unfussy detailing.
In both spaces, a simple palette of high-quality paving, luscious pacific planting, fixed and freestanding furniture, and feature lighting create a consistent outdoor environment that harnesses local pacific culture.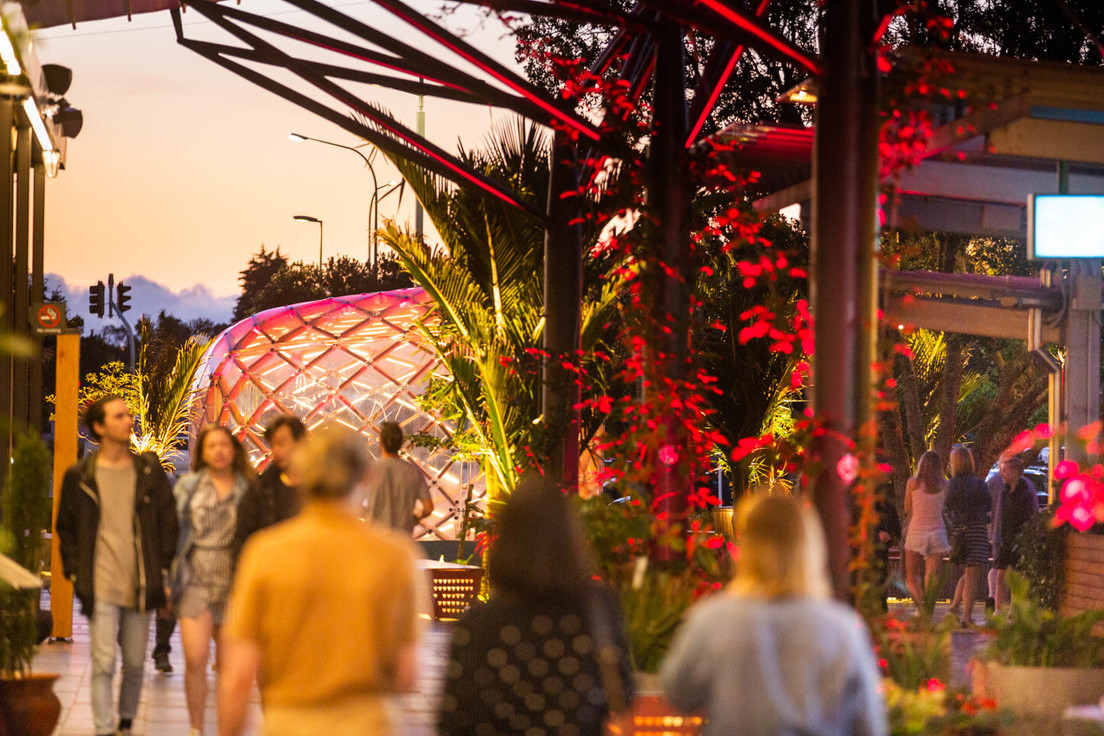 Judges Citation:
Shopping malls and their surroundings can be very challenging spaces in which to create landscape spaces. Sylvia Park Plaza and Dining Lane demonstrates how clever design can develop spaces which are inviting and lively, complementing the commercial focus of the mall.
The Plaza and Dining Lane caters for a broad range of users and is evocative of a South Pacific setting with colourful planting and a subtropical feel. The planting is well established and goes beyond the standard palette of plants for commercial spaces, offering a unique and carefully curated feel. This feeling is picked up in the furniture design, which has an Aotearoa/Pacific aesthetic. The Podis a highlight of the space, providing the kind of landmark which is invaluable in the sometimes disorientating setting of large malls. As a focus for entertainment and a sculptural form in its own right, the Podterminates the axis that extends out from the mall, and gives visual interest.
Overall the project is both playful (Pod, worm-like organic seating form, central mounding) and technically well resolved. The space functions well for different kinds of movements, and the objects like the Podand seating are well crafted/detailed.
The Sylvia Park Plaza and Dining Lane is very deserving of the Award of Excellence, recognising the achievement of a vibrant and high quality space within the demands of a commercial context.
Client: Kiwi Property Ltd
Company: Wraight + Associates
Internal collaborators
Megan Wraight, Nick Jones, Diccon Round, Nathan Young, Felix Smith and Erica van der Zanden.
External collaborators
Consultant collaborators: Architect: The Buchan Group and Architectus; Structural Engineer: HOLMES Civil Engineering: AECOM Project Manager: Pragmatix
Key contractors
Dominion Constructors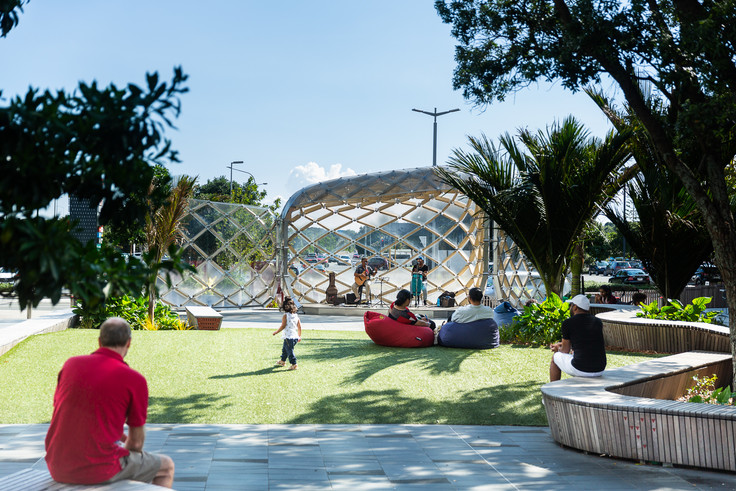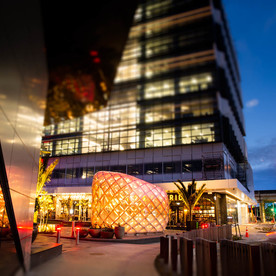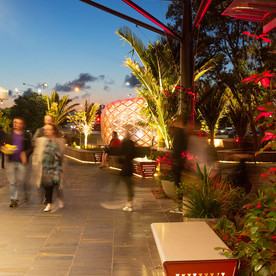 All images