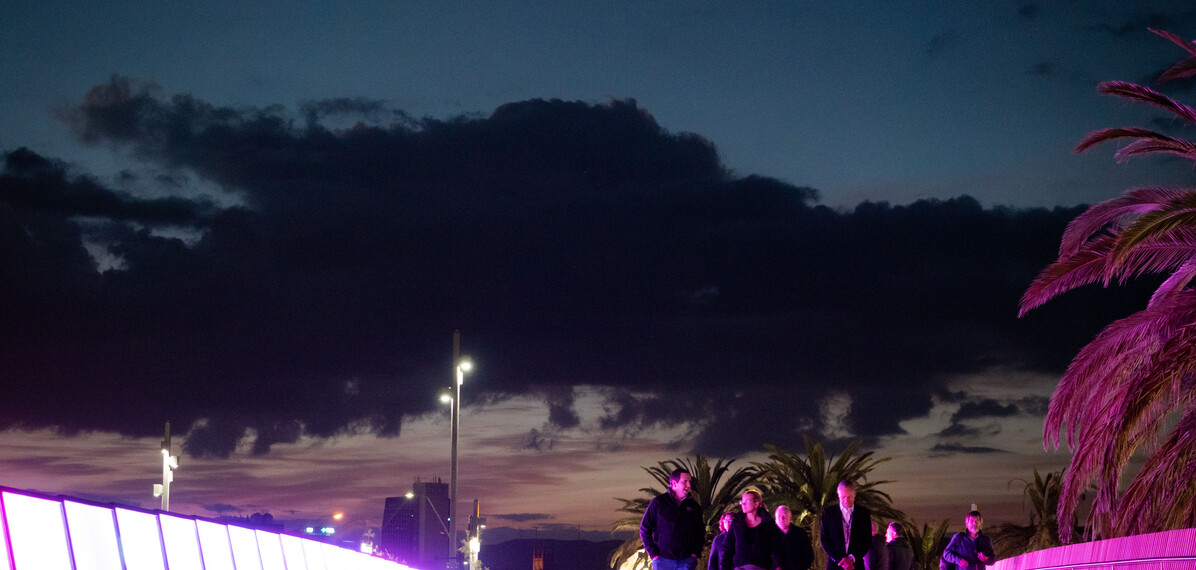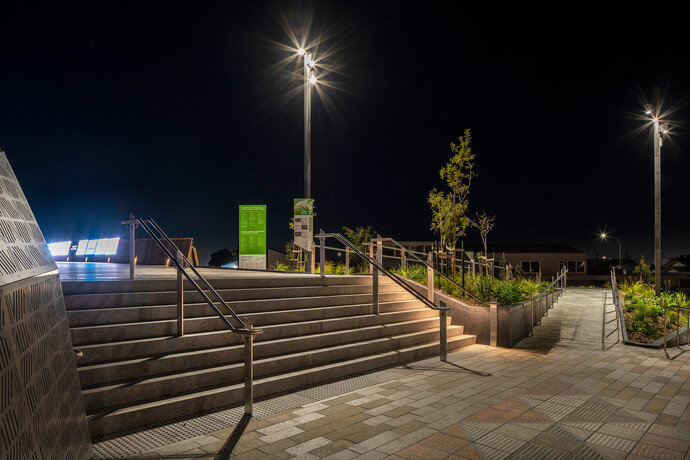 Extending the 'place for everyone' theme, Rangitāne gifted he aho tangata the threads that bind us as the central guiding kaupapa. "In a modern context, the whakatauki embraces all our communities as one, under the kaupapa of rangimarie, the mantle of peace." The proverb also refers to the technique for weaving kāhu, or cloaks. Significant representations include a taniko border comprised of triangular configurations known as niho, which here signify the relationship with the Manawatū landscape.
He kāhu the cloak is placed over CETA creating a safe, welcoming space for the community and visitors. He kāhu the cloak 'laid down over the land' informs the site's strong angular typography.
The entrance is open and inviting, low edges define the space. He kāhu elevated 600mm above the street is grounded with stone and niho pathways that 'zig zag' visitors through a grove of kowhai, elevating them to bridge level. Strong tāniko borders add texture and depth and are decorative details woven within the cloak's structure, visible on seating, walls and fencing. The footbridge, laced with timber, is a thread raising visitors from he kāhu into the main arena creating both a sense of expectation, and a moment of peace and pause before the action. Illuminated and activated by digital displays, the bridge lifts visitors above the activity of speedway with a subtle curve to reveal the main arena. The stands rise.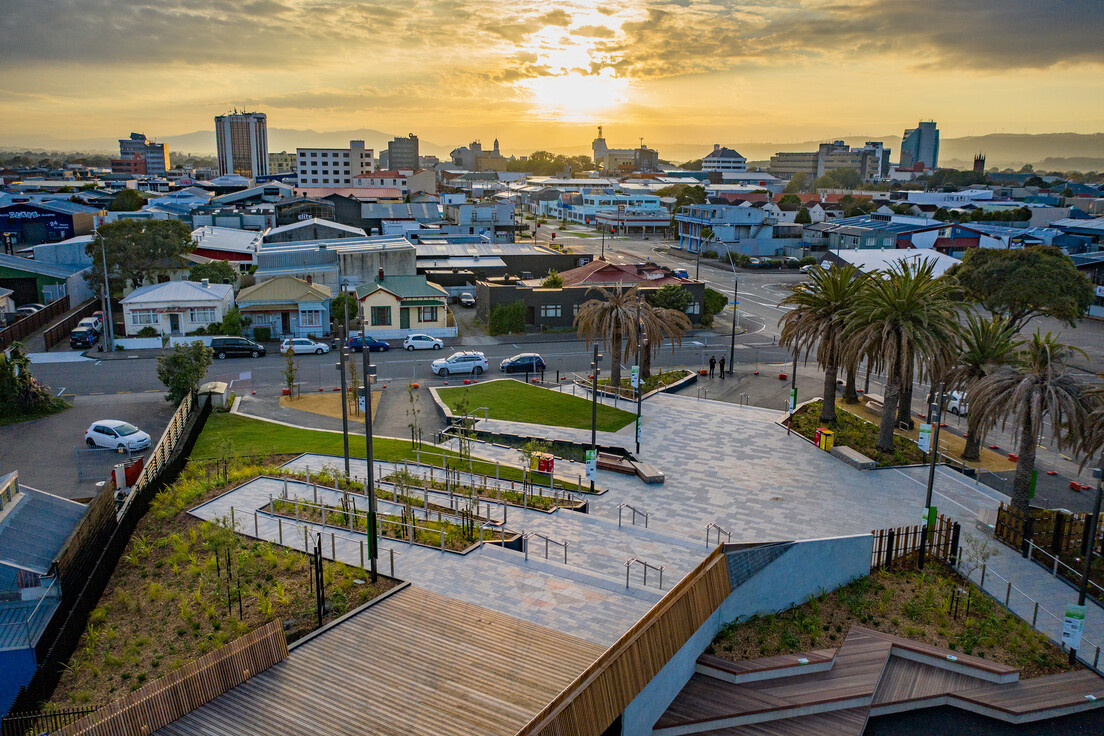 Judges' Citation:
This corner was once home to a mixed collection of small buildings but as part of a Palmerston North City Council's 2018-2022 Masterplan, it is now CETA's front door. Outstanding design has elevated this entrance from what could have been a utilitarian entrance way into an attractive, open and easily transited experience for all users. With excellent attention to detail and the use of quality materials, the design is restrained and provides a high quality experience.

Simple signage with photos and media quotes offers a fascinating look back, exploring memorable arena events. This design captures the spirit of the showgrounds successfully while occupied or empty. "The design is clever with beautiful details, from the crispness of the stone and timber work, to the vibrant informality of the green interpretative "fold overs" randomly dotting the site.". This entrance makes its mark on the street providing a welcoming frontage and a strong sense of presence for this important community asset.
Client:
Palmerston North City Council
Company:
local landscape architecture collective
Internal collaborators:
Dan Males, James Marsh, Hossein Behmanesh
External collaborators:
Warren Wilks, Lily Frederikse, Wade Jennings, Warren Warbrick, Andre de Groot, Jean Botes, Drazen Opacic, Brendan Sterling, Jemma Cheer
Key contractors:
Lead Construction: Humphries Construction
Civil Construction: Higgins Contractors Wellington
Planting Contractor: Total Landscaping
Tree Transplanting: Treescape Wellington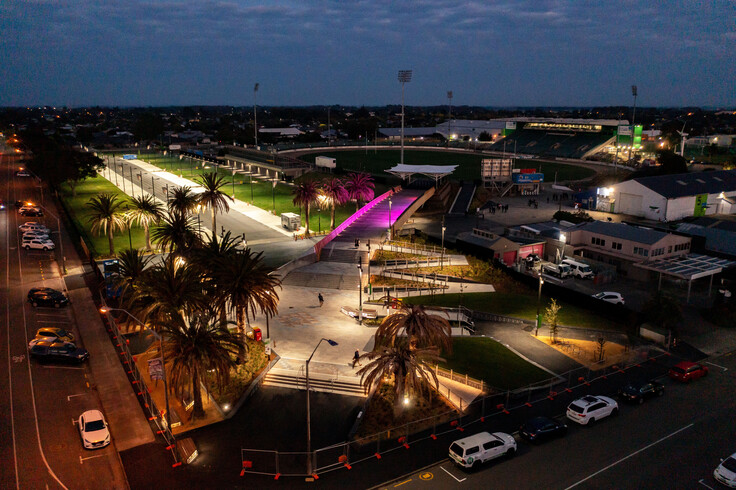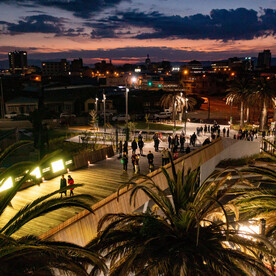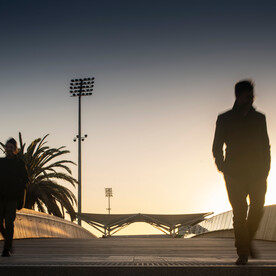 All images