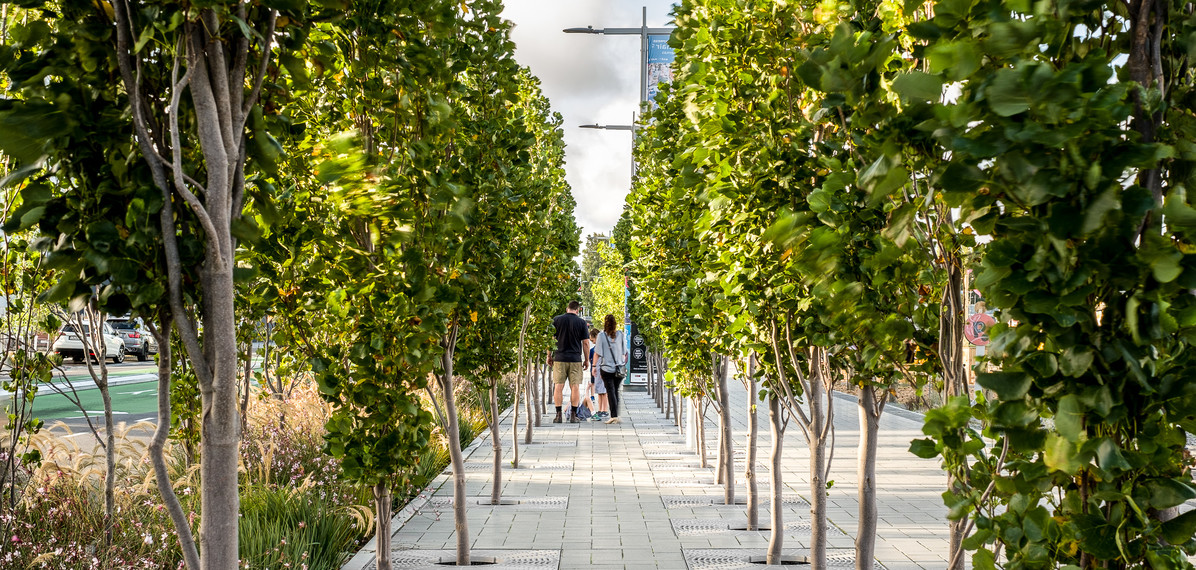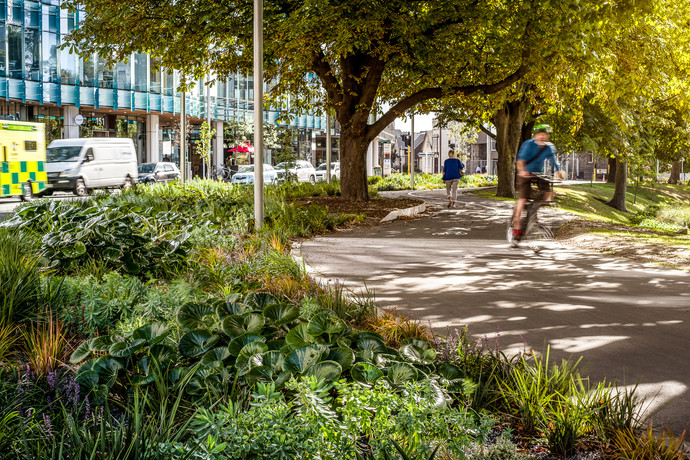 An Accessible City is a public realm project that has helped to elevate the role of the landscape architect in the design of movement and place in New Zealand cities. Jasmax sat at the top table to influence outcomes that are helping to make Christchurch more legible, more accessible and more socially and economically vibrant. An Accessible City is three transport packages covering over 75,000sqm.
The work included the design of architecturally iconic Super Stops on Manchester and Tuam Streets and the redesign of street arrangements, to prioritise walking, cycling and public transport movements. The project prioritised the delivery of CCC's award-winning 'Share an Idea' campaign and supports the Recovery Plan and Anchor Projects. It targets a three-fold increase in cycle and public transport movements by 2041. It also delivers a public realm that will stimulate a stalled rebuild in a city centre where over 70% of buildings were demolished and where large-scale public realm projects are being implemented first to reinstate the city centre and stimulate development activity.
Jasmax collaborated with AECOM and Aurecon to deliver a 'Complete Streets' approach that ensures all streets proportionately deliver usability for all ages and abilities and for all movements and activities. All streets needed to provide a balance of on-street parking and servicing as well as street trees and rain gardens, wide footpaths, cycling infrastructure and places to sit and congregate.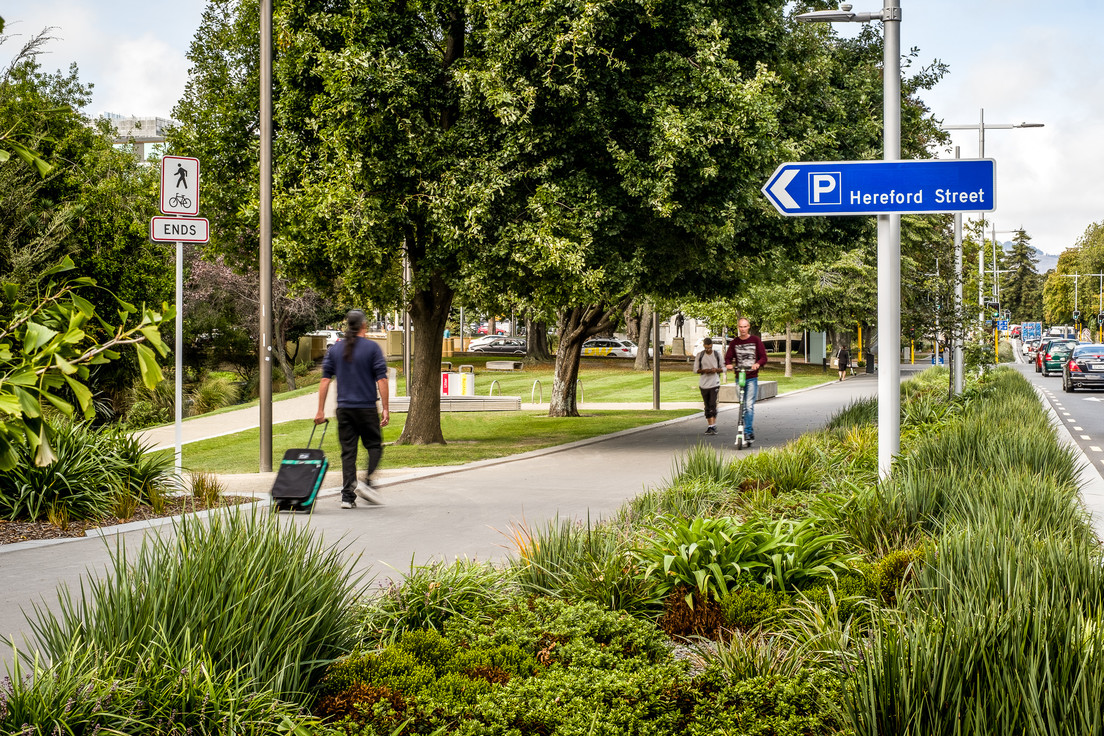 Judges Citation:
The Canterbury earthquakes created a massive upheaval in Christchurch's CBD but also provided an opportunity to rethink how Christchurch's urban streets could best cater for the multiple ways people move around and experience the city. The Accessible City project has effectively demonstrated how landscape architects can successfully guide and influence the design of urban transportation infrastructure to emphasise 'people' and 'place' in parallel with vehicle demands.
The project has positively reallocated the road space more equitably across all modes of movement and provided more space for pedestrians and cyclists alongside vehicles. In conjunction with this, the design team has produced a built outcome that treats over 90% of stormwater runoff through roadside rain gardens. The generously sized rain gardens and adjacent planter beds are filled with a bold and innovative planting design, which has combined natives and exotic planting species, including evergreens together with herbaceous perennials to dramatic effect. This discernible 'greening' of the city streetscape has had great visual impact, providing an attractive and stimulating 'garden city' character to the streets, which has been warmly received by the Christchurch public.
A simple but effective hard landscape materials palette has been applied to the streetscape which blends in with the adjacent Te Papa Ōtākaro project, and thus extends the influence of the city greening. Street furniture and other built elements are carefully positioned and well-crafted including bespoke bus shelters.
The Accessible City project has created a collection of people-focussed and visually distinctive streets for Christchurch's CBD and is very deserving of this Award of Excellence.
Client: Otākaro Ltd
Company: Jasmax
Internal collaborators
Jasmax - Mike Thomas, Rob Lawry, Adrian Taylor, James Raimon (superstop architect)
External collaborators
Otakaro Ltd, Christchurch City Councilm City [*] Sense consortium (Jasmax, Aecom, Aurecon)
Key contractors
Downer (lead contractor)
ENI Engineering (Super Stops)
Morgan and Pollard (Planting)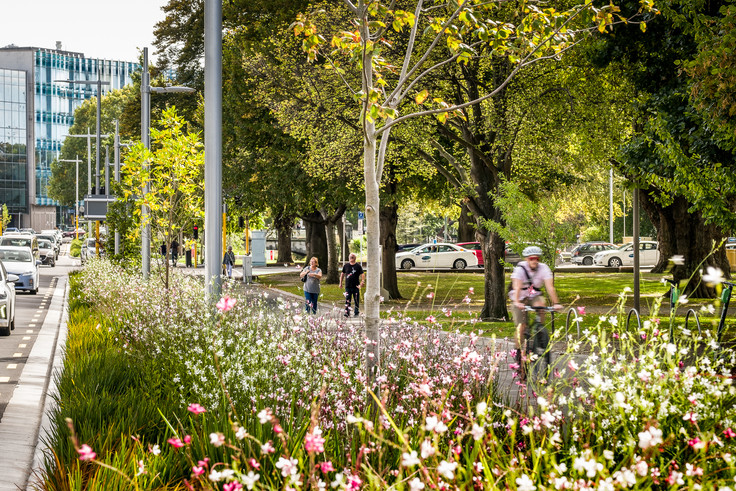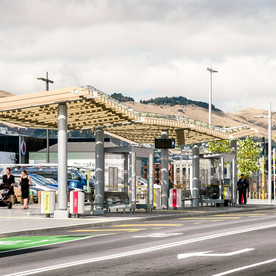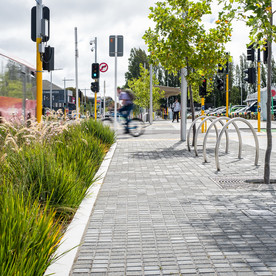 All images