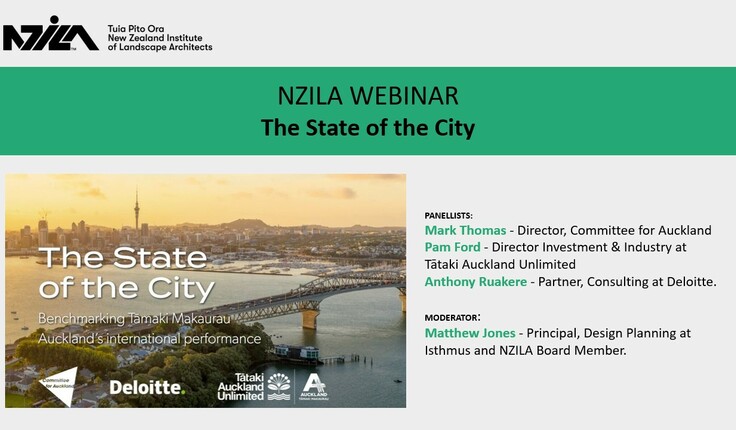 Webinar recording now available
NZILA Discussion Series Webinar "State of the City Report" - link below.
The State of the City – Benchmarking Tāmaki Makaurau Auckland's international performance 2023, is the first of its kind for a New Zealand city. It's a comprehensive report initiated by Committee for Auckland in partnership with Deloitte and Tātaki Auckland Unlimited to be undertaken annually.
Over the past decade, Auckland has ranked well on global liveability measures, drawing visitors, businesses, and investments from around the world. But reduced connectivity, innovation and skills challenges, and a slower pandemic recovery compared to other parts of the world, have tested our resilience. Now, more than ever, we must ask ourselves what Auckland needs to do to improve competitiveness, well-being, and resilience all of which contribute to New Zealand's prosperity.

For the first time, The State of the City: Benchmarking Tāmaki Makaurau Auckland's international performance sheds light on the significance of Auckland's position in the world, as competition intensifies for talent, investment, and visitors. It celebrates our strengths in the natural environment, destination appeal and diversity, while also pinpointing areas where improvement is needed, such as innovation, opportunity, and knowledge.

Webinar speakers:
Mark Thomas: Mark leads Serviceworks which specialises in smart mobility, city digitisation strategies and urban development opportunities. He is a regular international speaker and commentator on these issues. Mark is a director with the Committee for Auckland and NZTech, and is immediate past chair of the ASEAN NZ Business Council.
Pam Ford: Pam is Director Economic Development at Tātaki Auckland Unlimited. Pam has a distinguished career in economic development, receiving the Commendation for Distinguished Service Award from Economic Development NZ in 2019. Pam has worked for many years championing New Zealand's economic growth both domestically and in several offshore markets through her work with the Ministry of Economic Development, NZTE, and Auckland Council.
Anthony Ruakere: Anthony is Partner, Operations Transformation at Deloitte: Anthony brings more than 20 years' experience delivering systemic and political change in pursuit of addressing socio-economic in inequities in Aotearoa New Zealand. He supports organisations to develop and implement strategies and frameworks that deliver on their own aspirations, whilst at the same time improving outcomes for Māori and Aotearoa New Zealand as a whole.
Moderator: Matthew Jones, Principal, Isthmus, Registered Landscape Architect, NZILA Board Member

https://youtu.be/cXwtYiCX6vk?si=a9jRXHgKk4Xp2K4D