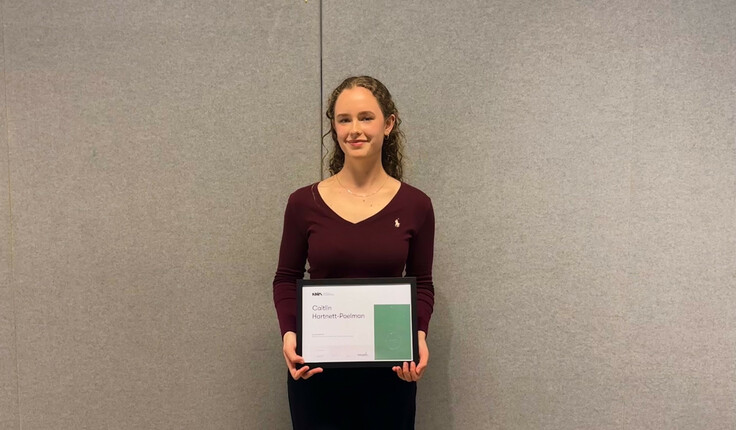 Caitlin Hartnett-Poelman from Victoria University has been awarded the 2023 NZILA Vectorworks Landmark Student Scholarship
Caitlin is a 5th year Master of Landscape Architecture student at Victoria University – Te Herenga Waka (Wellington) and is undertaking research on the design of therapeutic landscapes in the Auckland CBD.
According to Caitlin, her research focus is to 'develop an understanding of design principles that promote a sense of belonging and improve mental health and wellbeing among multicultural communities. The application of therapeutic landscape research is currently only understood in medical facilities, and literature suggests the significant potential for a similar approach to be implemented in urban spaces for the benefit of the public.
We asked Caitlin to tell us more about her decision to choose landscape architecture as a profession.
Q: When did you decide that you wanted to pursue a career in landscape architecture?
I first came across the terms 'landscape architecture' and 'landscape architect' at a sample lecture at the Victoria University of Wellington open day back in 2018. The professor discussed the transformation of The High Line in New York, where landscape architects took a decaying fragment of the urban fabric and turned it into a vibrant community asset. This ignited a spark within me. I was captivated by the idea of creating engaging and beautiful designs that could bring positive change to communities. 
The more I learned about landscape architecture through my degrees the more I realised not only how aligned this is with my own aspirations for making a small slice of change in the world but how complex and multi-faceted the role of a landscape architect is.  The careful weaving of people, ecology, history, and culture through design is a challenging but rewarding role to take on. Everything we create shapes the everyday reality for countless individuals, which places huge importance on our work.

Q: Tell us what drew you to this area of research.
I was drawn towards therapeutic landscape architecture for two main reasons - it is a relatively new field of research within the academic world and it has immense potential to positively impact people's lives. Therapeutic landscape architecture is a specific type of nature-based design that has been scientifically shown to improve physical and mental health. 
To date it has largely been tested in medical facilities for helping the sick, impaired, and injured but literature cited its potential to be implemented in public spaces for the benefit of everyday users. I saw this as an opportunity to investigate how these spaces could be implemented within urban contexts - locations with the least amount of green space and the worst reported mental health (according to the United Nations).
By 2050 68% of the global population will be living in urban settings putting added pressure on the quantity and quality of outdoor spaces. The built environment triggers stress responses in the human body and detrimentally impacts overall well-being. Studies have found that most urban environments people in developed nations encounter daily, trigger negative psychological and physiological bodily responses resulting in feelings of stress. 
Therapeutic landscape design has the potential to help relieve this mental health epidemic and presents a powerful notion: that outdoor spaces can be more than just visual, social, or ecological features but as places for health and healing.
Q: What advice would you give to students considering applying for next year's scholarship?
Don't hesitate to apply, regardless of your perceived chances of success. The application process is straightforward and is quick to fill out. Emphasise the key impact of your research—how it benefits people, the environment, or challenges conventional design thinking. Explore new perspectives, uncover fresh insights, and use imagery to vividly convey your vision. By addressing these aspects, your application will stand out and capture the essence of your research.