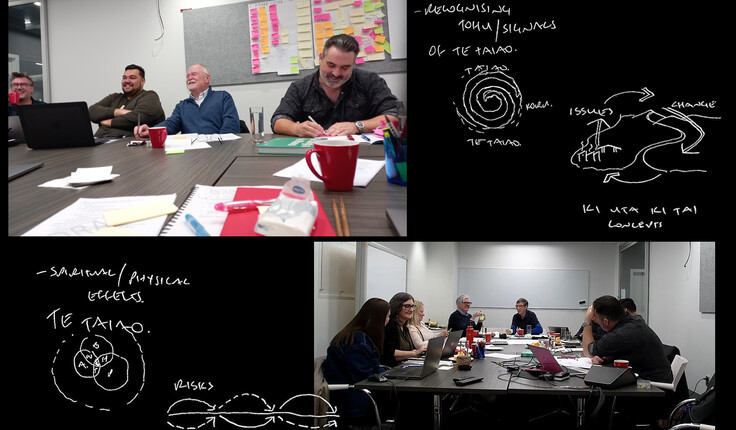 Progress Update
Writing from Te Matau-a-Māui / Hawkes Bay in the immediate aftermath of Cyclone Gabrielle, Shannon Bray described his region as "Climate Changed". While many of the signs of global warming are more subtle than the effects of a cyclone, for most of us the recent series of devastating weather events have brought the subject of Climate Change dramatically to our collective attention. As Landscape Architects we feel that we are uniquely suited to respond to this rapidly unfolding issue – both with respect to mitigation and adaptation. But as Shannon went on to ask "…..have we really acted?".
Tuia Pito Ora New Zealand Institute of Landscape Architects are committed to ensuring that members have the tools they need to take climate action, and the Tuia Pito Ora Climate Change Working Group was established in early 2022 with the task of providing guidance to the Institute on the professional issues and potential responses to climate change. A call was put out to the Tuia Pito Ora community asking for expressions of interest, and a group of members responded, offering a diverse range of climate change knowledge and experience from policy to mitigation and adaption. Members come from a range of landscape backgrounds including academic settings and big and small design practices. We have a good gender and generational age balance, providing a range of cultural, climate change, and practice perspectives. The group works collaboratively, with members taking responsibility for sections within their expertise, and drafts are shared for review. Following the recent reorganization of the Institute, Craig Pocock and Meg Back have taken on co-leadership of the Climate Change working group.
The working group acknowledges the significance of the MoU between Ngā Aho and Tuia Pito Ora, and in developing our approach we have recognised the principles grounded in the MoU and are drawing on the experience of Te Tangi-a-Te Manu to integrate and support best practice and positive outcomes for landscape/whenua/taiao. We have connected with Te Tau-a-Nuku early on and have been working with Alan Titchener, William Hatton, and more recently Ashleigh Ward who are providing guidance on how professional practice resources on climate action can best acknowledge and integrate Te Ao Māori and Te Ao Pākeha. As a group, we certainly don't have all the answers but there is trust and whanaungatanga, and the process is organic and evolving as we work through the issues.
Tuia Pito Ora Climate Change Group Members
Craig Pocock Co-leader
Meg Back Co-leader
Mark Lewis
Matthew Bradbury
Courtenay Northcott
Rebecca Jerram
Simon Swaffield
Henry Crothers
Te Tau-a-Nuku Climate Change Group Members
Alan Titchener
William Hatton
Ashleigh Ward
To date the group has:
Reviewed the Australian Institute of Landscape Architects (AILA) climate change documents which were offered to the Institute as a starting point for our work. The AILA documents are very helpful but not a complete fit for Aotearoa.
Created a draft content structure for an Aotearoa guide, with three sections, the first outlining the issues and basic science, the second providing tools for understanding and addressing climate change within members' work, and the final section will be a set of case studies.
Made a presentation to the institute membership about our work at the Tuia Pito Ora Nelson Conference.
Post conference the group decided that progress had been hampered due to the limitations of only being able to meet digitally, and we decided to meet face to face in Auckland to have a daylong wānanga. During the wānanga we worked with Alan and William on the Te Ao Māori framework in general terms. Henry Crothers used his Presidents honorarium to cover some travel costs which was appreciated.
The group still meets digitally every fortnight or so and are currently completing the first technical draft so that it can be passed over to our Te Tau-a-Nuku colleagues for their detailed consideration.
The current plan is for the resource to be a digital 'living document' accessible on the Tuia Pito Ora website, rather than a bound printed document. This would allow the guidance to be updated over time as new information and climate change thinking and practice develops.
Completion date for the climate change document is still uncertain. It is a complex issue within a Treaty context involving complex knowledge and science and is being prepared in volunteer time. The Group is committed to ensuring a timely response to the fundamental need for climate action, and we currently hope to have working documentation underway in the first half of 2024. We aim to start the rollout of documentation on the TPO- NZILA website as soon as is practical – creating a growing, evolving members' resource. Thank you to all the membership for your ongoing support.