Back to news & events
News
NZILA Fellow John Goodwin celebrates 35 Years at Boffa Miskell
Posted 12 10 2023
in News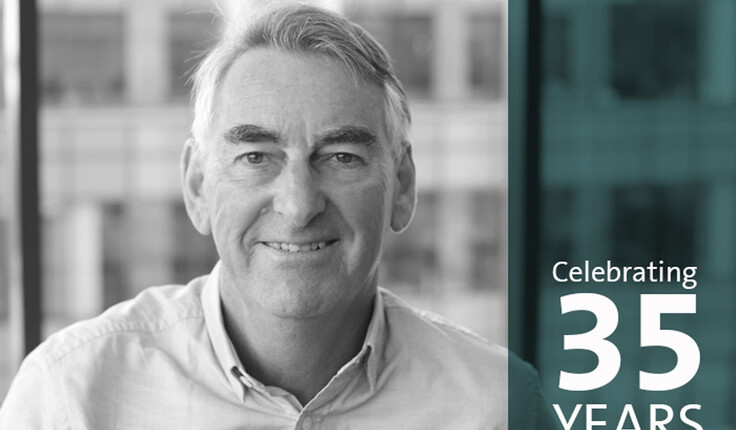 John Goodwin has helped shape Boffa Miskell for over three decades.
Boyden Evans says, "I very clearly remember when Frank Boffa approached John to join the company. Frank had met him only briefly but was aware of John's abilities and reputation, and was sure that John would be a good fit. This was definitely the case and John's recruitment was unanimously supported by the other Partners; it all happened very swiftly and John was on board, joining Sarah Collins who had set up the Auckland office."
"At the point, the Auckland office was myself, and a few graduates." recalls Sarah. "We were all landscape architects – we hadn't yet become 'multi-disciplinary' as Christchurch and Wellington were – and those two offices were, by then, well-established in their cities. It was different here. We were expanding very quickly – not just the business, but our families, too. I had my first child not long after John joined, and his first arrived around 18 months after that."
A period of rapid growth followed which was quite a contrast to the slow steady growth that had occurred in Christchurch and Wellington. With John's network of contacts and project opportunities, staffing requirements grew quickly; very soon the Auckland office was the largest.
During that time John undertook many large-scale landscape planning and landscape assessment projects throughout the North Island.
Rachel de Lambert moved to the Auckland office from Christchurch in 1991. She recalls, "Back in the day John and I had the opportunity to work together extensively, particularly in the Bay of Plenty region before we opened the Tauranga office. This was always a handy opportunity to make visits to John's parents, and then Mum, in Matamata where at least a cup of tea and baking, if not a full dinner, was a requisite of the visit."
Recollections may vary, Rachel admits, but continues, "This work involved a certain amount of danger, and included a rolled Subaru – I won't say who was driving – and some subsequent strict regulations on the weight of 'good' rocks that could be added to the boot and brought back to Auckland.
"I maintain the latter activity to be a bona fide aspect of field work and appreciation of the natural character of the coastal environment!"
Over the years, John established a track record in evaluating landscape and visual effects, and advising on site and route selection for a range of infrastructure, energy and utility projects. He has managed dozens of high-profile landscape planning and design assignments. Of particular note are his role on the Project Alliance Board (PAB) for the Northern Gateway Toll Road; Urban Design and Landscape Planning Lead for the Rangiriri Section of the Waikato Expressway; and, since 1995, providing on-going advice to Ports of Auckland in relation to Natural Character, Landscape and Visual Assessments, including those for the resource consenting of the 2021 America's Cup. John is a strategic advisor and peer reviewer for many of Boffa Miskell's large scale landscape projects.
John's work has been recognised with NZILA Awards, including Rangiriri Paa, Waikeria Prison Landscape Plan and Project Manukau.
John Goodwin has been a Boffa Miskell partner since 1990 and in 2007, he was elected as Board Chair and held the position for the several years.
Along with decades of mentoring Boffa Miskell colleagues in the landscape architecture and landscape planning teams, John contributes his time and expertise to many non-profit organisations. This has included providing strategic land-use planning and design advice to the Rotoroa Island Trust.
John lives on Waiheke Island, and for many years was director for Community Engagement and Consents for Sculpture on the Gulf. He provided technical advice, assisted with planning and obtaining the necessary resource consents around hosting the biennial event, which brings over 40,000 visitors to the island. His experience evaluating landscape and visual effects was invaluable to the festival organisers.
John is a Fellow of the New Zealand Institute of Landscape Architects Tuia Pito Ora , and from 1989 to 1993 served as Chairman of the Auckland Branch.
This article is shared with permission from Boffa Miskell.