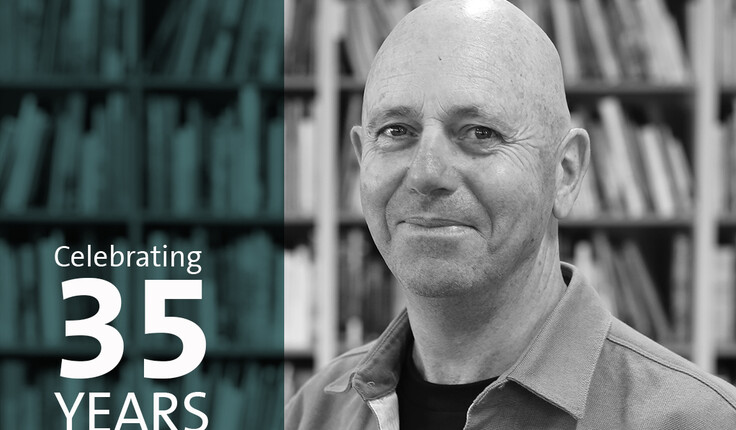 35 years at Boffa Miskell
Chris joined Boffa Miskell in 1988 and is one of the 'four founding partners' of the Auckland office who have celebrated 35 years with the company, along with Sarah Collins (1986), Rachel de Lambert (1987) and John Goodwin (1988).
Much of his early project work involved master planning and town centre revitalisation projects including Titirangi Village, Waihi Town Centre, Mairangi Bay Main Street and Opotiki Town Centre.
Associate partner Pete Whiting joined Boffa Miskell in 1998, and recalls, "One of my first jobs was the Waihi Town Centre project. The site visit was carried out by Frank Boffa, Rachel de Lambert, Chris and possibly John Goodwin… and I was there as the not-so-young graduate.
"Chris let me have a fairly free rein on the project, offering advice as required but letting me get away on a long rope. He handled the trickier aspects of the design while I faffed about with lights and paving!"
Twenty-five years later, graduate landscape architect Princeton Motupalli is benefitting from the same experience.
"Starting out as a fresh graduate, I was lucky enough to be taken under Chris's wing on a monumental project: the Eastern Busway Project," Princeton says.
"I knew that I would learn a lot about being a landscape architect. But to my surprise, [after Chris suffered a serious injury to his right hand] I also learnt a significant amount about how to deal with the unexpected. From learning to write with his non-dominant hand, to typing with using only one finger, I saw Chris do it all!
"Despite those injury-related hurdles, he stayed on top of his game," Princeton continues. "From managing large-scale infrastructure projects to dealing with difficult people and situations, his cool and calm composure radiates an 'everything will work out' essence – a quality often underestimated in our demanding and stressful industry."
Chris was named a Fellow of the New Zealand Institute of Landscape Architects in 1998, and from 2010 – 2016 he headed up Boffa Miskell's Shanghai office, managing projects across China including New Town infrastructure and incorporating sustainable stormwater design into a wide range of public realm projects as well as mixed use and tourism developments.
Landscape architect Erin Diao says, "Approximately a decade ago, I crossed paths with Chris at the Boffa Miskell Shanghai Office when I was an intern just out of university. I can still vividly recall those moments when he explained the intricacies of project work in China and the immense dedication required from the team.
"Chris has played an important role in shaping my career journey. He offered me the first opportunity to explore the professional world, and several years later he introduced me to the Auckland Office. Chris guided me through my registration process and continuously inspires me to uphold a future-focused outlook.
"And another little anecdote: you will find Chris has a remarkable level of tolerance for spiciness thanks to his years of living in China," Erin adds.
For the 3km-long Jinshan Eco Road (2013) Chris developed a design that completely changed the standard Chinese road profile by draining stormwater off the carriageway into rain gardens within the road, and then discharged the treated stormwater into an adjacent stream; providing ecological functionality and enhancing pedestrian connectivity.
Over the past two decades, he has led the landscape and urban design aspects of many large-scale transportation infrastructure projects across the North Island, including the multi-award-winning Northern Gateway Toll Road (2008), Warkworth to Wellsford Motorway, AMETI, Newmarket Viaduct, Victoria Park Tunnel and the East Taupo Arterial.
"The first major project I worked on with Chris was a highway alliance bid," says landscape planner Oliver May.
"As with many complicated bids, this culminated in a crescendo of last-minute changes which resulted in Chris and I working from the office on a Saturday to finalise our Cultural and Environmental Design Framework.
"Chris has been an empowering and supportive mentor over the last five years. His familiarity and experience working on large infrastructure and roading schemes has been a font of knowledge which have helped me further develop my own abilities," Oliver continues. "He will always find a way to guide you without telling you exactly what to do. He will also inspire you to try and eat a chicken foot in a Dim Sum Restaurant for the first time. Both are treasured qualities."
"He's a true inspiration, both professionally and personally", says Princeton. "An unwavering personality that serves as a shining example to us all. These are the words I would use to describe Chris."
This article is shared with permission from Boffa Miskell.