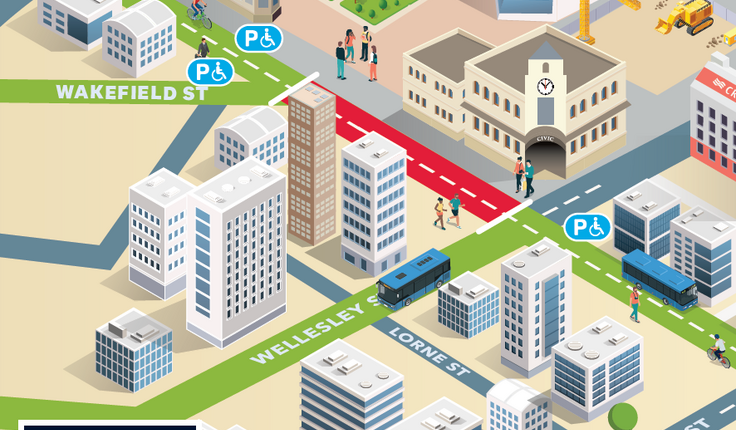 Watch Video
Private vehicles are being excluded from a section of Auckland's central city - and those who break the ban can expect an expensive fine.
Only only buses, motorcycles, mopeds, bicycles, goods vehicles and emergency service vehicles are now allowed to use Queen Street between Wellesley and Wakefield streets. Auckland Council says the zone change will substantially reduce congestion, air and noise pollution, making it safer for pedestrians and micro-mobility users.
The Essential Vehicle Area (EVA) received strong support from Aucklanders in consultation on the Wai Horotiu Queen Street Project during September, the council says.
Planning Committee chair Councillor Chris Darby says the EVA will free up precious space along Queen Street for essential road users and make the area safer and more pleasant for Aucklanders returning to the city centre.
"Auckland's city centre is the commercial powerhouse critical to the prosperity of Tāmaki Makaurau and Aotearoa.
"Guided by the City Centre Masterplan, our goal is to regenerate the area to create a better connected, greener, and more prosperous place that we can all be proud of.
"The introduction of the new Essential Vehicle Area for a small stretch of Queen Street is an important early step to make the Wai Horotiu Queen Street Valley more desirable for people who live, work, study and enjoy the city centre.
"It is a signal that Auckland is moving past the days of Queen Street being a congested, polluted drive-through to a go-to destination. Essential vehicles maintain their access but private vehicles will navigate alternative routes to park and get around," Darby says.
The EVA will be remotely monitored and those who breach it will be pinged $150, although there's a six week grace period until August 14 to allow motorists to get used to the change.