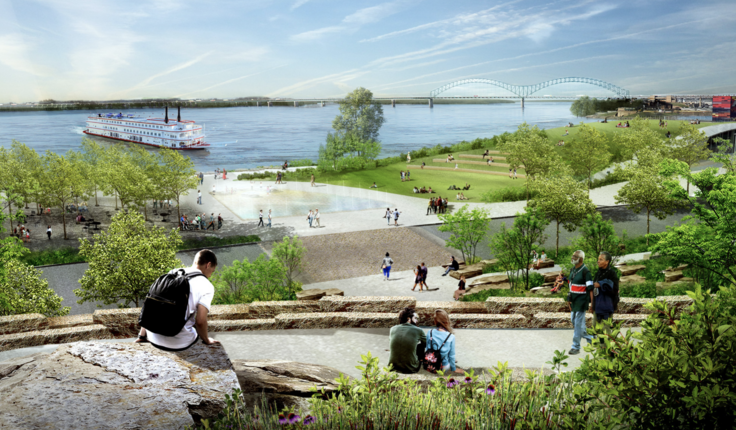 Kate Orff says she is trying to re-set the practice of landscape architecture.
The Scape founding principal, along with her kiwi colleague Tama Whiting, recently presented an NZILA Streetscape Speaker Webinar where she started by saying she is trying to reframe the profession against the backdrop of a 'global landscape emergency.'
'I feel like we have all been trained very well … to make beautiful parks and playgrounds and we have to keep doing that, but what do we really need to be doing relative to some of the more shocking and distressing facts in terms of the destruction of the physical landscape and the flora and fauna that inhabit it?"
Kate says landscape architects are trained as planners, civil engineers, conceptualisers of land, designers and thinkers but "while we are doing this, the actual landscape is disappearing."
She is working to forge different pathways. "It's time to think bigger and more expansively about infrastructure and landscape and policy and begin to weave these elements together and create broader front initiatives and truly design the landscape at the scale that is needed.'"
Tama Whiting works with Kate in the Scape New York office. She describes the Victoria University graduate as an emerging 'super designer.' LAA profiled Tama back in May. He presented to the webinar on Scape's Tom Lee Park project in Memphis Tennessee.
The 30 acre park is on the edge of the Mississippi River on land reclaimed by the US army.
Tama told the webinar audience that the area is home to seven First Nation tribes.
He says Tom Lee was a selfless African American man who worked on the river. In 1925 he was at work when a boat capsized and even though he couldn't swim, using his small boat he saved 25 people from drowning.
Construction has begun on the re-imagined design for the park which will reconnect the city to the river. The new vision for Tom Lee Park opens up access points, frames panoramic views of the river, and accommodates a flexible range of uses that will adapt with time.
Tama says the team drew inspiration from the existing formations which naturally occur in the river natural sediment and flow patterns of the Mississippi River in the form of riffles and ox bows. Their plan also needed to be able to accommodate the popular, annual music festival held on the site.
Tama pointed out that much of the project was designed remotely as he began working with Scape just as the covid pandemic forced everyone out of the NYC and New Orleans offices to work from their homes.
You can see the full NZILA Streetscape webinar in the video below.