Back to news & events
News
Kia Whakanuia te Whenua People Place Landscape
Posted 24 08 2021 by Jan Woodhouse
in News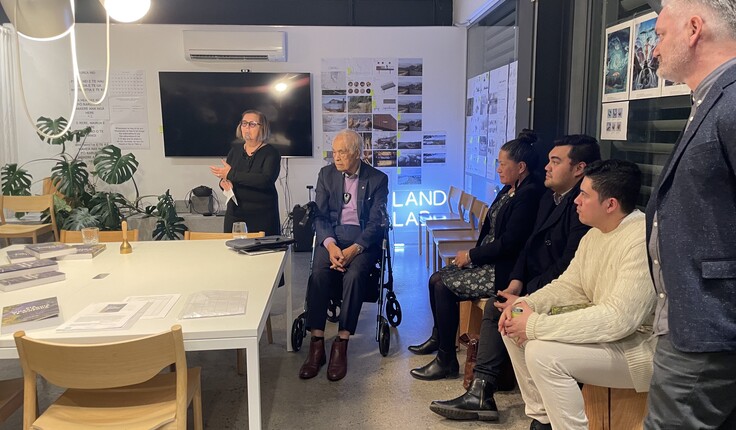 On Thursday 8 July, LandLAB hosted a small event to both celebrate and acknowledge Matariki and to help promote the Landscape Foundation's first publication 'Kia Whakanuia te Whenua People Place Landscape'. We were incredibly honoured to have Matua Haare Williams attend and speak about the significance of this precious taonga.
The purpose of the event was to reach out and give the publication exposure to a diverse audience. Authors spoke about their articles, waiata and karakia followed by kai, drinks and more kōrero. Copies of the book and artworks by Waiari MacMillan were available to purchase to all who attended the event.

Dr Haari Williams wrote to Landscape Foundation Chair Dr Diane Menzies after the event saying;
"The cultural landscape of Ihumatao has been understood through natural and indigenous perspective. I walk backwards into the past. I loved the way you as writers took words and made them into pictures, into works of art and into a collective vision within our unique landscape of time, place, space and perspective, a landscape rich with rangatahi vibrancy, expressiveness with hope. Space for our kids to dream big and dream differently. If we listen carefully to the stories, listen with Ngakau Mahaki and Kaitiakitanga we might just feel Whenua Moana and Ngahere screaming in pain. Enhance landscapes as dwelling places for plants and animals as well as people to heal rural landscapes for future generations. Stand-up rangatahi Maori Pakeha and other, critical and honest thinkers each with a strong moral compass to sail us through the rough. We want them to be free and raise voices in support of what is good and just. Everyday experiences of trees, water, plants and wildlife, as the protective shield against mental and physical health challenges."

A big mihi to Henry Crothers & LandLAB for hosting and sponsoring the drinks, the NZILA for sponsoring the kai, and to all those who helped, attended, and made the event so successful. Special thanks also to Dr. Diane Menzies, who was instrumental in making this book and event happen.