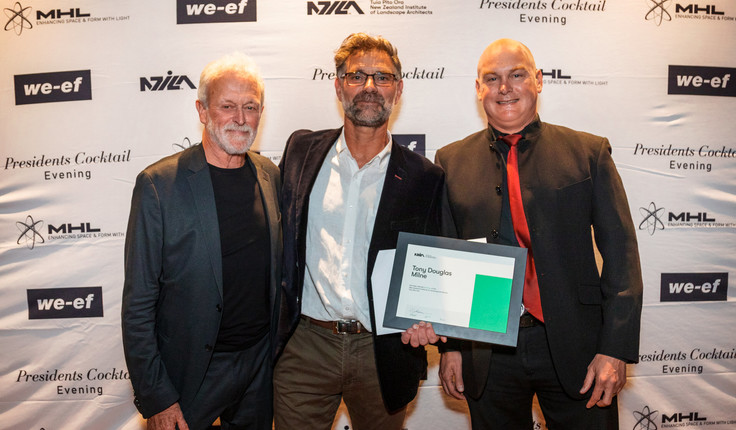 Tony Milne says he feels humbled and honoured to have been awarded a Fellowship of the New Zealand Institute of Landscape Architects Tuia Pito Ora at last night's President's Cocktail Evening in Tauranga.
The Rough and Milne leader is "somewhat surprised" by the award which he says means a great deal to him.
Tony says it might sound cliche but he really loves what landscape architects do. He adds that he has always been driven by trying to achieve the best he can and that has what has driven him in his practice.
The citation for the Fellowship stated that "during a career that has so far spanned 25 years Tony Milne has made significant contributions to the practice of landscape design, the communication of knowledge by teaching and to leadership of people. "
With a Bachelor of Arts in Geography from the University of Canterbury and a Bachelor of Landscape Architecture (Hons) from Lincoln University, Tony set up his own practice which merged with Peter Rough Landscape Architects in 2010 to form Rough and Milne Landscape Architects.
Tony has played a major role in developing the design side of Rough and Milne from his Christchurch base and his work has been nationwide with his clients including private individuals, developers, government agencies and regional and district councils.
The Fellowship citation says Tony Milne has throughout his career "achieved a pattern of distinguished work and leadership in playing a significant role in improving and revitalising streetscapes, city centres, school and tertiary education campuses, parks and reserves and many other public realm spaces and in designing comprehensive subdivisions, high-density communities, shopping centres, retirement home complexes and tourist resorts, many of which have been green-field developments."
The citation highlights key projects Tony has been involved with which have increased people's appreciation and awareness of the work carried out by landscape architects. They include the Hanmer Springs Thermal Pool and Spa complex, Christchurch's Avon River Precinct, Christchurch College of Education campus, Prestons Residential Development in Christchurch and, in association with Rory Langbridge Landscape Architects, Nelson Hospital redevelopment.
Notably in 2016, Tony aligned Rough and Milne Landscape Architects, initially with Hawkins Construction and then with Downer New Zealand Limited, and other consultants, to form a design-build team to deliver several design packages forming part of Te Papa Otakaro/Avon River Precinct project in Christchurch.
"Tony's contribution to the successful delivery of the Avon River project, through strong leadership, design and problem-solving skills, has significantly enhanced the Christchurch Urban Centre and brought recognition to the profession of landscape architecture."
Tony has been an important part of landscape architecture teaching at Lincoln University for around two decades, and he has mentored younger colleagues into teaching in the School of Landscape Architecture. Tony's book of readings, known as 'Big Red' for its colour and size, was legendary for many years. .
Under Tony's leadership, Rough and Milne has expanded to include studios in Auckland, Dunedin, and Wanaka, making it one of the largest specialist landscape architecture practices in the country.
The NZILA says as well as developing and expanding Rough and Milne "Tony has displayed exemplary leadership and administrative ability in cultivating an invigorating company culture with considerable thoughtfulness for staff wellbeing and lifestyle, including all staff working a nine-day fortnight and, in 2018, all staff flying to Melbourne for a field tour of exemplary projects.
"Because of his exceptional leadership of people, Tony has made a significant contribution to the advancement of the landscape architecture profession in New Zealand. "
He says one of the things he is most proud of is the team of 20 he and Peter Rough have pulled together at Rough and Milne who he says are clever and talented.
" A good number of them are more talented than I am. I'm really proud of that fact."
See more about Tony and what drives him, in the video below.