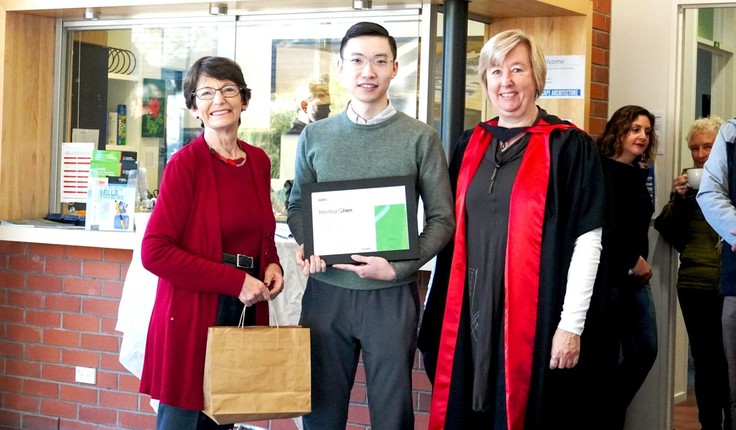 Hanley Chen from Lincoln University has been awarded the 2021 NZILA Vectorworks Landmark Student Scholarship.
Currently doing his PhD at the School of Landscape Architecture at Lincoln, Hanley's research is looking into "how success is currently defined and evaluated in landscape architecture practices and how conducting more evaluations in a more organised and rigorous way can help to better understand the actual functions and performance of design solutions".
Hanley says Landscape Performance Evaluation is a new research hotspot which developed quickley over the past decade, but has not yet attracted much attention from landscape architect communities.
His initial research found that although evaluation practices are considered beneficial by the majority of landscape architecture scholars and practitioners, they are rarely carried out.
"More research is needed to study the supporting mechanism, evaluation methods and tools to help the profession to conduct more evaluations and better understand the actual performance of our designed landscapes" he says.
On behalf of the NZILA, Megan Ash, says Hanley's research topic is "relevant and important for the landscape profession and industry."
"The question the profession is often asked by developers/councils is determining the value of design which is linked to the success of these spaces and how they are measured."
As part of the scholarship Hanley will receive $1500 towards research costs and a year's free use of Vectorworks Landmark (3D design software) supplied by Megabits. (the NZ distributor for Vectorworks)
Hanley says over the next two years he plans to to further study the evaluation frameworks, funding mechanisms, and constitutional mechanisms of the evaluation practices in the landscape architecture field.
He says the NZILA Vectorworks Scholarship will help him conduct more, and deeper investigations and achieve more meaningful research outcomes.
He says it will also help him to disseminate his research to the broader landscape architect communities.
He says the Vectorworks software will help overcome some of the challenges in Landscape Performance Evaluation practice.
"It is often very difficult and time-consuming to gather project information developed and collected in each stage of the working process. As a comprehensive BIM solution, Vectorworks Landmark has great potential to help get the project information well-documented in one place throughout the landscape architecture workflow, from the planning stage, to design, to construction," says Hanley.