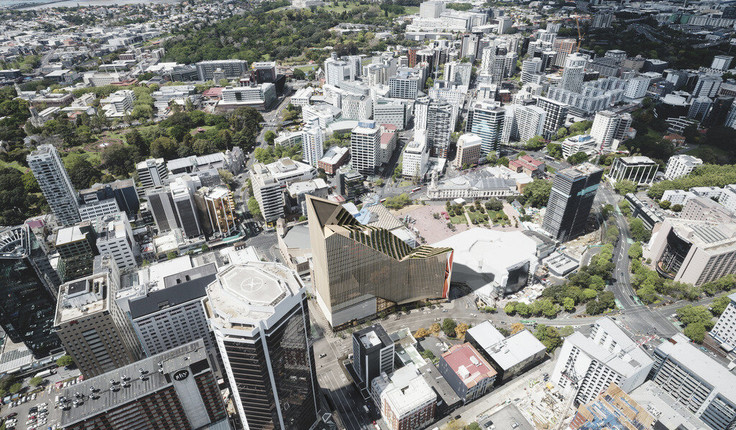 Concept designs for a new multi-storey, mixed-use complex in central Auckland have been revealed.
Aotea Central will rise above the yet-to-be completed Aotea Station, which is expected to be open in 2024. Construction will then begin on the 21-storey complex which will be a mixture of retail, commercial and residential space.
LandLAB are the urban designers and landscape architects for the project.
Panuku Development Auckland has partnered with developer Malaysian Resources Corporation Berhad (MRCB) to deliver Aotea Central, which will cost around $452 million. Global studio Woods Bagot is the architect.
Terraced planting is a key feature of early concept drawings with the building designed so it doesn't shade Aotea Square. As well as integrated access to Aotea Station, the development will connect to the surrounding area with laneways, offering places for people to meet and spend time.
Woods Bagot principal Bruno Mendes believes active destinations with positive user experiences are what Auckland needs to continue evolving as a vibrant city.
"The diverse mix of activity, whose scale and complexity are unprecedented in New Zealand, will be associated with the chemistry and highly-charged energy that makes a place great," says Mendes.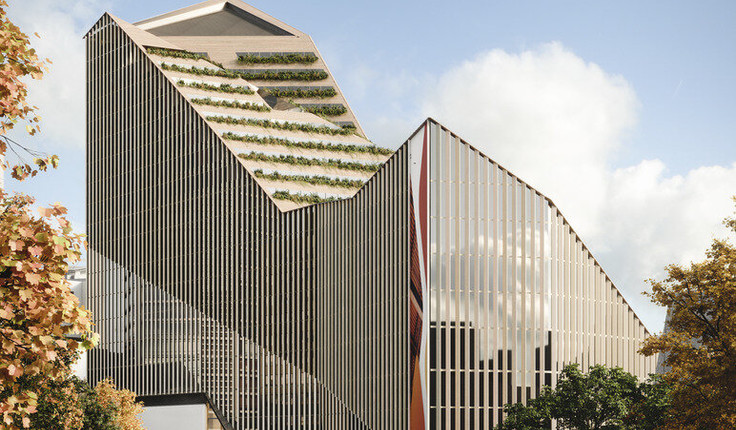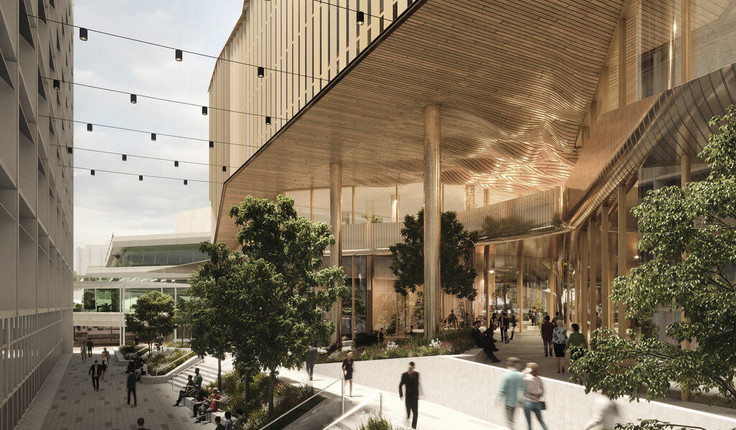 "The host of programs in this pedestrian-friendly public realm – with recreation, retail, offices and residential spaces – will optimise the flow of people, culture and commerce to generate vibrancy at street level."
The architectural scheme proposes a variety of experiences and uses for multiple audiences: Woods Bagot calls it the 'Cultural Stack'. Assimilating cultural narratives of the local iwi, it signifies the collision of diverse audiences and cultures that will use this destination in varying ways.
"By reinforcing direct connections with the future Aotea station and nearby arts and entertainment destinations our design intent is for the development to make a positive impact on people's daily commute and on their experience of the area through 24-hour occupation," Mendes said.
Blurring the lines between inside and outside, the architects have created a valuable public space in the form of lane between it and its neighbour, Bledisloe House. Providing an urban, pedestrian-friendly, and fresh space for active and passive enjoyment, and supporting retail opportunities, the lane is a key component for a coherent and high quality urban civic precinct which embraces sustainability and culture.
Urban elements such as terraces landscaped into the lane are opportunities to display cultural moments, events and activities of all kinds. Another difference will be the 'civic incubator space' – flexible and adaptable for community use, for anything from promoting start-ups, to art installations, from council information sessions, to entrepreneurial talks.
Other ground level design moves are double height spaces in retail tenancies to invite plenty of natural light and visual amenity through the lower building (the design ensures sunlight requirements into nearby Aotea Square are met) and for the generous laneway to encourage people from Myers Park along a lush pedestrian path through to Aotea Square and into Aotea Central.