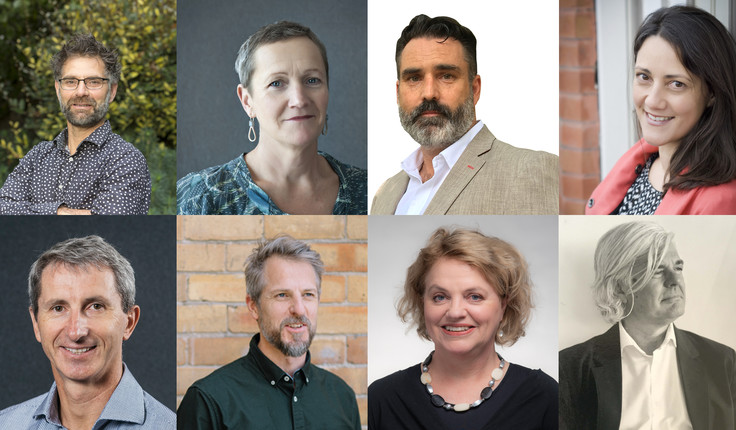 A new New Zealand Institute of Landscape Architects Tuia Pito Ora initiative designed to further the profile and aspirations of the landscape architecture profession in Aotearoa has been established.
The NZILA Advocacy Panel will be headed by incoming president Henry Crothers who says the group will work in collaboration with the NZILA Executive Committee to ensure landscape architects have a voice on issues influencing and affecting the profession and educating the wider population on what landscape architects actually do.
"If an issue affecting the profession is in the news we haven't always managed to make timely and informed comment which means sometimes we have been missing opportunities to contribute, especially when it comes to thought leadership."

He'd like to see the panel support the NZILA in being brave and agile in speaking out about issues in the public domain but stresses that doesn't necessarily mean being controversial.
He'd like to see the panel be proactive, in order to promote the profession, as well as reactive to and engaged with topical issues.
"We are a broad profession in terms of what we do so this panel will be able to not only respond to issues but also identify areas we should be putting our hands up to have our say."
This initial group represents not only a geographical mix but also a wide range of areas of expertise.
The purpose of the panel is to:
- Support the promotion of Landscape Architecture and the aspirations of NZILA.
- Assist NZILA in responding to landscape issues arising in the media, providing quotes and developing media releases.
- Identify design and professional practice issues relating to NZILA members and their activities
- Assist in initiating and preparing submissions on behalf of NZILA.
- Assist NZILA in updating Practice Guidelines/Professional Services and Code of Conduct to reflect current design and practice issues.

Rachel de Lambert – Boffa Miskell (Landscape Planning & Heritage) - Rachel has over 29 years of project experience with a strong focus on landscape planning and urban design since the advent of the Resource Management Act. She has a special interest in cultural and historic landscapes and has coordinated a number of urban revitalisation and design projects through to implementation.
Craig Pocock – Beca (Climate Change & Sustainability) - Craig has an expansive portfolio of work in NZ, America, Australia, Jordan, Palestine and India. His work ranges from city growth planning and earthquake recovery planning to subdivision master planning and fine art community green wall design. Craig's research focus is on carbon landscape sustainability and climate change.
John Potter – Boffa Miskell (Design & Practice) - John has been with Boffa Miskell for 20 years and has worked extensively with Auckland Council on a range of public realm mainstream/urban/CBD streetscapes and reserve improvements. His particular experience lies with large scale commercial, retail, healthcare, urban improvement and residential schemes.
Grant Bailey – Isthmus (Design & Practice) - Grant has worked as a landscape architect for over 17 years and has directed award-winning, large-scale complex urban public realm, open space and infrastructure projects. Grant is at the forefront of green infrastructure and open-space master planning, his project experience covers recreation, commercial, residential, civic, transport, water and education sectors.
Tony Milne – Rough & Milne (Design & Practice) - Tony has over 20 years' experience as a landscape architect and has designed streetscapes, city plazas, subdivisions, campuses, tourist resorts, reserves and residential sites throughout NZ for private clients, government and councils. For the past 17 years Tony has been a tutor and examiner at the School of Landscape Architecture at Lincoln University.
Dr Matthew Bradbury – Unitec (Climate Change, Sustainability & Education) - Matthew is an Associate Professor at the School of Architecture at UNITEC, and programme leader of the Masters of Landscape Architecture. He has recently published Water City, Practical strategies for climate change. Matthew has over twenty years' experience on a wide range of projects, domestic, commercial and civic in New Zealand, PR China, and the EU.
Kara Scott – Isthmus (Design & Culture) - Kara been in the field of landscape architecture for over 18 years and her interests lie in working collaboratively with mana whenua and communities to produce projects that help strengthen people's connections to their place. Kara's heritage is Italian-Māori. Her iwi is Te Whānau-a-Apanui.
Dr Jacky Bowring – Lincoln (Education & Design) - Jacky is Professor of Landscape Architecture at Lincoln University and specialises in emotions and landscapes. Some of her recent work includes helping to design the memorial landscape for the Pike River Mine tragedy. Jacky was also involved in designing, advising and critiquing built environment responses to the Christchurch earthquakes.