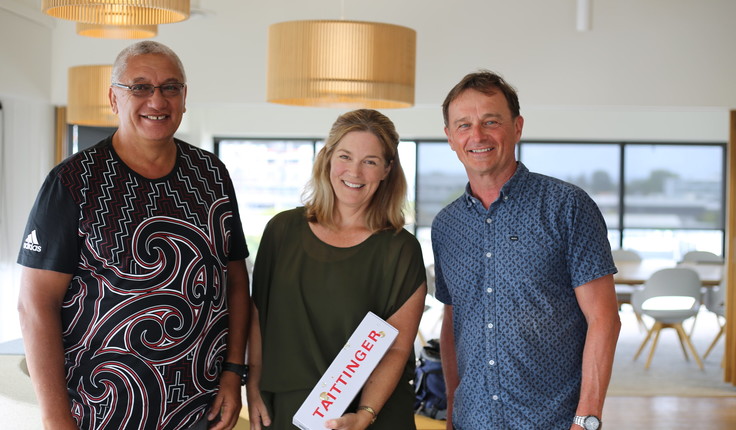 Rebecca Ryder joined Boffa Miskell in 2001 and has been a practicing Landscape Architect since 1998. She became an Associate Partner in 2019 and manages the Landscape Planning team for the Tauranga office.
After earning her Bachelor of Landscape Architecture (Hons) from Lincoln University, and a few years on the Design Services team with Hamilton City Council, Ryder was among the first consultants hired when Boffa Miskell opened an office in Tauranga.
Reflecting on her tenure, Ryder says, "I've seen the Tauranga office grow into a full complement of landscape architects, planners, Te Hihiri advisors, ecologists and GIS Services. One of the biggest milestones was adding a cultural planning team. That really changed the game, as far as the type of work we were doing and the collaboration with iwi and hapu on numerous projects."
Unsurprisingly, Ryder's official CV spans over five pages, with several noteworthy projects, including Landscape and Visual Assessment for Te Mata Peak – Craggy Range Track remediation and preparation of the Waikato District Landscape Study and the Taupo Landscape Study Review. But she says one project is particularly memorable.
"Kopurererua Valley Reserve Concept was a Te Puni Kokiri funded project, in which Boffa Miskell and Ngāi Tamarāwaho developed an independent concept for Kopurererua Valley. I worked on this project early on in my career and have continued involvement throughout.
"As a 300-hectare reserve we worked collaboratively to develop a concept that placed Ngāi Tamarāwaho back into the valley both physically and metaphorically, including realigning the Kopurererua Stream back to its more natural form reflecting the path of an ancestor, Taurikura. The concept was successfully adopted by Tauranga City Council, and has grown to involve multiple partners and millions of dollars worth of native vegetation restoration, walking and cycling trails, archaeological conservation and continued collaboration with Ngāi Tamarāwaho throughout and into the future."
Ryder says the project's success was not just the physical works, but the relationships built with the community, with Council and, most importantly, with Ngāi Tamarāwaho. Kopurererua Valley Reserve is Tauranga's equivalent of Hagley Park or the Auckland Domain; and it holds a significant environmental and cultural place in Tauranga.
Outside of work, Ryder is active in the community through sport, school and health organisations. She's been involved with Diabetes Tauranga, the Business Women's Network committee, served as a school trustee, and has served the NZILA both locally, and currently nationally, as Treasurer on the Executive Committee.
"My sporting life has taken me all over with Waka Ama, which I've been involved at local and national level for over 20 years," Ryder says. "Coupled with the odd Dragon Boating appearances, I have met and paddled with a huge number of wahinetoa from around Aotearoa. I feel very privileged to continue to do this and most years you'll see me racing at Waka Ama events around the place. Or if not, then I'm on the sideline of my children's sports of mountain biking and rowing."
In her position as an associate partner, Ryder is taking on a new challenge. "Being appointed to the Board of Boffa Miskell as a shareholder director is a true privilege," she says. "To be able to be part of the governance and future direction of this incredible business is important as we navigate recent times and our changing environment.
"Taking opportunities and putting yourself forward is something I've learnt throughout my career. I've had some great learning opportunities from colleagues and through projects and life, that have all taught me retaining a positive outlook is important to a successful career and healthy life. I firmly believe that we should never stop questioning, creating and innovating; because to stop that is to stop learning."