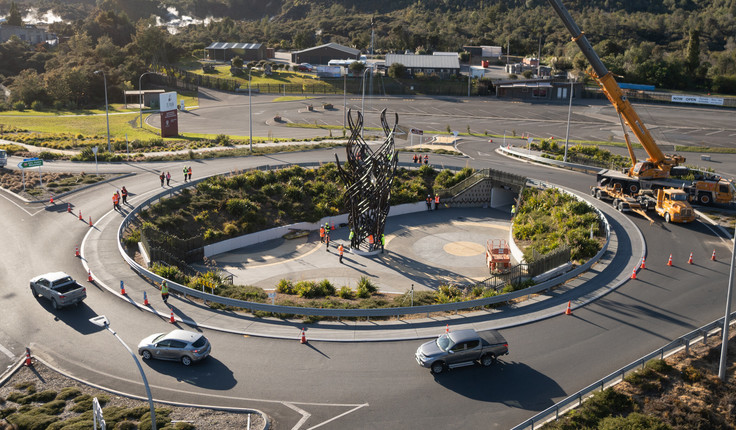 A controversial new 12 metre 3D sculpture now welcomes visitors at the southern gateway to Rotorua. Named Te Ahi Tupua - which means the eternal fire - it came in three years behind schedule and an estimated $200,000 over budget.
But Rotorua mayor Steve Chadwick told the Rotorua Daily Post she'd had lots of positive reaction to it, and the story behind it was an important Te Arawa and Rotorua story.
Te Ahi Tupua tells the story of the arrival of geothermal energy to the Rotorua region. The design concept was developed by New Zealand Māori Arts and Crafts Institute, and was the successful submission in 2015 when Council and Waka Kotahi called for artists to design the Hemo Gorge roundabout's centrepiece.
The institute's general manager, Eraia Kiel says "Te Ahi Tupua is a truly ground-breaking piece of work, involving huge degrees of creativity from the outset - and an extremely technical process in the following stages in order to bring it to life. It challenged the boundaries of what could be done, which is what makes it particularly special.
"It's important we continue to tell Te Arawa stories in new and innovative ways. While Te Ahi Tupua describes the origins of geothermal activity in Rotorua through the story of Te Arawa tohunga Ngātoro-i-rangi, it also tells other stories of our community – referencing concepts such as the interconnectedness of people, the pursuit of knowledge and the importance of looking after our natural environment."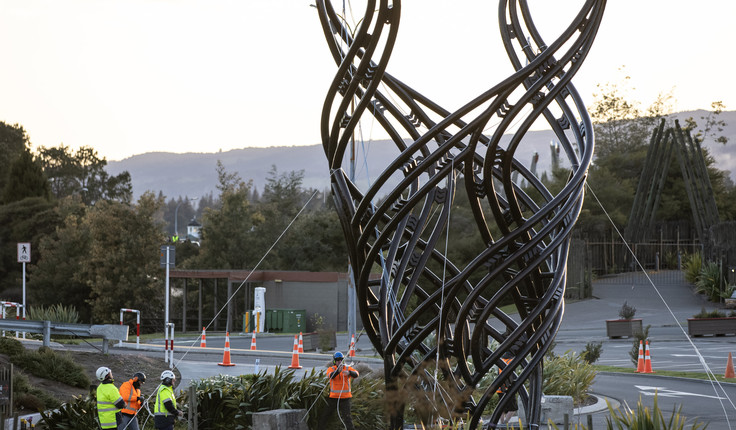 Te Ahi Tupua incorporates elements of navigation, education and the people of the area – past, present and future.
Inspired in part by camera footage captured from deep within the world famous Pōhutu Geyser, the design pays homage to its rich natural features – the vortex reflecting different forms of geothermal energy – steam vents, heat, flames and eruption. Inspiration also came from the Māori concept of kaitiakitanga o te whenua - guardianship of natural resources. This concept signifies the importance of caring for our environment, and how care of the land is handed down through generations.
A team from the institute, with expertise in wood and stone carving, developed the concept, before a detailed design by Stacy Gordine was chosen. Drawing on three decades of experience, Gordine then led the design project.
Derived from traditional wood carving customs, the contemporary interpretation has also embraced new technologies and materials. The natural features of flames and heat have a metaphorical link to te ahi kā, keeping the home fires burning, reflecting the importance of tangata whenua, iwi kāinga, mana whenua.
Soaring 12m into the air, the sculpture's skyward reach acknowledges the pursuit of education, learning and knowledge. The sculpture also embodies navigation and travelling, both ancient and modern, through the tohunga Ngātoro-i-rangi's explorations of the Central North Island, connections with other areas and tribal groups, and the warmth of hospitality, or manaakitanga, shown to visitors.