Back to news & events
News
The Pacific Path brings Botanic Gardens Masterplan to life
Posted 17 09 2020
in News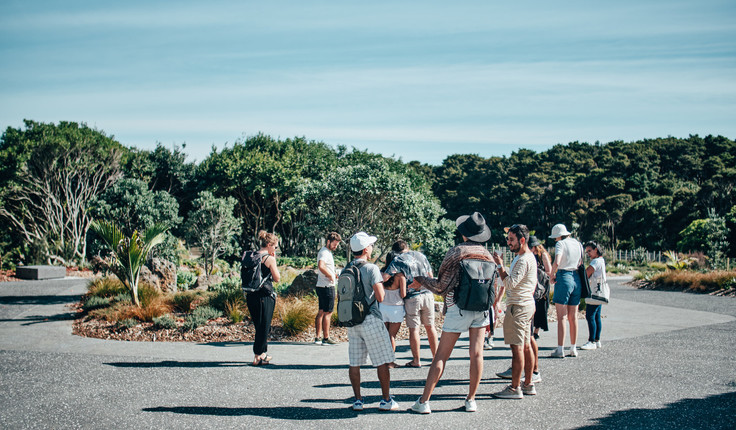 The Pacific Path brings Botanic Gardens Masterplan to life.
By Isthmus
Manukau city is a young, fast growing settlement 23 kilometres south of Auckland's city centre. The community has a large Pasifika population, and is home to Auckland Botanic Gardens (ABG), which play a key role as a cultural institution educating residents and students about the South Pacific bioregion. 
The gardens cover an area of 64 hectares, including 10 hectares of native forest. With free entry, they are both a visitor attraction and a popular recreational destination for family groups  -  connecting to the wider open space network of Totara Park via the headwaters of the Puhinui Stream.
Since 2009 the ABG Masterplan, by Isthmus, has guided planning, funding applications and design exploration of key areas whilst enabling day-to-day operation as a 'living garden' showcasing an experimental approach to local solutions with global relevance. The plan subsequently led to the detailed design and staged implementation of the Pacific Path between 2017 and 2019.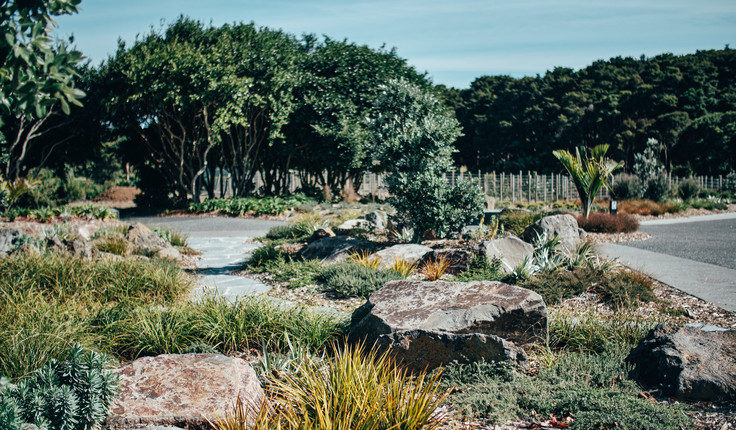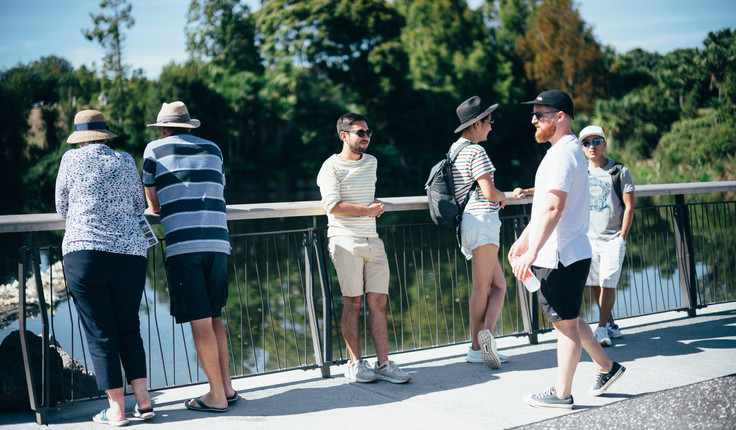 The sinuous Pacific Path is an immersive experience, a sculptural wayfinding element that connects gardens and provides a canvas for the annual Sculpture Walk. Attention to detail, repetition and coherence all help orientate visitors and guide them into the heart of each of the themed gardens.
The Pacific Path carves through and interfaces with established themed collections so the design team and Botanic Gardens staff worked together to ground-truth the proposed alignment to carefully integrate it with existing infrastructure and operations. This was a robust and iterative design process, returning repeatedly to the carefully crafted design principles to guide every move and decision. Design rationalisation ensured that each edge interface contributed positively to the visitor experience. 
The nodes sit as beautiful repeated forms amongst the gardens, easily recognisable as wayfinding elements within the landscape and providing an enjoyable cadence to the visitor journey. Each node has a different relationship to site specific terrain—draping the contour, sitting proud or cutting in, in a way that reinforces the coherence of the Pacific Path as a continuous element.
Future work will enable a sequence of nodes returning back full circle to the Huakaiwaka Visitor Centre - providing a large scale legible spine to navigate the curated gardens. For the visitor, this structured journey invites freedom and exploration - rather than restricting movement. It provides the ability to freely explore the open parkland, natural forested areas and streams that frame the botanical experience, knowing you will always find your way back to the main path.