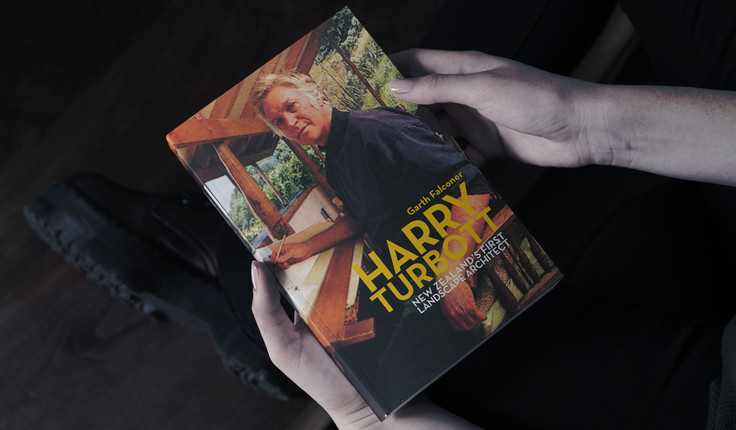 NZ's first landscape architect
Harry Turbott – New Zealand's first landscape architect by Garth Falconer
Environmental design and landscape architecture are growing fields in New Zealand as people become more aware of the possibilities and benefits of sustainable development. From the early 1960s Dr Harry Turbott played a key role in introducing these concepts to New Zealand. Now his enormous work and rich legacy can be truly celebrated for the first time.
Landscape architect, teacher and environmentalist Harry Turbott (1930- 2016) was at the forefront of the first wave of environmental design. This 220-page hard-cover book showcases his life and prolific works, and is beautifully illustrated.
The estranged son of well-known radio broadcaster Dr Turbott, Harry had a very interesting and colourful career. Upon graduating from the University of Auckland's School of Architecture, he won a scholarship to study at Harvard University, where he completed a Master's in Landscape Architecture in 1958. He then spent 18 months working closely with Dan Kiley, America's foremost landscape architect, before touring Europe and India with his wife Nan.
They returned to New Zealand in 1961 and settled in Karekare, a remote West Auckland beach. From here Harry embarked on a ground-breaking design career, working on motorways, beachfront farms, suburban shopping centres, national parks, Pacific Island resorts and ski fields. He also taught at Auckland's School of Architecture and Town Planning for more than 30 years.
"All Harry's work showed an immense respect and care for the environment," biographer Garth Falconer says.
"He believed the designer's role was one of service to society to protect, restore and enhance the environment of which people were intimately and irrevocably part of."
Harry recognised the fundamental importance of ecology and indigenous knowledge and ways. He embraced Māori and Pasifika cultures during many collaborative projects, including the restoration of Rarotonga's Para O Tane Palace in Rarotonga and the creation of Arataki Visitors Centre in the Waitākere Ranges.  
The biography offers an intimate portrait of Harry's life, his global influences and outlines several of his legacy projects. There is also a short chapter written by Sir Bob Harvey on the life of Harry's wife and celebrated artist Nan Manchester (1928-1977). Harry and Sir Bob were close friends due to their years spent as neighbours at Karekare.
Garth Falconer is a practising landscape architect, urban designer and director of Reset Urban Design with offices in Auckland and Wanaka. He met Harry early in his career and reconnected with him in 2015 to write this important book. The book contains archival research from over four years and current photos of key projects by Simon Devitt. It is Garth's second book, following on the heels of Living in Paradox (2015).     
Harry Turbott: New Zealand's first landscape architect by Garth Falconeris available in book shops now and via this website.
For interview and extract enquiries, a review copy or for further information please contact: Justine McLeary, Hartill PR, 022 402 3526, justine@hartillpr.co.nz