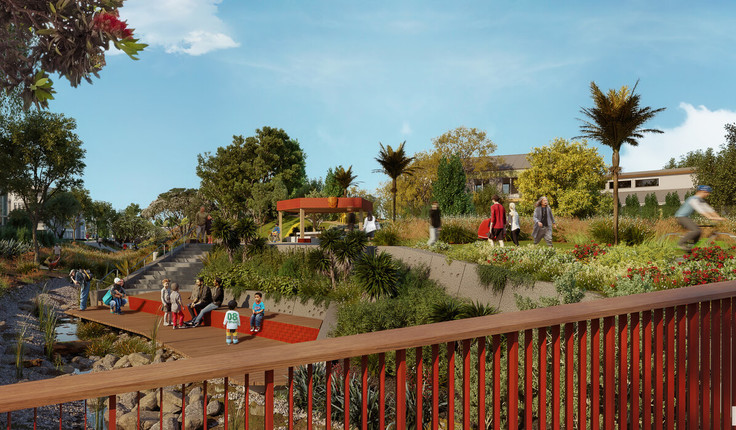 As a key spatial corridor the Greenway project is characterised by the physical presence of the Awataha Stream.
Te Ara Awataha is a 1.5km green corridor located in the heart of the new Northcote town centre and housing redevelopment. Designed by Isthmus in conjunction with Kāinga Ora, Panuku Development, and Healthy Waters (Auckland Council) the Greenway makes it fun and convenient for people to walk and cycle, play and meet one another within the neighbourhood. Linking up Northcote's existing parks and open spaces, it features a a learning landscape co-designed with local school children. It's an integral part of the larger Northcote Masterplan. As a key spatial corridor the Greenway project is characterised by the physical presence of the Awataha Stream. The stream begins at the spring or 'puna' in Jessie Tonar Scout Reserve and flows mostly underground toward the Waitematā Harbour.
Through a process of regenerative design with mana whenua kaitiaki the project identified the potential to open up and reveal (daylight) the stream along long stretches of the Greenway. The Awataha Greenway will have an important role in reconnecting to a place-sourced identity in an increasingly urbanised environment.
The controlled flow of the stream will assist with stormwater management. While carefully selected planting and habitat creation will contribute to the North–West wild-link.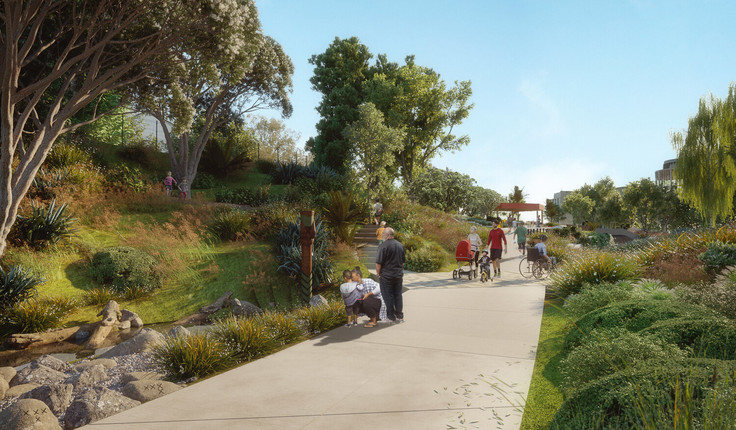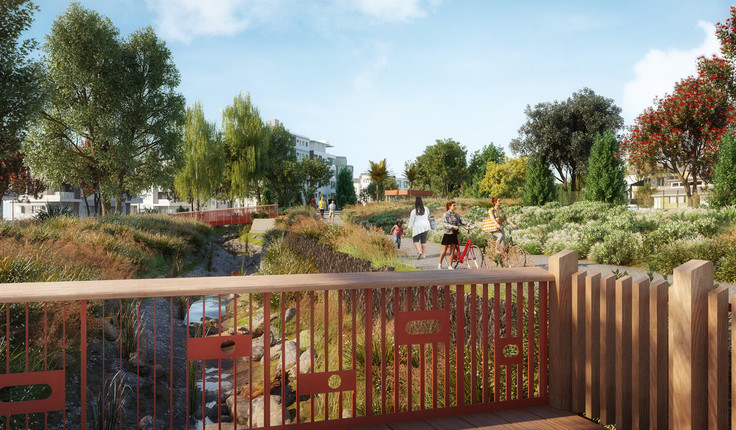 Te Ara Awataha Greenway will provide sheltered rest areas for relaxation and socialisation. The shared path will safely connect school children and the community to local destinations, including schools, homes, play spaces, and the town centre.
Open spaces connected by the Greenway all have different functions—varying from safe neighbourhood pocket parks, to play destinations, to active sport and recreation.
There is an outdoor classroom and measuring and monitoring stations. Along with a play trail, which weaves back and forth across the stream and its banks, offering an interactive journey through Northcote with immersive 'nature play' attractions to stop and enjoy along the way.
Te Ara Awataha has been co-created through workshops and discussions with the Mana Whenua Kaitiaki Project Working Group, the Kaipātiki Local Board Working Group, a Community Reference Group and three neighbouring schools (primary, intermediate and secondary).
This has shaped the integrated mauri outcomes for the Greenway - with a focus on health and wellbeing for Northcote as it develops.