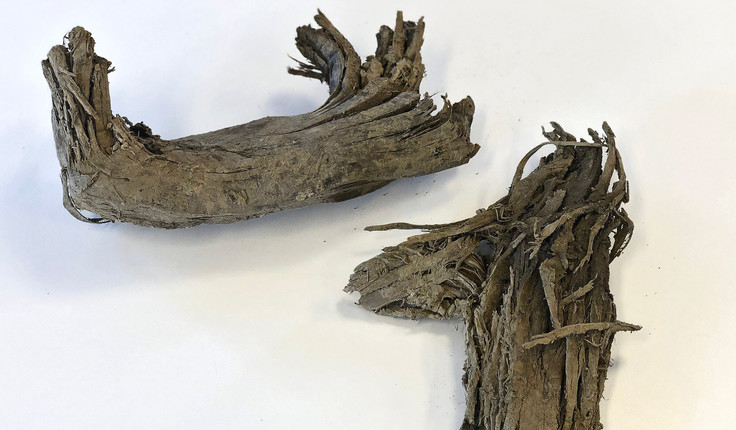 Fragments of the tree, probably a whau, were recovered under an ancient lava field
Radiocarbon dating has estimated that fragments of a tree recovered from a City Rail Link construction site in Auckland are 28,000 years old and date back to a time when long extinct woolly mammoths and sabre tooth tigers still roamed the planet. 
Fragments of the tree, probably a whau, were recovered under an ancient lava field 15 metres below ground while CRL's small tunnel boring machine, Jeffie, was excavating a new stormwater drain at Mt Eden in February 2019.
The age of the fragments was confirmed after radiocarbon analysis by scientists and researchers at DEVORA (DEtermining VOlcanic Risk in Auckland).
 "This tree is an exciting find for volcanologists because it confirms that Maungawhau/Mt Eden erupted about 28,000 years ago," says DEVORA Volcanologist Elaine Smid.  "We have used other techniques to date this eruption, with similar findings. This new radiocarbon result removes any lingering doubts about the age of Maungawhau/Mt Eden." 
Auckland 28,000 years ago was very different place.  It was untouched by humans, wildlife were mainly birds, and the land was covered by hardwood forest and shrubs. Prominent volcanic landmarks like Rangitoto, Motukorea/Browns Island, Maungarei/Mt Wellington and the Panmure Basin did not exist. Beyond Auckland, Ngāuruhoe in the central North Island did not exist either. The earth was in the throes of an Ice Age – temperatures were colder, sea levels lower, and woolly mammoths and sabre tooth tigers still survived.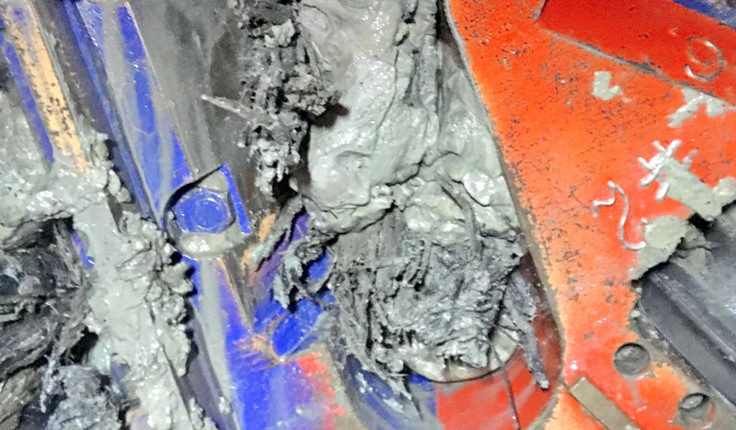 The tree's discovery was made during critical works for CRL – excavation of the new stormwater drain was necessary for the project's tunnels to connect with Auckland's existing rail network at Mt Eden.
Iwi involved with CRL describe the discovery as an enlightening one connecting two significant events:  the eruption and creation of Maungawhau and construction of the nearby City Rail Link.
"Both events in their own way are creating dramatic changes to the landscape of Tāmaki Makaurau and the way we interact with it for generations to come," says Gabriel Kirkwood,  Kaitiaki for Ngāi Tai ki Tāmaki – Taiaomaurikura.   "The research undertaken into the age of the tree provides a valuable insight into the history of Tāmaki Makaurau and the scientific contribution to this knowledge will not be forgotten."
While the age of the tree is confirmed, scientists are unsure of its fate at the time Maungawhau/Mt Eden erupted. Shock waves from the eruption may have knocked over the tree, or it may have already fallen a short time before the eruption into a pond or swamp where it was protected from being burnt by spreading lava.  
"The wood was nicely preserved. It doesn't seem to have burned up and turned to charcoal, which we would expect if the tree was knocked over by the lava flow. Either way, the radiocarbon date for the wood gives us a really good idea of when Maungawhau/Mt Eden erupted," Ms Smid says. 
Even today, 28,000 years on, the tree fragments recovered from the CRL site still have a scientific role. 
"DEVORA scientists use volcano ages to identify eruption patterns and to better understand how the Auckland Volcanic Field has behaved in the past – it'd like a big puzzle," says Ms Smid.  "This age is another piece in that puzzle, now slotted firmly into place. Every piece we add tells us a little more about how the volcanic field may behave in the future, making Auckland a safer place."