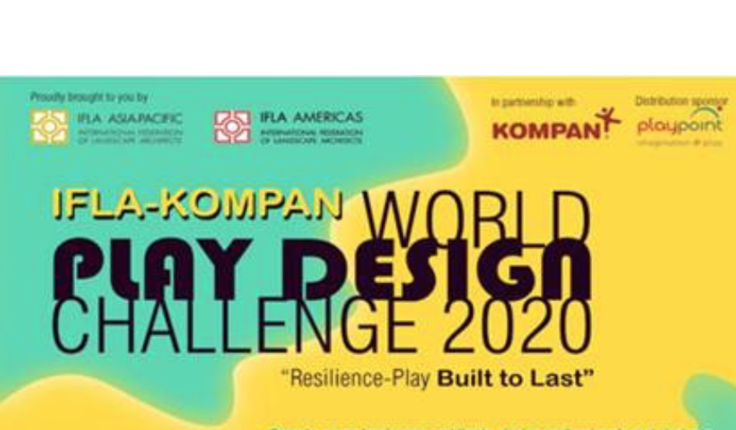 Theme: RESILIENCE – PLAY BUILT TO LAST
Organised by IFLA Asia-Pacific region, in collaboration with IFLA Americas and KOMPAN
BACKGROUND
In most cities and urban developments, children's playgrounds and playsets require regeneration and upgrading after 8-10 years. Playground equipment, like any machinery, may have many moving parts and they need maintenance. Owners may also see the need to bring in new playsets due to changing user demands. Sometimes some parts of these playsets can start to deteriorate such that it makes more sense to consider a complete replacement after owners run a cost-benefit analysis.
Some of these used sets maybe recycled for parts, while others may be donated to marginalised communities for a second life with the happy children who would simply use them to their maximum lifespan. However, these playsets (sometimes even smaller ones) are frequently hoarded and overwhelmed by dozens or even hundreds of children from different villages, speeding up all aspects of wear and tear, including rough use and possible vandalism.
Playgrounds located in villages and remote places become an issue where they do not have easy access to replacement parts. This deterioration will ultimately result in safety issues and product failure of the playground equipment potentially leading to injury from lack of maintenance.
GLOBAL CALL
For the first time, IFLA Asia Pacific Region, together with IFLA Americas Region jointly partner KOMPAN to run an international design challenge to design innovative and functional playgrounds that would require minimum or zero maintenance.
The vision of this competition is to innovate, prototype and produce the newly designed playsets suitable for marginalised communities under harsh conditions as the ultimate challenge.
The competition calls for design students, landscape architects and product designers to design and detail functional playgrounds that require minimum to zero maintenance and enter them for review by a panel of judges.
For full details and competition outline click here