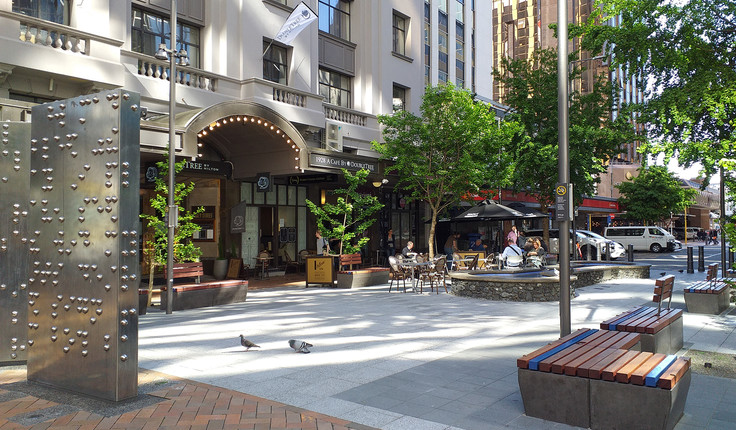 Just finished 'Grey Street Pocket Square'.
This dark, damp and smoky area has been transformed into a light and airy stopping off destination for those persons wandering the length of Lambton Quay. No smoking has put its stamp on what was a notorious 'lighting up' area.
Slightly spurred on by the upgrade development of the old Harcourts building into upmarket Hilton Double Tree Hotel, the Wellington City Council upgrading was accelerated to provide a refresh of the area outside their front door. While many spoke of the need to remove the pool, it has now become the focus of the area. New concrete pavers produced by Horizon International provide a link to the rock of the original harbour edge, and also provide a more sympathetic hue to the rock surround of the pool.
The pool 'Estuary' original designed by Hugh Nicholson and Peter Roche, received major attention with the top ground back to reveal some beautiful glass colours in the top. The rock work was cleaned and sealed and the electric operating system completely upgraded.
The blue neon of the pool is carried through the design with a splash of blue on the new seating and with some scattered blue glass pavers through the main paving. New seats were manufactured by Tilley Group.
Removal of the evergreen trees and replacement of deciduous Ginkgo biloba, refresh the area with sun and air. Lighting includes the existing blue neon situated in the pool, new small up-lights to the rock sides of the pool and additional pole lighting by Windsor Heritage over the seats. All bring an pleasant evening ambiance to this revised city space.