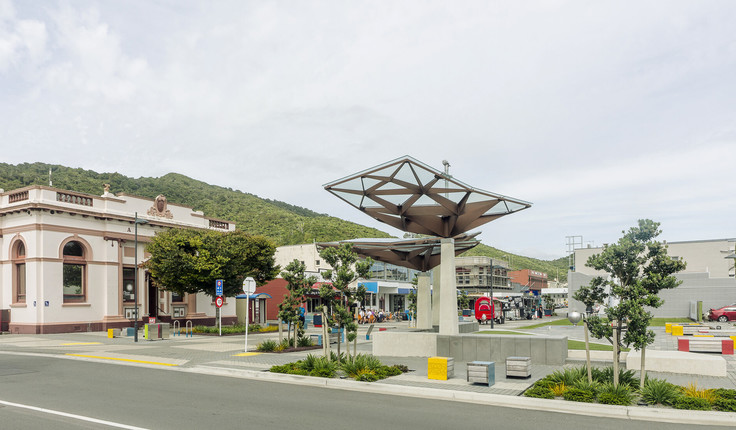 Grey District Council project
When Greymouth's new Town Square and Tainui Street Shared Space opened just before Christmas two years ago there was a carnival-like atmosphere. The opening was celebrated with a weekend full of events designed to showcase the new spaces and get the community into the Christmas spirit for the upcoming festive season. Since then, the Town Square and Shared Street have been embraced by the community for a range of uses including regular markets, community group events and generally to hang out in.
The $1.7 million Grey District Council (GDC) project was a big investment for a settlement of around 10,000 people and was only made possible through the leadership and commitment of GDC staff to a process of thorough community engagement, key interest group consultation and quality project management. But it's proved to be a catalyst, as GDC CEO Paul Pretorius adds in relation to new development in the CBD "the proposed developments are testament to the immense potential unlocked by the Town Square and Shared Street development". The new public realm also catalysed further refurbishments, like the clock tower, art gallery and fostering a feeling of pride and community amongst locals.
The Grey District Council has even had to employ a facilitator to organise the festivals, markets and food trucks the spaces now host. They're always well attended, their success evident through the emergence of the instagram hashtag #LoveGreymouth.
Following March's mosque shootings in Christchurch the Greymouth community spontaneously used the Town Square as a space to write messages of hope, to leave flowers and to honour those affected. "This shows that the Town Square has become an important gathering and focal point for our community," says Kiri Pope, Grey District Council's Community Development Manager.
Engaging with the local mana whenua Ngāti Waewae at the very beginning of the project was important to ensure it was consistent with the WSP-Opus and GDC Greymouth CBD Urban Design Framework aspirations. In particular, the principle "Real stories shaping real places – to create a distinctive place that reflects the values of the community".