Back to news & events
News
Award winning pump track proves a hit in Foxton Beach
Posted 08 10 2019
in News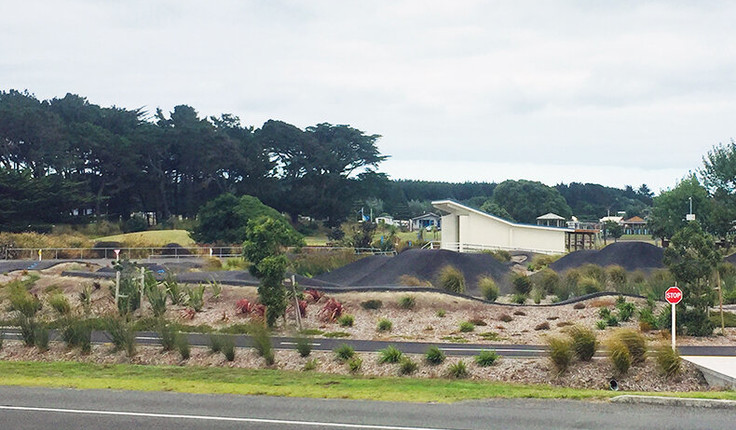 Holben Reserve
Adding a pump track to an existing skate park in Holben/Te Wharangi Reserve had always been intended and Boffa Miskell completed a masterplan for the multi-use recreational space, adjacent to Foxton Beach. Feedback from the public suggested a circuit containing berms and mounds to challenge riders was a top priority.
When construction of the track began in 2018, Horowhenua District Council requested Boffa Miskell's help to mitigate the visual impact and tie the track into its natural and built context.
Holben Reserve sits within the coastal community of Foxton Beach. The project team was guided by the masterplan regarding character, connections, plantings and water sensitive design; and took cues from the surrounding ecologies and planting to connect the existing carpark, skatepark, and facilities to the pump track and wider pathways through extensive planting and minor hardscaping to create a cohesive precinct.
The site had a system of several depressions and open drains linking to a pond, and also high points created by the formation of the pump track. Because of this the team decided to nestle the track into a coastal wet and dry landscape.
A material palette that reflected these conditions included granular textures, and timber furniture, surrounded by plants that thrive in sandy soils, wet depressions and salt-laden winds.
Existing infrastructure was used - bridges, paths, street crossings, vehicular access, stage and skate park - and a pathway designed around the pump track to link those elements together, giving it a sense of cohesion and connecting it to the wider reserve.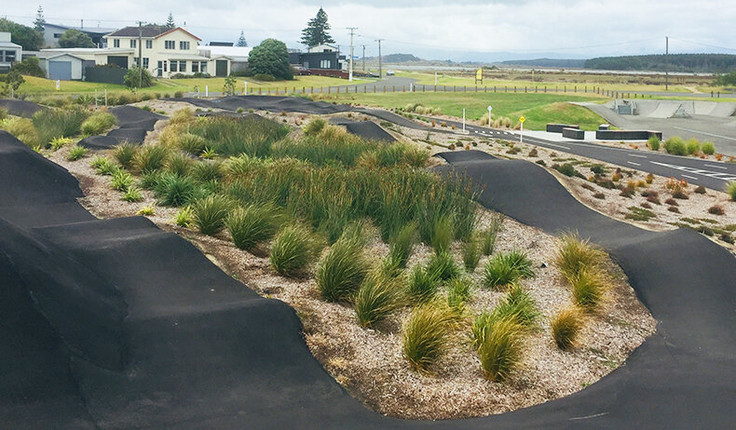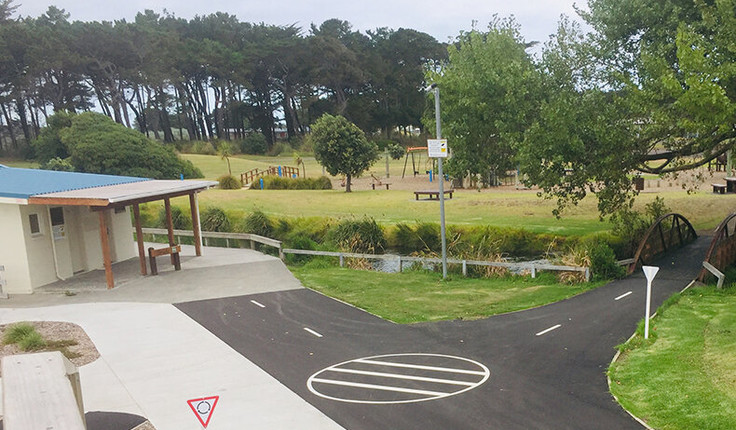 Before-and-after visualisations helped the Council and community engage with the proposed improvements. With broad support for the changes proposed, the Council contractors were able to implement the design.
In May of this year, the project was awarded Active Park of the Year at the Recreation Aotearoa 2019 New Zealand Parks Awards.
Active Park of the Year recognises an active adventure or sports park with an outstanding natural environment. Applicants must demonstrate innovation; community engagement in the development or operation of the park; overall excellence; achievement of intended goals; budgetary efficiency and effectiveness; and financial, environmental and social sustainability.
Horowhenua District Council Parks and Property Lead North, Sean Hester, acknowledged Boffa Miskell and project manager Brad Dobson's role and says the award is official recognition of what has been a very successful project.
"This a very pleasing result for all concerned, and I just wanted to thank Boffa Miskell for your part in this win, in terms of the landscape design that you undertook for our team at the Pump Track. It has certainly contributed substantially to the overall project, and helped us achieve this award. Thanks for your efforts Brad, much appreciated."
David Roache, Chair of the Foxton Community Board agreed. "It's a great asset for our community, bringing economic as well as recreational benefits. The track is buzzing on the weekends and during school holidays, and owners of local motor camps and cafes in Foxton Beach have been very positive about it, saying they've experienced increased patronage since it was built.