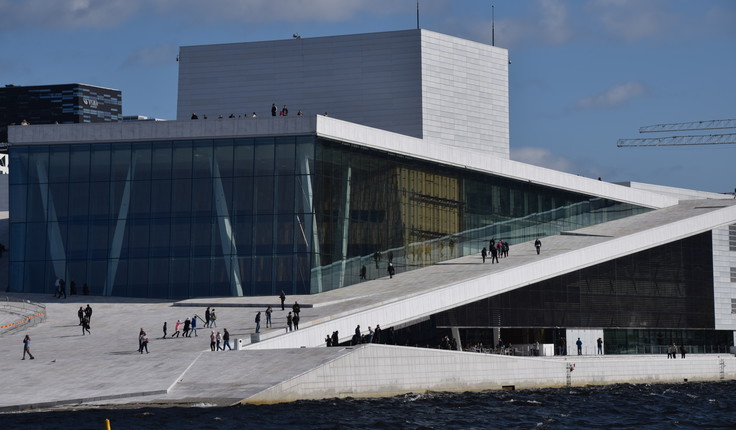 NZILA IFLA delegate update
The 2019 IFLA World Council meeting was held on 16-17 September in Oslo, attended by delegates from most of the 77 national organisations which are members of IFLA. The meeting began with presentations from the Emerging Professional Advocates working group, about their vision for the future of the profession, with action on climate change the clear priority. President James Hayter then made an eloquent plea for action, for IFLA to show leadership on behalf of the global profession of landscape architecture through the declaration of a Climate and Biodiversity Loss Emergency. The declaration was immediately circulated through IFLA news.
 
Plan IFLA, the business plan guiding the work of the organisation for the next three years, is aligned with the 17 UN goals for sustainability, and James outlined how IFLA will work towards achieving those goals through being focused, accountable, and transparent. He then gave a practical example of how this call to action could begin through practitioners using tools to measure the carbon balance in their landscape projects, modifying their design where appropriate to minimise carbon costs. Pamela Conrad, the founder of landscape consultancy Climate Positive Design, introduced the pathfinder tool she developed as a way to calculate the carbon footprint of proposed landscape projects, with a strong plea to act and reduce the carbon footprint of our work to protect ecosystems. This complements the work of NZILA Fellow Craig Pocock, who toured New Zealand last year speaking about his research on the carbon landscape.
 
The IFLA Global Accord was then introduced by members of the Canadian Society of Landscape Architects, which has taken a leadership role in driving this initiative to have the accord ratified by as many national organisations as possible. The accord was initially ratified by the IFLA World Council (comprised of representatives from 77 national associations from the five IFLA World Regions: Americas, Europe, Africa, Middle East and Asia-Pacific). NZ is one of 17 national associations to do so to date, with a global call for this action to trickle down to branches and then individual practices, disseminating the accord and its call to action on adaptation for a changing world as widely as possible.
Global Accord
 
The CSLA website contains background documents on climate change for those interested in research findings and evidence for urgent action. It notes that the accord establishes "guiding principles for planning and design decision-making and encourages collaboration across disciplines and geographic and national boundaries." 
 
As part of the same theme, President James introduced the 'One Tree One Planet' initiative, with a suggestion that the IFLA website (which has just been relaunched) and national association websites could include counters to show the number of trees being planted globally and locally through the work of landscape architects. It was noted that the Ecosia browser uses its profits to plant trees where they are most needed, with its website stating that "Our servers run on 100% renewable energy, and every search request removes 1kg of CO2from the atmosphere." IFLA members were encouraged to consider changing to Ecosia; perhaps NZILA members could take up that initiative as a simple but direct contribution towards meeting some of the challenges of climate change.
 
The council meeting confirmed that the organisational structure of IFLA will continue with its four standing committees, each managing two or more working groups. The working groups will align with one or more of the 17 UN sustainability goals in guiding their work.
 
It was pleasing to see the Finance and Business Planning committee propose a change to the ways in which dues to IFLA are calculated. Your delegate has requested changes to the current system at the last two council meetings, to address the earnings potential inequity, so it was good to hear that from 2020 all national association dues will be calculated in four bands using the per capita Gross National Income (GNI) index published by the World Bank.
 
Work is beginning on developing a new code of ethics, aimed at adoption at the WC meeting in Penang in August 2020. It was felt that the original code needed to be reconsidered in the context of current landscape practice, with input from a workshop during the council meeting and with reference to existing codes from a range of national organisations (including NZILA). The IFLA Code of Conduct will then be updated in the context of principles established through the new code.
 
Finally, conference updates were presented from Malaysia (Regional and World Congress in Penang, 13-15 August 2020); Japan (Regional Congress in Tokyo, October-November 2021); and South Korea (Regional Congress in Kyung-ju, 2022). The 56th World Council meeting closed with a vote of thanks to James Hayter, for his great leadership during the meeting, and his untiring work on behalf of landscape architects internationally.