Back to news & events
News
Bay of Plenty children help design their own playground
Posted 15 09 2019
in News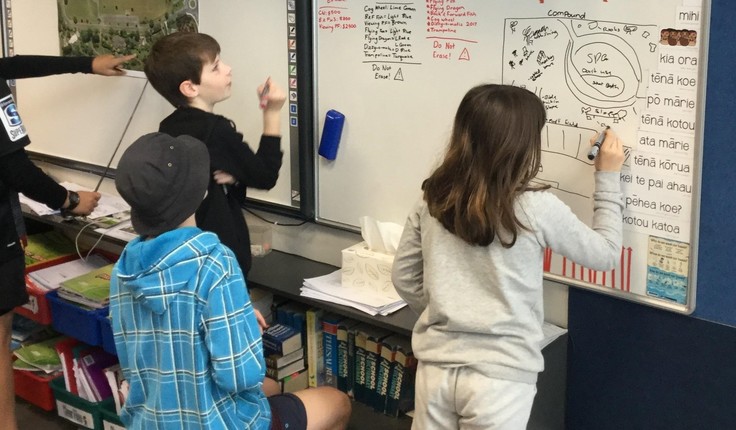 Project led by Tim Lander from LOAM Landscape Architects
Junior and senior children at Omokoroa Point primary-intermediate school in the Bay of Plenty have been encouraged to have a crack at playground design, ahead of construction of their new neighbourhood play area in Western Avenue.
Tim Lander from LOAM Landscape Architects, led the project and said to encourage ownership of the playground it was key to get early involvement from prospective users. Apart from the focus group of enthusiastic adults, the children were given playground design exercises, including landscape project parameters.
An array of student's models, drawings, and verbal presentations informed and enriched the design process, Lander said, with students' enthusiasm clearly indicating their stake in the process. "The kids 'low-tech' methods of sketching and modelling have been great for exploring the essence of ideas."
In addition a Google-based survey was formulated through social media, to get input from teenagers.
The result is a facility that's a focal point for all family age groups, complementing after school and weekend sport activity at the adjacent fields (especially to siblings not competing). The playground is also a destination for district-wide pre-school and home-child-care group gatherings. 
Upcycled timber is a feature of the play area structures,with selected ex-rail sleepers and beams from a previous life providing further challenge to clamber and explore. Timber elements used are also diverse including Sequoia redwood for seating, where the less-dense sapwood will slowly weather and distinctively pronounce the grain. 
The collection of specific play equipment caters for a wide age-range, with pre school children engaged by play elements at their scale. Primary and intermediate ages are also able to push boundaries and learn about taking risks within their capabilities.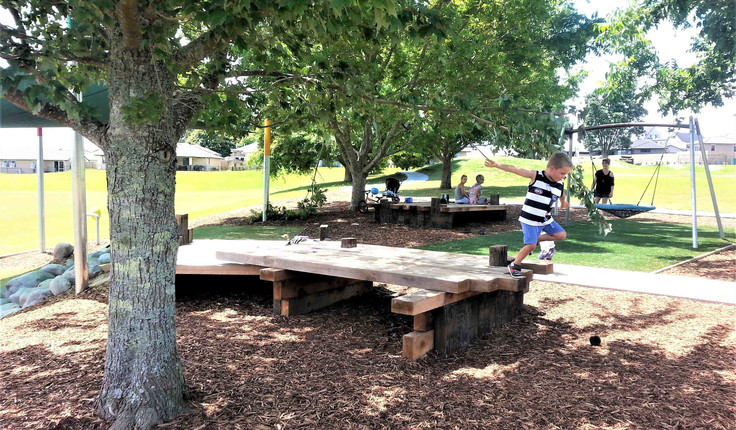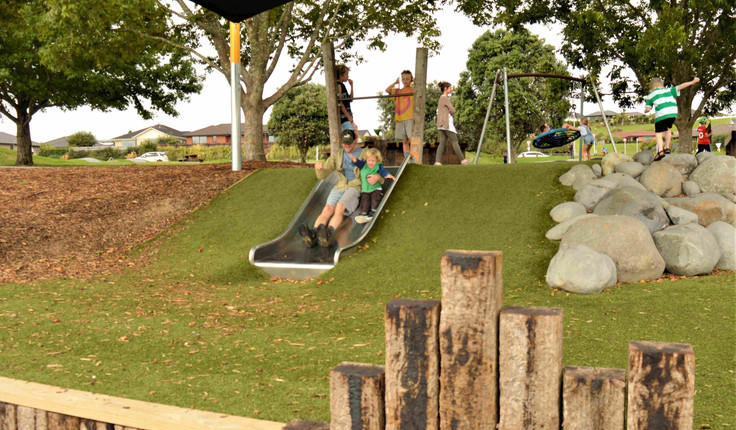 Talk-tubes provide communications between friends, as well as generating new acquaintances. Further auditory stimulation can be shared from the musical Cavatina just off the concrete path, where budding musicians can play soothing sounds or hammer out tunes. 
Younger children can share the junior embankment slide with their adult carers, sweeping down it's generous width. The safety-surface flanking it is perfect for rolling down, or a junior boulder-climbing challenge is stacked nearby. 
Planting design builds on community requests of more trees for the reserve, including a 'food forest' initiative supported by Council for public places. Fruiting trees, in reference to previous orcharding use on the site, are planned in formal grid-spaced layout to also encourage imaginative game-play amongst the rows. 
The provision of shade is integral with the playground layout. Omokoroa has a very equable climate, and sun protection is supported by both natural and constructed shade over play spaces. 
The existing established trees continue linkage to nature with Carya pecan nuts to eat, Liquidambar spiky conkers, Maple helicopter seeds and seasonal foliage display, while their limbs are very attractive for climbing. 
Overall the designed experiences offer challenge and managed risk-taking. The playground enhances exploratory learning and free play, promoting social engagement and play-sharing both within family groups and connecting with visitors.
Project works implementation was enhanced by the main contractor being a specific landscape construction specialist.
Real success of the playground is evident from the near-constant use and enjoyment on every day of the week, and the high value held by the local community of the playground.