NZILA Streetscape Speaker Series 2019
The Paris based co-founder of Mosbach Paysagiste is here courtesy of Streetscape and spoke to Christchurch attendees on Friday 2nd of August. 
The Christchurch lecture was held at the Christchurch Town Hall, followed by drinks and dinner with Catherine.
Dr Jacky Bowring, Professor of Landscape Architecture at Lincoln University attended the lecture and said from her perspective:
"Christchurch can sometimes feel very remote, and it is an honour to have an esteemed visitor like Catherine to come and speak here. Her work explores a range from the micro scale of bacteria, through to the macro scale of geological time frames and the cosmos … and all of this helps to inspire our own reflections on theory and practice. Her beautifully illustrated presentation was engaging and thought provoking, as well as the opportunity to discuss ideas in the Q and A afterwards. There was much food for thought, with challenging ideas on aesthetics, landscape processes, and questions of whether or not the public should be involved in design. We were delighted that Catherine had the chance to explore the local landscape, and enjoy local food and wine, before departing New Zealand to Paris and onwards."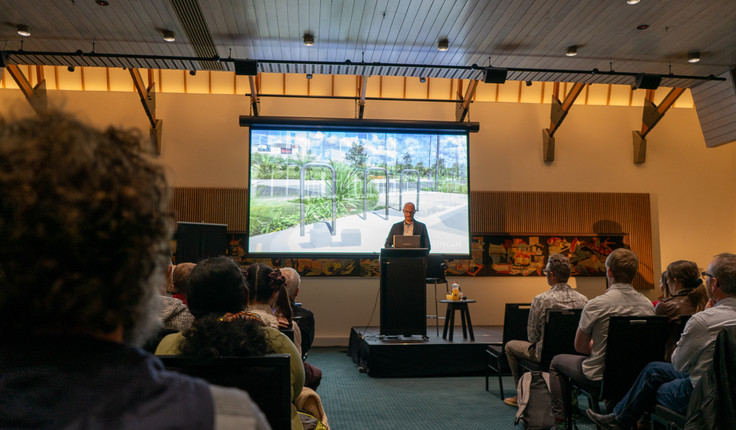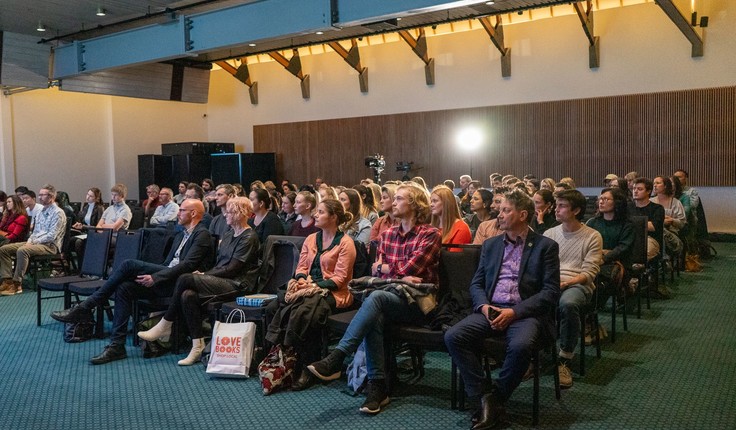 You can read the recent LAA article about Catherine here.
Mosbach has recently been awarded a medal by France's National Order of the Legion of Honour – the highest French order of merit for civic and military accomplishment.
As well as her Mosbach Paysagiste business, Mosbach is also the Aga Khan Design Critic in Landscape Architecture at Harvard Graduate School of Design.
Known for producing environmentally and socially responsible work, Mosbach and her team last year won the Landezine International Landscape Award in the Office Category – the award jury acknowledging "Catherine Mosbach is an outstanding and talented creative force who pushes the profession beyond excellence, revealing hidden layers of designing and also thinking about landscape. "
Among her projects are the Louvre Lens museum, which won the Prix d'architecture de l'Équerre d'argent in 2014 with architects SANAA, the botanical garden of Bordeaux  and the Gateway Park in Taiwan.