Back to news & events
News
LandLAB wetlands project shortlisted for an international award
Posted 17 06 2019
in News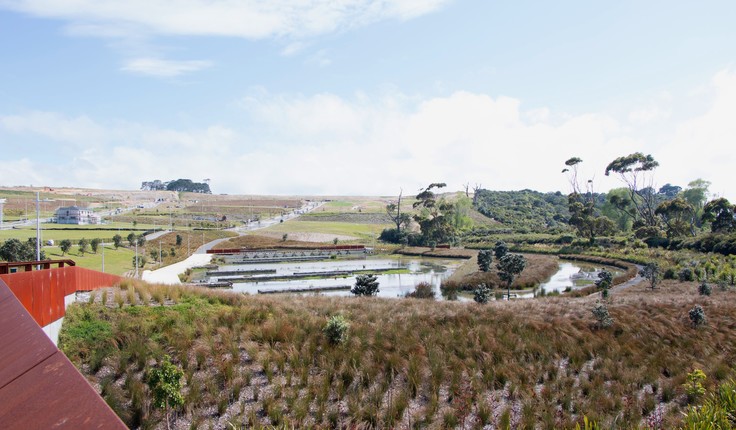 Vaughan's Stream corridor
Auckland-based design studio LandLAB's wetlands project in Long Bay has been shortlisted for a Landezine international landscape infrastructure award. Commissioned by Todd Properties the Vaughan's Stream corridor brief was to design a series of wetlands, associated open spaces and bridges for the site.
LandLAB provided the landscape design leadership alongside a multi-disciplinary consultant team. Long Bay encompasses 162 ha and includes a village centre, 2500 houses and 28 ha of parks and areas given over to heritage protection.
The scope includes the design of 3 wetland areas forming part of an integrated low impact design network and storm water treatment system for the wider development. A road bridge on the site's main north-south spine connects the two sides of the stream while a series of secondary pedestrian bridges provide pedestrian connectivity between the stream corridor, neighbourhood and adjacent Long Bay Regional Park.
The Vaughan's Stream Reserve is a new 20ha infrastructural park that will provide Long Bays' signature landscape experience. LandLAB's award entry says the design strategy stitches together the ecological restoration of an existing stream corridor with new storm water and social infrastructure programs into a contemporary coastal parkland network. The organisational strategy introduces a family of design elements – boardwalks, bridges and pavilions – which facilitate circulation, navigation and occupation.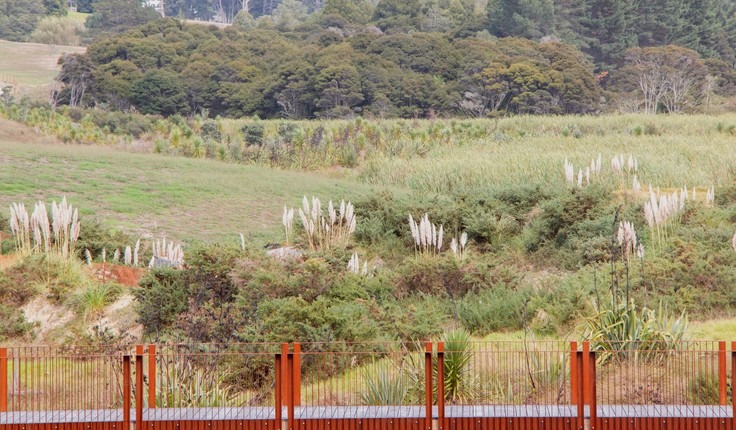 A principle driver of the project for the client was to reinforce the landscape and destination qualities of Long Bay.  The three primary overlapping components that achieve this – identified during the early design phases – were;
'beach' Long Bay regional Park as a setting and attractor
'village' a new place and focal point that enables and supports a new community
'park' provides landscape amenity and identity that reinforces the Long Bay sense of place
The local board, Te Kawerau ā Maki and Ngāti Whātua reviewed the design process throughout. Key drivers included enhancing water quality, ecological habitat and design themes of navigation and wayfinding.
The result, LandLAB says, is a  design approach which has transformed what could have been a utilitarian storm water treatment corridor into an integrated infrastructural, open space network. The project has established the corridor as a focal point of the wider Long Bay redevelopment and contributed to the appeal, amenity and value of the site.
Its sensitivity to the surrounding significant landscape of Long Bay and the Waitematā beyond has ensured an appropriate fit and transition between the surrounding project and these important existing natural landscapes, LandLAB says.