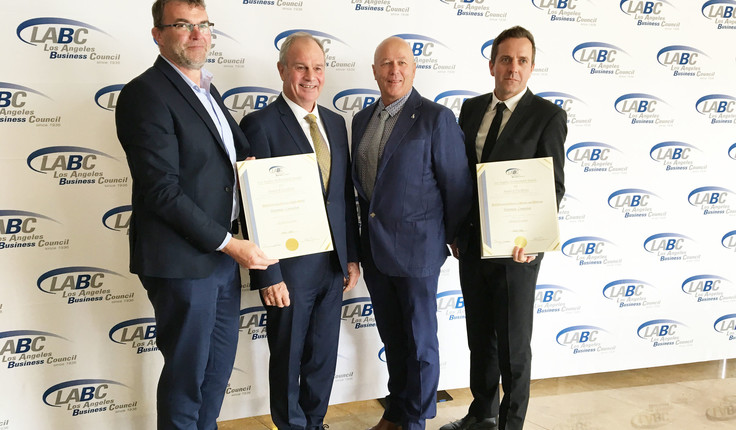 "Boffa Miskell is proud of our role in this landmark project"
The Waterview Connection has received international recognition at the Los Angeles Business Council's Architectural Awards, winning the Tripartite Award. This award fosters design and collaboration between sister cities Los Angeles, Auckland and Guangzhou in China, and acknowledges commitment to shared urban development and sustainability goals.
Peter Whiting, a senior principal landscape architect at Boffa Miskell, travelled to Los Angeles to accept the award with a contingent of Well-Connected Alliance representatives from NZTA and Warren + Mahoney Architects.  
"The partners in the Well-Connected Alliance sought for the project to deliver world-class infrastructure, along with good community and ecological outcomes, and Boffa Miskell is proud of our role in this landmark project," said Whiting.
"The landscape and urban design works, which Boffa Miskell led, were significantly less than 5% of the total project budget; yet these spaces have had a profound impact on the perception of the project from the public."
As a result of the severance caused by five-plus years of above-ground works associated with the tunnel project, the Board of Enquiry determined that the large open space areas within the motorway alignment were able to be revitalised.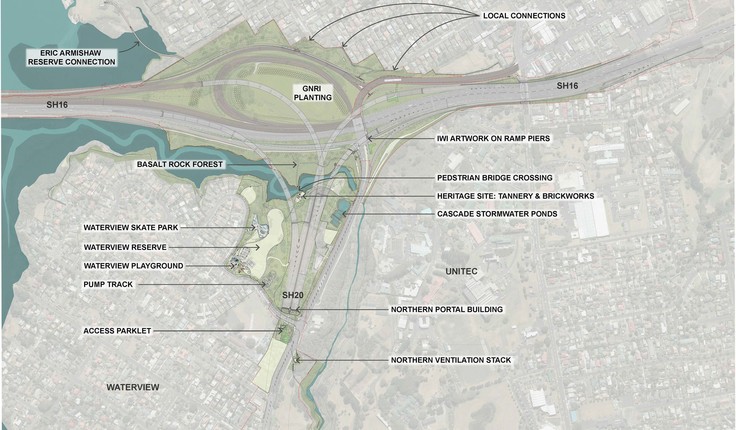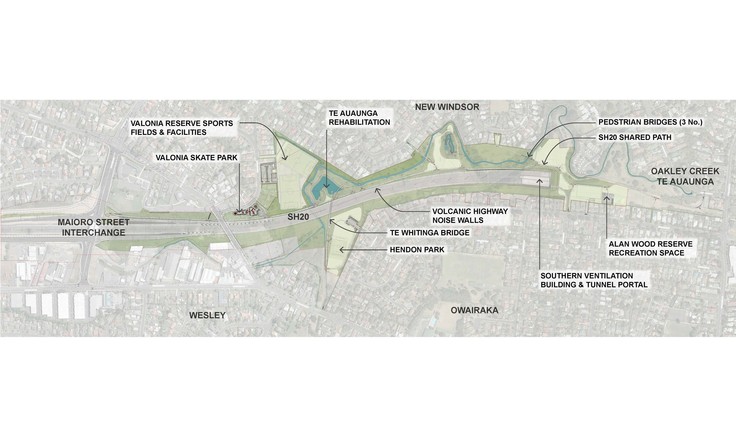 Boffa Miskell led the design and installation of passive and active public recreation assets, including Valonia Reserve and Waterview Reserve Skateparks, the Waterview Shared Path, and Waterview Playground.
Te Auaunga/Oakley Creek was required to be relocated as it sat directly over the motorway alignment. The stream had been channelised and a drain in the 1930s and this was an opportunity to restore and naturalise one of Auckland's longest urban streams, while providing community amenities throughout the surrounding reserves.
Aspects of Waterview have been recognised by the NZIA, the World Architecture Festival, the Designers Institute of New Zealand, and have been short-listed for NZILA Awards.
The project partners credit Waterview Connections success to the close and enduring relationships with the local community, mana whenua, Auckland Council, Local Boards and Auckland Transport.
The Well-Connected Alliance includes the Transport Agency, Fletcher Construction, McConnell Dowell, WSP, Beca Infrastructure, Tonkin & Taylor and Japanese construction company Obayashi Corporation.