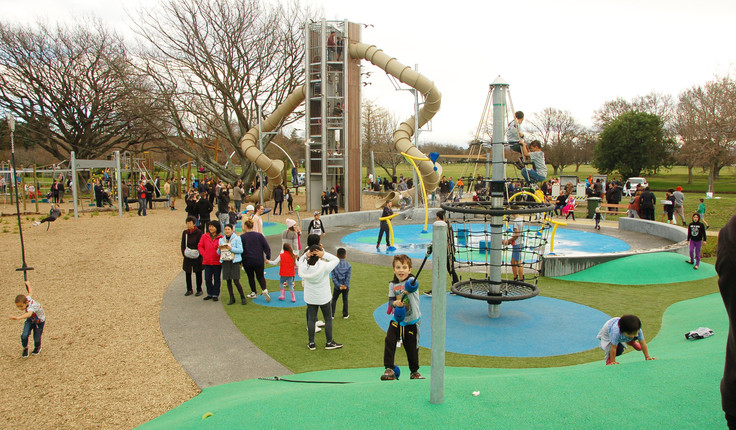 Anderson Park Playground is the outcome of quality engagement with stakeholders, and the courage to invest and not compromise on quality. Centrally located within one of Napier's premier suburban parks, accessible and imaginative features create an inclusive environment that encourages all abilities and ages to play alongside each other.
The Anderson Park Master Plan 2015 was developed in consultation with numerous stakeholders. Community responses supported of the direction of the plan, particularly the proposal to develop an 'all-abilities' playground. The existing playground in Anderson Park was well-used; but it was small, non-challenging for some and inaccessible for others, and not at all unique.
Boffa Miskell was selected to develop a conceptual masterplan for the park and new playground and to proceed through developed design, detailed design and documentation and to act as engineer's representative for the playground during construction.
The new playground, which won the 2018 NZRA Outstanding Park award, sits amongst mature trees. The proposal to locate the playground within the trees was developed by Boffa Miskell to provide a shady environment for the children to play within. Meanwhile the open character of the wider park was retained and the park's abundant bird life enhanced. The waterplay area reflects the nearby waterways and provides a great alternative to the beach for this inland site.
The mix of traditional playground equipment alongside custom-designed features seamlessly transitions through the diverse play environments, in response to the fundamental design driver: creating opportunities for adventure for all abilities.
"We wanted to provide a way for everyone to have a 'Look at me, I did it!' moment at the top of a slide, or to swing high and get that 'I'm flying' sensation," says Sarah Collins, partner at Boffa Miskell. "Those 'I did it myself' experiences of accomplishment are so important, particularly to children."
Finding a way to bring the 'thrill of challenge' to kids with mobility issues was particularly important to landscape architect Aynsley Cisaria.