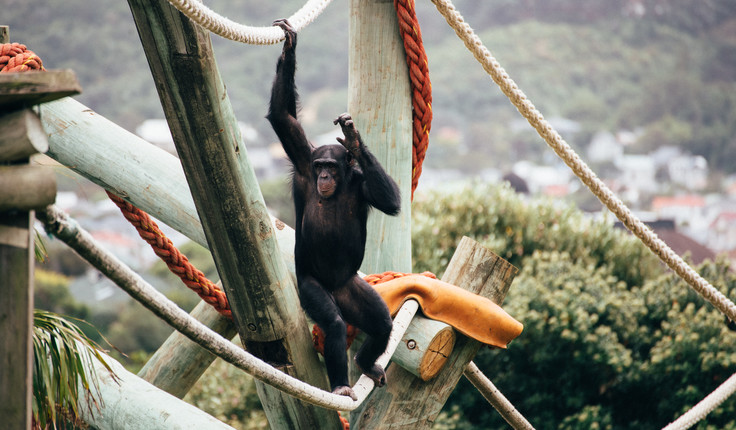 First certified Carbon Zero zoo in the world
Designing for chimpanzees presents a unique set of challenges as Isthmus landscape architect, Sophie Jacques discovered. Even though she'd been involved in Wellington Zoo's Meet the Locals He Tuku Aroha project, catering to these primates required a good understanding of their particular behaviours.
"Everything had to be really strong, chimp-proof," Jacques laughs. "Steel, rubber, timber and rope. Everything else is somewhat sacrificial.
"They have a lot of time to think things through. They might spend weeks looking at something, turn a screw then come back to it weeks later and pop, the screw's gone."
Chimpanzees are five times stronger than an adult human and highly dextrous, capable of unscrewing machine-fixed M20 bolts, so a seriously robust materials palette with special details was specially developed.
In line with the Zoo's recognised focus on sustainability (it's the first certified Carbon Zero zoo in the world), materials were carefully sourced; hardwood timber poles recycled from Wellington's old trolley bus network; chunky ropes reclaimed from Centre Ports tug boats; and swings and hammocks made from recycled hoses donated by the Fire Service.
A dense layer of vegetation was added within the enclosure, benefiting their wellbeing by immersing them in the habitat, instead of all in plain view of each other and the enclosing boundary wall. They call-out to each other more now, as they would in their natural habitat. Over 2,000 plants have enriched the enclosure, some protected by special hot-wires to give the plants a better chance of survival. Big trees were specified for the same reason.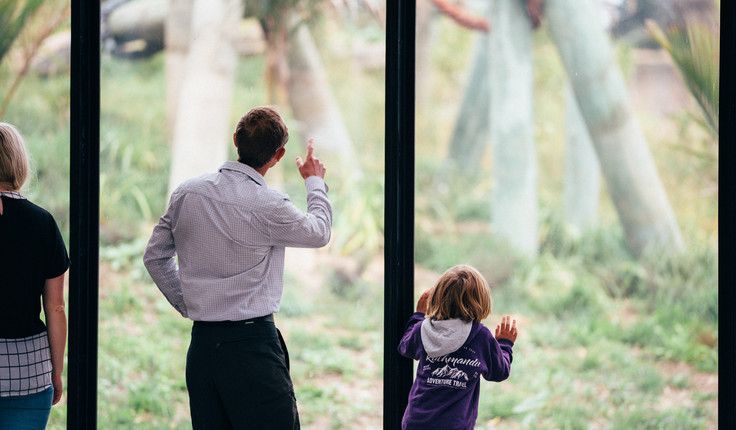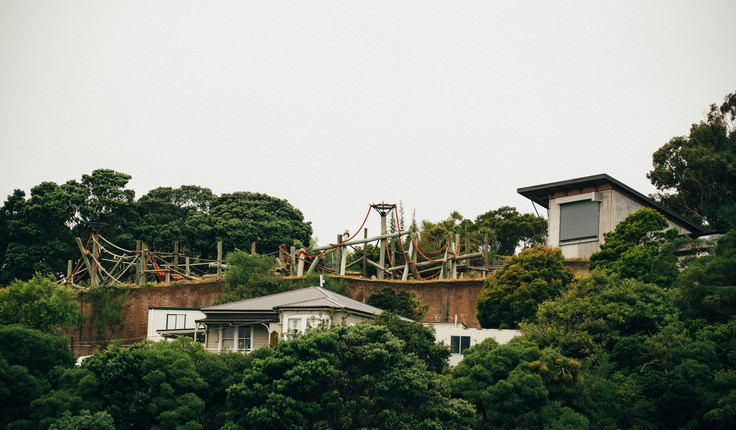 On top of the tallest timber poles several indestructible steel nests have been installed for the chimps to climb. From up high they not only survey their enclosure, but also a large part of Wellington's cityscape.
Jacques and the Isthmus crew spent a lot of time chatting to the zoo's primate team, learning about the chimps' behaviours and habits. In the wild chimps live in large fission-fusion communities of many individuals. Their communities might be as small as five individuals, or as large as 120.
Within each community are many families and allegiances that dictate the group hierarchy. It's not natural for them to want to spend all their time together, so it was paramount that the enclosure provided them with an environment that allowed them to be together at times, but also to feel separate, or divide into smaller groups if they wanted to (hence the dense vegetation).
Jacques says part of their brief was to think about ways of challenging the chimps on a physical and cognitive level. In the wild the animals cover a territorial range searching for food, interacting in chimp community dynamics, as well as being challenged by their complex environment. Being terrestrial and arboreal, they need to be challenged to work out what form of movement to use in different situations. So the habitat had to provide them with the opportunity to use all forms, including quadrupedal (on all fours including knuckle walking), bipedal (on hind quarters), running, brachiating (swinging through trees by the fore limbs), suspensory locomotion (hanging downwards to get to food or another area of habitat), jumping, utilising space for hierarchical and dominancy displays, and nest building at different levels and areas.
The troupe - the largest in the country - were kept inside their house for the seven weeks of construction, during which time a large hole was cut into the lower end of the concrete enclosure and a prefabricated steel frame was installed, followed by 50mm thick glass panels. This glazed wall brings human visitors face-to-face with our closest living relatives(we share 98% of our DNA).
Adjacent to this, on the site of the old Chimp House, a custom playspace has been installed that mirrors the chimp's environment of poles, enclosures and nests.
The upgrade has enhanced the habitat of these intelligent apes as well as bringing people closer to them physically and emotionally, further strengthening Wellington Zoo's commitment to education and conservation. And it's whetted Jacques' appetite for more animal-focused design. "Yes there were a few other projects mentioned, I'd certainly be happy to be involved."