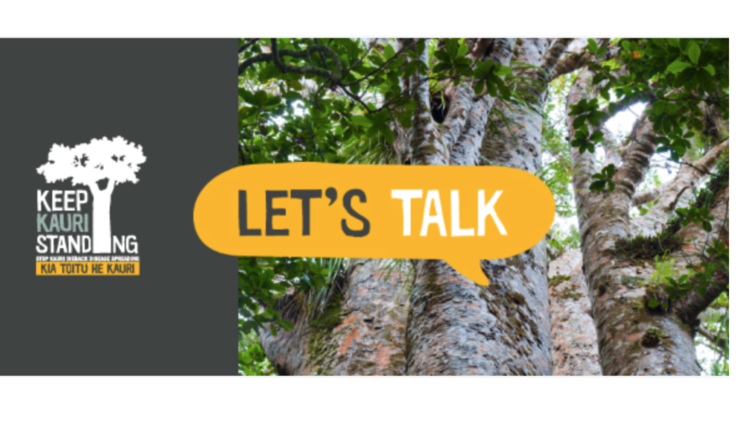 consultation meetings in your area
Consultation meetings on long term plans to protect kauri are coming to a marae or community venue near you over the next two weeks. We're letting you know because you were involved in earlier consultation rounds, and we want to hear from you again.
This is a valuable opportunity to have your say in shaping long term plans to protect kauri from dieback disease. These plans include new rules that could affect the way you access kauri forests, or require you to carry out protection measures if you have kauri forest on your land.
Hui and community meetings are happening in Northland, Auckland, Waikato, the Coromandel and Bay of Plenty from 2nd of March - the full details are at www.kauridieback.co.nz. We'll be talking about our refreshed strategy, a proposed pest management plan for kauri dieback disease, and options for the agency required to implement the plan.
Material on our consultation proposals can be found on our website. Consultation closes on 18 March 2019.
For more information, you can email us KauriConsultation@mpi.govt.nz.


Kauri Dieback Consultation Dates and Venues
(Please take note - * indicates community meetings happening at the same time in different venues)
Saturday 2 March: Mangamuka Marae 9:30am; Te Ahu Centre, Kaitaia, 7pm – 9.30pm
Sunday 3 March: Mangawhero (Ōtangaroa) Marae 8:30am; Woodlands Conference Centre, Kerikeri, 7pm – 9.30pm
Monday 4 March: Naumai Marae 9:30am
Tuesday 5 March: Te Puna o Te Mātauranga Marae, Northtec Whangarei, 9:30am; Barge Park Events Centre, Whangarei 7pm - 9:30pm
Wednesday 6 March: The Link Centre, Hamilton, 7pm - 9:30pm
Thursday 7 March: Matai Whetu Marae, Kopu, 9:30am; The Treasury*, Thames, 6:00pm – 8.30pm; Tairua Community Hall* 7pm – 9.30pm
Friday 8 March: Tuapiro Marae, Katikati, 9:30am
Saturday 9 March: Katikati Memorial Hall 7pm - 9:30pm
Sunday 10 March: Arataki Visitor Centre*, Oratia, 7pm - 9:30pm; Te Atatū Peninsula Community Centre* 7pm - 9:30pm
Monday 11 March: Orewa Arts and Event Centre* 7pm - 9:30pm; Glenfield Community Centre* 6pm – 8.30pm
Tuesday 12 March: Clevedon Community Hall 7pm - 9:30pm
Full details at www.kauridieback.co.nz.