Back to news & events
News
Inaugural NZILA Vectorworks Landmark Student scholarship awarded
Posted 01 08 2018
in News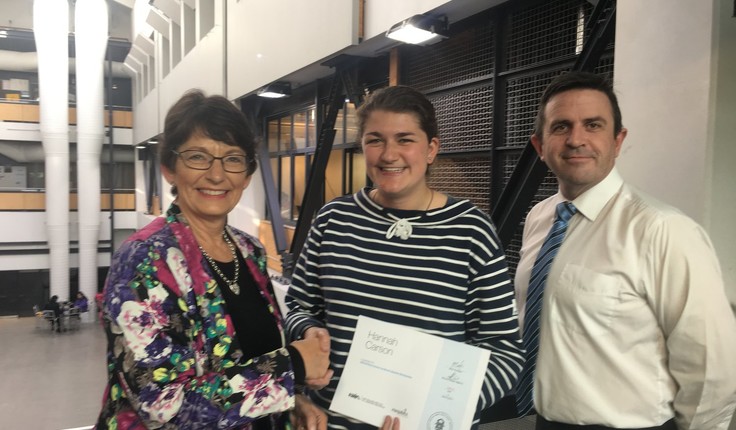 Congratulations to Hannah Carson
Victoria University student Hannah Carson has been awarded the inaugural NZILA Vectorworks Landmark Student Scholarship. Her prize includes $1500 towards her research costs - she's in the final year of a Masters in landscape architecture - and free use of Vectorworks Landmark software for 12 months after graduation.
NZILA Professional Development portfolio holder Don Royds says that there was strong interest in the inaugural scholarship with an outstanding standard of applicants, making it a very edifying task to award.
"She was selected due to her strong focus on encouraging a deeper engagement with the landscape by expressing Māori oral narratives through the use of augmented reality. Her design research seeks to promote respect for cultural diversity and human creativity, and her research will no doubt spark further advancement of the profession by weaving mana whenua's unique relationship with the land to new ways that Landscape Architects can work," says Royds.
Scholarship sponsor Megabits, who supply the software in New Zealand, say Carson had a strong focus on expressing Maori oral narratives through the use of Augmented Reality.
"We believe Vectorworks Landmark will provide Hannah with the right tools for her to create great esults weaving her designs with technology, enabling use of Virtual and Augmented Reality available using Vectorworks tools," ays Megabits business manager, Marilyn Best.
A delighted Carson told Landscape Architecture Aotearoa she believed access to the software will really help lift her thesis work.
The question Carson is posing for her thesis is: how can the oral narratives of New Zealand's landscape be reimagined and represented through the merging of existing landform and augmented reality to reveal the land's narratives key to the Maori culture?
"Stories of Maori culture, a lot of them relate very strongly to the landscape, and have direct relationships to landforms," she says. "So my project is trying to find a way for people to engage further with these, and allow people to see them in a different way."
Carson says she's excited about the possibilities technology offers landscape architecture. "I think it will really impact how we design and what we can design.
The NZILA Vectorworks Landmark Student Scholarship was established to support those studying the profession in New Zealand, where their research promotes the profession or actively contributes to new knowledge in the discipline of landscape architecture.
While this is the first time the scholarship's been offered, it'll now be awarded to one or more students annually.
In her scholarship application Carson said designing with the existing conditions of a site and abiding by the flows and rhythms present has always been a key in her design processes.
"I have a great awe and respect for our environment," she wrote. "Especially having the privilege of living in a beautiful country such as New Zealand, where we have so many amazing landscapes to experience, which also have hidden stories that are not always known.
"How to design in and with some of these places is a challenge and one that requires techniques of subtlety, integration and at times deconstruction or restoration. The approach to mix the technological world and the physical is one that is becoming increasingly relevant with the coming generations relying heavily on this technology. Therefore the merging of these two fields made sense and opens opportunities for the future."
She believes the use of augmented reality in landscape architecture allows for a layering of history while retaining the existing landscape. "In this way it enhances and modernises Maori oral narrative and encourages a deeper and broader engagement with landscape, promoting respect for cultural diversity and human creativity through the use of mobile augmented reality."
She believes her thesis will extend the biophysical template of a landscape with virtual objects or information in truly mobile settings, providing a storytelling environment which is specific to a location.
Megabits' Marilyn Best said she believed Carson's work was both encouraging and exciting and would expose and showcase the potential for technology to the profession. "We as a supplier to the Landscape industry are seeing a real shift to 3D with advanced presentation tools such as Augmented Reality. Vectorworks Landmark, which has always had great presentation tools, will help many companies achieve their goals and streamline workflows in this area."
Megabits says it's been delighted to be involved in providing this scholarship in conjunction with the NZILA, as this aligns with its commitment to the NZ Landscape Architecture community from students through to the profession.
Don Royds says that he is looking forward to seeing Hannah's work come to fruition through this scholarship and seeing how this can help promote the profession and contribute to new knowledge. He is also confident that next year's applicants will once again look to push the boundaries of landscape architecture further.