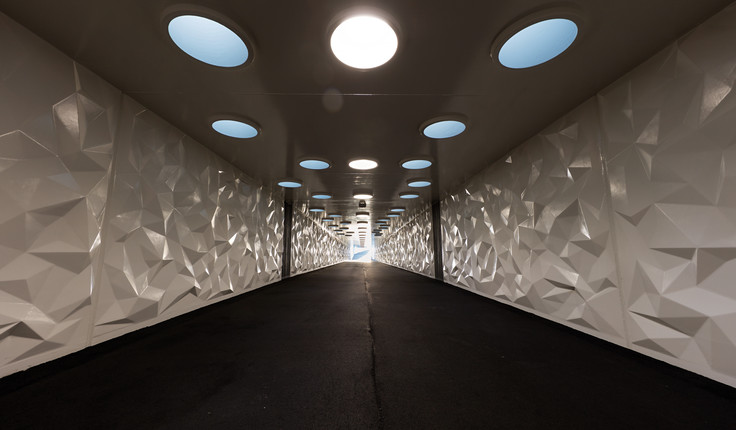 The Harewood Underpass – designed by Jasmax's landscape architecture team under the leadership of Mike Thomas – won the Resene Total Colour Commercial Exterior Award and won the Maestro Colour Master Nightingale Award at the 2017 Resene Total Colour Awards.
The underpass, built for cycling and walking under SH1, pays homage to the South Island landscape and geology, and features facetted white panels (made of precast concrete) reference the snow-capped Southern Alps painted in Jasmax white.
Coloured structural panels marching from West to East break up the 180m long journey into four sections.  On the Western side, a fiery west coast sunset sets the scene, followed by dark grey panels representing a West Coast storm, a lighter grey for the  Nor' West Arch, then blue for the broad blue skies of Canterbury.
Natural sunlight is projected into the centre of the 80m long covered section via a field of 25 circular skylights that penetrate through to the roundabout above, delivering intense pools of light that move across the floor and walls as the sun moves through the sky. 
Fairfax reported on its Stuff website that the underpass had been: "acknowledged as a defining feature in the city's cycle infrastructure network, raising the profile of cycling and connecting the city".
Mike Thomas says;  "This piece of work takes what could have been a grey underground space, and turns it into an experience.  Positive design like this has a tremendous effect on people, and it deliberately encourages people to cycle or walk."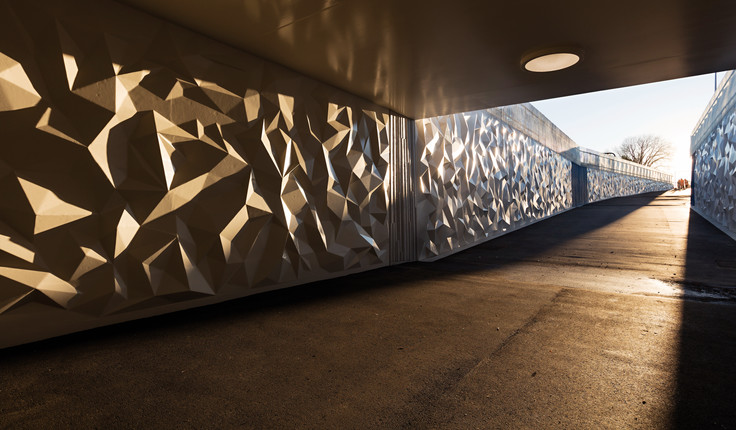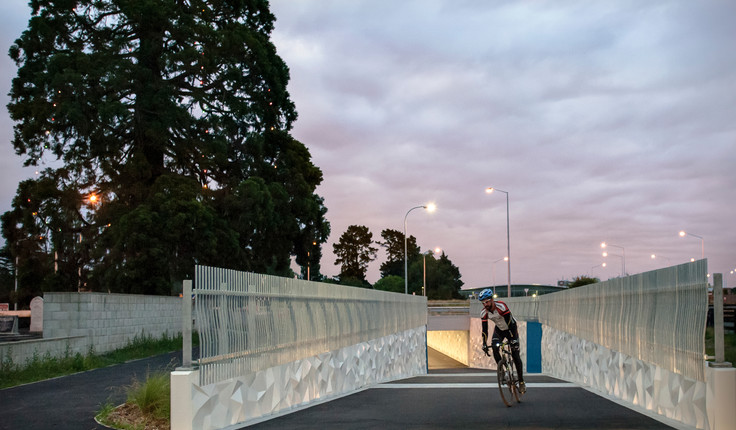 Resene's own summary on its website reports:
"This entry was a favourite – the shadow, light and colour – play so perfectly together. Underpasses are usually thought of as spaces you don't want to visit, but not this one. This underpass is truly one of a kind and shows you what a difference design and colour can make to what could be the most mundane of practical spaces.
Simply impressive inside and out. It invites you to come and enjoy the experience."
"With faceted shapes inspired by the mountains and a wonderful play of shadow, light and colour, this underpass is nearly more art installation than underpass. With such dimension and richness, the design and colours envelope you and welcome you in. Colours are inspired by the underpass orientation and landscape helping to transition between interior and exterior spaces. Paint is used as practical distance markers
This project creates a new vision of what underpasses can look like, banishing the normal dull grey in favour of an inspiring space that is worthy of a visit just to make the trip through. A mastery of shadow, light and colour."
The underpass, which is built under a four lane highway, was constructed by a McConnell Dowell Downer joint venture, commissioned by NZTA and engineered by AECOM.