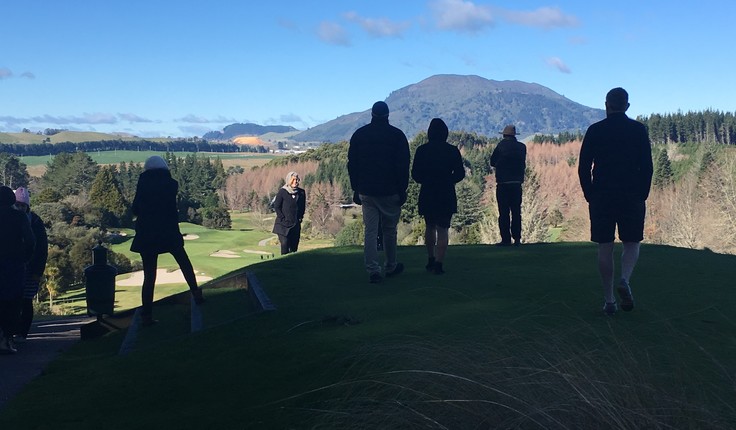 Taupo Projects with Positive Change
It was a cold, crisp, and clear sunny day for the Central North Island Branch get together in Taupo on Saturday 29 July, 2017.
The CNI branch was also very pleased to host members who were able to attend from the Hawkes Bay / Manawatu branch. 
The theme of the day's event was; projects that lead to positive change.
Fraser Scott (Taupo District Council) introduced his work on the Otumuheke Stream Cultural and Ecological Enhancement Project. The site is a popular natural hot water bathing site for tourists and locals, currently lacking in facilities. The project is to establish appropriate facilities while strengthening cultural significance and protection of ecologically sensitive geothermal areas.
Key learnings from this project were:
comprehensive design over four land ownerships, working with the four land owners
design to strengthen cultural ties working closely with local iwi
design within an sensitive ecological and landscape area
design of natural resources for social well-being and future generations
working within a political framework
the importance of wearing hi-viz jacket and clip board when taking photos near bathers, so as to not look dodgy.
Anyone wanting to know more about this project can contact Fraser: fscott@taupo.govt.nz
Next talks were at the stunning Wairakei Golf and Sanctuary about 5km north of Taupo, to hear about large scale landscape restoration projects. Robyn Ellis and Shawn Vennell from Greening Taupo discussed the restoration work in the District, and also the Wairakei ecological corridor connecting the Golf and Sanctuary to Taupo Township. Shawn talked about his experience raising an amazing $100,000 in a local charity boxing event for Greening Taupo to direct funds into the Wairakei corridor.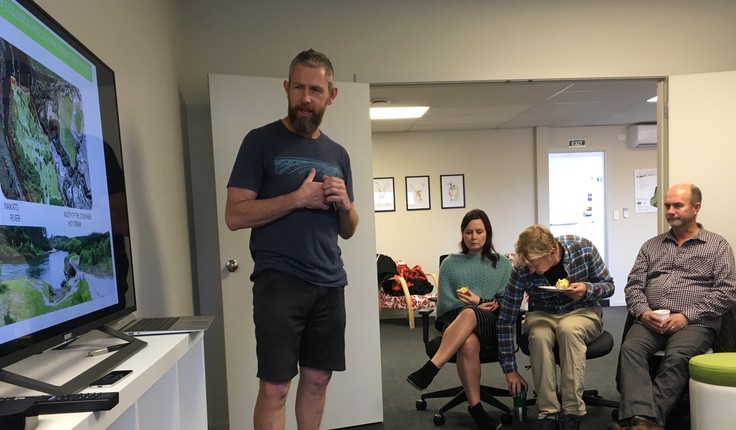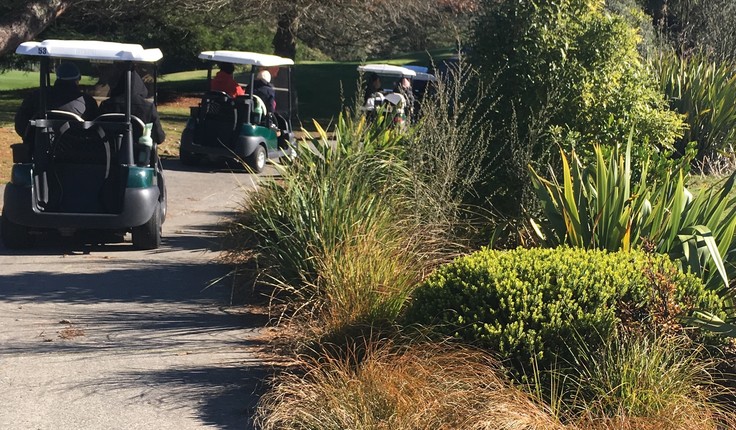 Key learnings from this project were:
landscape restoration on a budget
creative fundraising
public engagement in restoration work
pitching the conservation message to different interest groups
even if you get beaten up in the boxing match on the night, you can still blow the other competitors away with most money raised.
Anyone wanting to learn more about Greening Taupo, go to www.greeningtaupo.org.nz
The last talk of the day was from Renee Potae of Department of Conservation, who took the group for a fantastic golf cart tour around the Golf and Sanctuary. Golf course owner Gary Lane had vision for a safe wildlife sanctuary within the course, and constructed a predator proof fence around the perimeter. Among many native animals at the Golf course, are karearea, kiwi, and takahe. We were very privileged to get up close to two takahe (of only 300 left in the world) on the 18th green.
Key learnings from this project were:
challenges of managing endangered species and habitat restoration
implications of habitat on monitoring
predator proof fencing challenges
challenges of running a golf course and sanctuary
blackberry bushes are great habitat for kiwi birds, but terrible for kiwi humans when monitoring them.
Anyone wanting to find out more about the Wairakei Golf and Sanctuary, go to: www.wairakeigolfcourse.co.nz
Finally the day was wrapped up with a much needed lunch and catch up at Plateau Restaurant - home of sustainable Taupo Beef and great craft beers.
Huge thanks to all of the speakers on the day, along with members of the CNI and HB/M Branches who were able to make the trip to attend. Also special thanks to Perception Planning for use of the office and Wairakei Golf and Sanctuary for use of their space for presentations and golf cart tour.