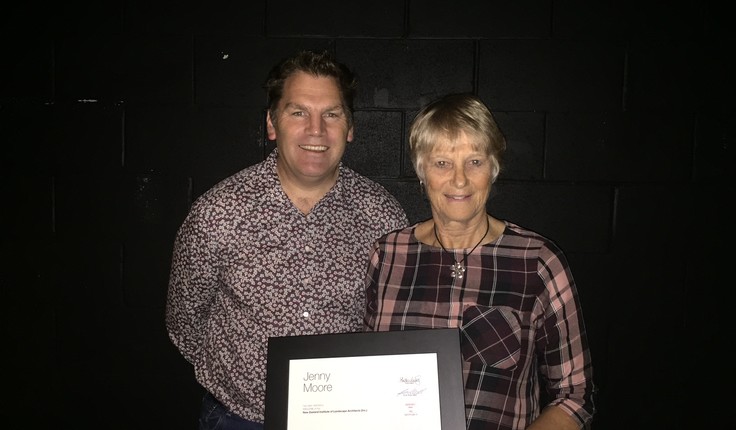 Jenny's election as Fellow of the New Zealand Institute of Landscape Architects
Jenny Moore, NZILA Registered Member was made a Fellow of the Institute in Wellington on Wednesday 5th April. Jenny was presented with her Fellowship by Shannon Bray, NZILA President at the conclusion of the AGM.
Citation
Following five years of study Jenny Moore graduated from Manchester Polytechnic in 1980 with a BA Landscape and Diploma in Landscape Architecture. Jenny became an Associate of the ILA in the UK in 1982. On emigrating, Jenny quickly became immersed in Landscape Architecture in New Zealand, working with the Environmental Design Section of the Ministry of Works and Development in Christchurch between 1982 and 1986. From 1986 to 1992 Jenny worked with the Ministry of Forestry in Christchurch. She was accepted as an Associate of the NZILA in 1984. She then was a sole practitioner for a period and has been with Christchurch City Council since 2004 as a Senior Landscape Architect.
Jenny has been an active and engaged member of the Institute; always willing to take on practical tasks which she completes quietly and professionally, with a minimum of fuss. During 1986-87 Jenny was Chair of the Institute's Canterbury-Westland Branch. During this period, she prepared evidence that successfully supported a number of Institute submissions. Her efforts were recognised with an NZILA Communications Award.
For the past ten years Jenny has been an examiner on the Landscape Institutes professional accreditation panel, initially interviewing members wishing to become Associates of the NZILA and more recently, Registered Members. Jenny's first stint as an examiner was in 2004. She has subsequently been a regular member of the panel. Between 2005 and 2013 she was a panel member five times.
Jenny has long been a coach and mentor to her younger colleagues, most recently as a Group Mentor for aspiring registrants in the Canterbury/Westland Branch.
During the three years 1994 to1996 Jenny contributed to a landscape design course at Lincoln and has been an invited examiner of the final year designs of students for several years. She has also contributed to planning and design courses for students taking forestry papers at Lincoln University. Jenny has become a highly-respected teacher and mentor and not just within the structured contexts of the university and our professional body.
As a Senior Landscape Architect with Christchurch City Council during perhaps the most challenging period in its history, Jenny has been involved in a broad range of projects, from street works to master plans. Jenny's maturity and experience have been invaluable in holding together and providing direction to a diverse range of professionals within Council.
Jenny has thirty-five years' experience in Landscape Architecture, thirty-one as a corporate or full member of the NZILA Her work has been recognised with prestigious awards since as early as 1987 when the then Ministry of Works and Development won the inaugural George Malcolm Award for Christchurch Girls High School. Soon after she received a Gold Award for the Champion Centre Courtyard on the Burwood Hospital campus. While working with the Ministry of Forestry she won the Institute's Charlie Challenger Award for 'On the Edge'; a design guide for production forest managers.
With her diverse experience as a widely-respected Landscape Architect Jenny has been able to assume responsibility for projects integrating planning, design, and implementation, most recently within Christchurch City Council. Working alongside other professionals Jenny has had a major influence on significant developments within the city. In the process, she has become an outstanding advocate for both the landscape and the profession of Landscape Architecture.
As well as producing award winning work Jenny has been a wonderful example for others to follow, not just as an outstanding Landscape Architect but as a warm, supportive and generous human being.