Events Calendar
Ocenania Biophilia Summit
27 Aug 2020, Online hosted by the Living Future Insitute Australia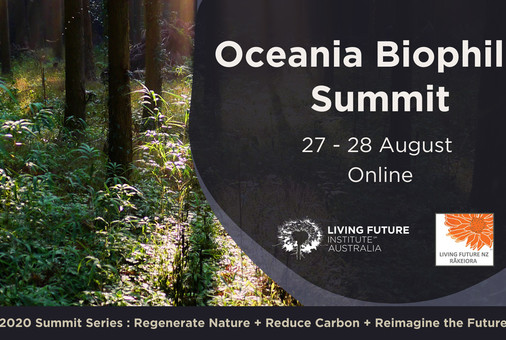 The Oceania Biophilia Summit is an exploration of our innate connection to nature, and to each other. Together we will delve into the patterns and integration of biophilic design in the built environment, and collaborate in teams to shape effective connection experiences for a real life project.
This annual event was first held in Camp Glenorchy in New Zealand in 2019. This year we bring it to you online, in collaboration with Rākeiora - the Living Future NZ team.
It will be held as two half-day sessions, on Thursday 27th and Friday 28th August.
THE THEME: Prospect and Refuge Prospect and Refuge is part of Stephen R. Kellert's 'Biophilic Design Elements and Attributes'. It refers to a psychological need to feel safe in a place of shelter and see into the distance to prepare for what comes next. A timely and necessary concept to explore, given the global context.
PROGRAMME:
DAY ONE: A series of presentations and conversations to get the inspiration flowing and to explore the key factors in effective integration of biophilic principles.
DAY TWO: Time to turn those ideas into solutions! Participate in a collaborative design sprint that will support a social housing project to improve health and wellbeing outcomes through biophilic design.