Events Calendar
IFLA World Landscape Architects Summit
18 Aug, Live Streaming from George Town, Penang, Malaysia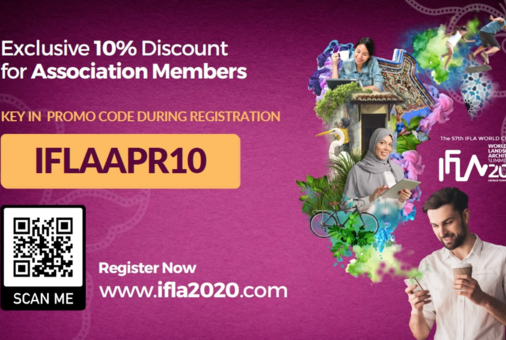 Calling for all built environments, professionals, researchers, students, allied professions and other fields!
For the first time in the history of IFLA, the IFLA2020 World Landscape Architects Summit will play a leading role in formulating and creating landscape architecture-based solutions, for a brighter future.
IFLA2020 will be the platform where regional delegates can share issues, ideas, and inspiration, to ensure the landscape architecture profession is ready to face the requirements of society, the environment, and urban living, for the next 10 years.
Amazing and well-known keynote speakers will be sharing their projects, new approaches on the future thoughts of our built environment.
Join us for the IFLA2020 World Landscape Architects Summit now!
The 5 days of VIRTUAL experience for IFLA2020 will be on live streaming, on-demand session and also a virtual documentary from Penang, one of Malaysia's magnificent gems. You wouldn't want to miss this opportunity!
Early bird participants will stand a chance to get a special gift from Penang. *while stock last
For registration:
https://www.ifla2020.com/registration
*For further details, please refer to the
IFLA2020 Main Program brochure.
#ifla2020
#landscapearchitect
#landscapearchitecture
It will be the first online congress in the history of IFLA. Whilst we will not be able to see each other face to face the online format means you can watch the proceedings at your convenience.
The one fee covers online, on demand free view access to 4 hours of daily live stream, 26 live speakers, 70 on demand videos and 7 tenchinal visist - registrants wil also be able to watch this content up until 30th September so you wont miss a thing!
The theme is Future/Tense. Proceedings will focus on 4 areas: finite resources, homogeneous culture and diverse population, transient living and natural disasters.
Watch the video here https://www.youtube.com/watch?v=yzgURL6-m40
The website for the congress is here https://www.ifla2020.com/
Group Privilege Package - BUY 5 and get 1 FREE