Events Calendar
IFLA Climate Change Online Conference
16 Jun, Online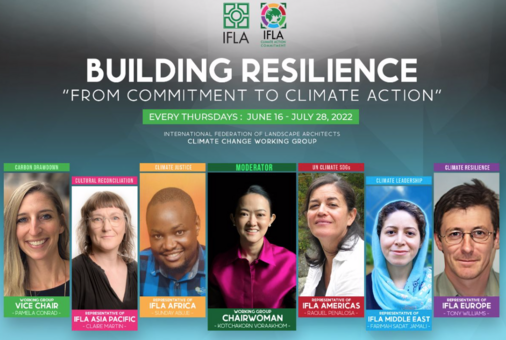 Some upcoming sessions that may be of interest presented by IFLA at the online Climate Change Conference.
The IFLA Climate Change Working Group recognizes the efforts and commitment of all its members racing to solve the climate crisis. Many landscape architects are leading the way in taking action. By sharing work from around the world, we hope to illuminate and reinforce our potential as landscape architects to contribute creative, proactive nature-based solutions to the challenges that lie ahead.
As we venture into more challenging, unknown, yet exciting territory, this is another crucial event to unite the landscape profession as a community. The series of online educational sessions are organized around the 6 aspects of the IFLA Climate Action Commitment.
Our allied and honorable speakers will demonstrate how we can all achieve these goals through action.
Dates:
16 June - Session 1: Exploring the SDGs from the perspective and action of Landscape Architecture
22 June - Session 2: Design for Drawdown
30 June - Session 3: Enhancing capacity and resilience of livable cities and communities.
7 July - Session 4: Opportunities for Climate Justice and Social Well Being in Landscape Architecture
14 July - Session 5: Learning from cultural knowledge systems
21 July - Session 6: Climate leadership to transformative landscapes