Events Calendar
Canterbury/Westland Branch Workshop & Drinks
19 Feb, Christchurch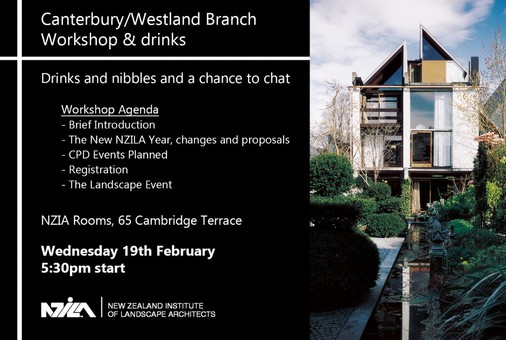 NZILA Canterbury/Westland Branch Members only
This year we have decided to start the year with a casual workshop/catch up drinks to discuss some of the changes we are proposing to how the NZILA year is structured and to provide an opportunity for new ideas or feedback on the events we are planning to run this year. So if you would like to have a say or listen in, please do come along!
Workshop agenda
- Brief Introduction
- The New NZILA Year, changes and proposals
- CPD Events Planned
- Registration
- The Landscape Event
Drinks and nibbles will be provided - we would love to see you all there!
Where: NZIA Rooms - 65 Cambridge Terrace
Date: Wednesday 19 February 2020
Time: 5:30pm
Any queries please contact canwest@nzila.co.nz