Events Calendar
2021 Festival of Landscape Architecture: Spectacle and Collapse
13 Oct, Online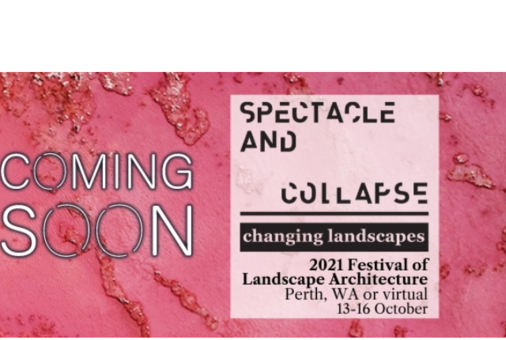 This new hybrid format will make the event truly accessible for participants to engage, learn and connect.

The 2021 Festival of Landscape Architecture asks us – what is our role and how can we as landscape architects position ourselves to act beyond spectacle and through collapse?

Presentations, discussions and events based around the theme, Spectacle & Collapse, will inspire participants to be active agents of change through dynamic design processes and creative solutions to difficult problems.

AILA would like to offer members of NZILA a special discount to the 2021 Festival of Landscape Architecture. Use the below promo code to receive an AILA member rate.
Code: NZILA
The virtual attendee will have access to the on demand content and recordings three (3) months post the event.

For further information and to book your tickets, please visit: www.aila.org.au/SC/Festival
More and more of our society is drawn to experience and understand the world around us as spectacle – consumable and pleasurable, dramatic and superficial, speculative and temporary; image obsessed. At the same time, we are threatened with the collapse of ecosystems, critical to the survival and vitality of communities and cultures. Yet acting on this threat requires depth of systems thinking and practice and an appreciation of prolonged time, large scales and broad context. Landscape architects are skilled in these modes of thought and practice – how can we better move between image making and contextual reality? Is our focus on spectacle obscuring our vision and reducing our capacity to act in response to collapse?
As landscape architects, can we position ourselves to negotiate with and re-imagine a world at risk of collapse, to see through the spectacle and work beyond its limits?
Exploring Landscapes of Spectacle - Under the influence of globalisation, digitalisation, increasing mobility and social expectations, people are drawn to a perpetual search for new experiences: Instagram Landscapes; Wild Landscapes; and Future Landscapes.
Exploring Landscapes of Collapse - To understand, relinquish, restore, and reinvent are paramount to Landscape Architectural research and design process in order to explore new social, economic, cultural and ecological frameworks; Landscapes are regenerated to suit local demand, abandoned landscapes are reclaimed and connections to local systems are reinvented.

The 2021 AILA National Landscape Architecture Awards will be announced during the Festival on Thursday, 14 October.
Date:
13 - 16 October 2021
Venue:
Online