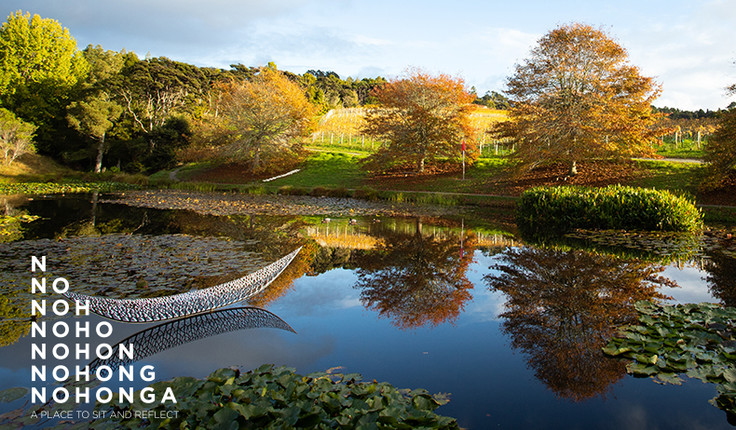 The deadline for submissions is Friday 15 May
Brick Bay and the Auckland Branch of the New Zealand Institute of Landscape Architects Tuia Pito Ora are joining forces to challenge students and all levels of graduated landscape architects to design and construct creative nohonga for the citizens of Tāmaki Makaurau.

The Challenge
Collaborative teams of two or more are challenged to create and submit nohonga design proposals. Entries should include details of dimensions, materials, construction method and manoeuvrability.

A judging panel (to be comprised of representatives including from Brick Bay, the Auckland Branch of the NZILA, and independent creatives) will select up to a maximum of five entries to progress to construction.

The team for each selected entry will be paid a minimum of $2,000 to support the further design, construction and implementation of their proposal.
The site for the initial, temporary, public install will be at Britomart in Auckland during November / December of the 5 entries selected.

Some or all nohonga may be transferred to Brick Bay sculpture trail outdoor gallery for a further install of up to 12 months. This will be separately negotiated with Brick Bay.

The Sponsorship
Brick Bay will underwrite the sponsorship of the nohonga competition to the sum of $10,000 to support up to five selected works. If fewer works are selected Brick Bay reserves the right to distribute the $10,000 sponsorship amongst the finalists with a minimum $2,000 per selected entry.

Half of the sponsorship amount will be awarded following selection on receipt of a signed agreement in which the selected team will commit to providing a nohonga as per the submission. The remainder will be provided on delivery and acceptance (see Health and Safety below) of the nohonga.

Brick Bay reserves the right to secure additional sponsors as part of this initiative.
Britomart has come on board as a sponsor, to be the venue in November / December for the public display of the 5 entries selected.


The Brief and Requirements
Nohonga must be safe in a public realm environment and sufficiently robust to withstand a six-month duration within the public realm with due consideration for a durable appearance without maintenance.

Nohonga are not intended to be site-specific but should express creativity and / or innovation in fabrication.

Each nohonga design submission should provide seating for at least two adults with consideration for universal accessibility. It must be free standing without the need for ground fixing and assume a level site.

Eligibility
Collaboration is encouraged; however, each design team must be actively led by a landscape architect.


Health and Safety
Provisionally selected proposals will be checked by a Structural Engineer and a risk assessment undertaken. Only those submissions deemed safe for public use will be selected.

Upon delivery, each nohonga will be further checked by the Structural Engineer to confirm it is safe and fit for purpose. Any requested modifications will need to be made by the design team to secure sign off.

Nohonga that do not meet safety requirements will not be publicly displayed.


Ownership
The nohonga will become the property of Brick Bay for the duration of its exhibition; after which time the designers may collect it at their cost.

Copyright will rest with the author(s) of the submitted design.


Submission
Submissions should include:
Full name(s) of the design team including nominated design lead and their contact details – mobile number, postal address and email address.
Brief CVs for each of the project team.
A 200 word (500 word max) description of the design team / practice and relevant experience.
A 200 word (500 word max) design intent statement.
Hand or computer drawn 3D design visualisation.
Construction details drawn to scale with all key dimensions noted.
Description of all proposed materials, estimated budget and the production process.
On selection each team must supply a team photograph for promotional / publicity purposes.

Judging
Judging will be based on originality, creativity, materiality, special features (such as sustainability) and feasibility / practicality demonstrated by each submission in responding to the requirements of this Brief.

The decision of the judges is final.


Publicity
Significant efforts will be made by Brick Bay and the Auckland branch of NZILA to secure both a prominent location within Auckland City for the temporary install and wide media coverage.

Brick Bay and the New Zealand Institute of Landscape Architects Tuia Pito Ora reserve the right to use images from the fabrication and installation of submissions for related promotional purposes in the press, social media and industry publications.


Timing
Call for expressions of interest - March 2020
Submit designs - Friday 15 May 2020
Select - End May 2020 (TBC)
Install - October 2020
Retain in semi-public location - Approx Mid December 2020 (TBF)
Potential further period at Brick Bay - 2021 (as agreed between parties)


Other Information
If selected, all costs, liabilities and insurances up until the time of installation are the responsibility of the design team.

Material submitted by you / your team shall be your sole responsibility and should not infringe the rights of any other party, infringe any laws. By submitting a scheme, you are representing that you are the owner / author of such material and / or have the rights, licences and authorisation to distribute it.


Deadline and Submission Details
The deadline for submissions is Friday 15 May. Submissions received after this date will not be considered.
For enquiries please email Auckland@nzila.co.nz with 'Nohonga enquiry' in the subject line.
Please send your submission with the information requested in PDF format (electronic submissions only accepted) to Auckland@nzila.co.nz
PDFs should be not more than 5MB and 10x A4 pages with min 12pt type for text.
All submissions must be via Auckland@nzila.co.nz, please put 'Nohonga Entry and the name of your landscape architect design lead' in the subject line.
You will receive an email confirming receipt of your entry submission.